US Secret Service director resigns after series of scandals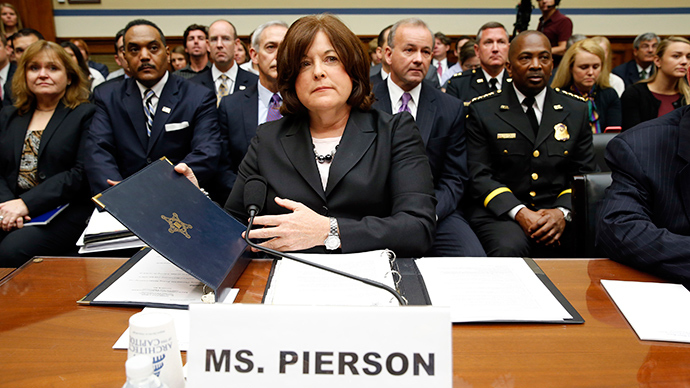 Secret Service Director Julia Pierson resigned from her post atop the security detail in charge of protecting United States President Barack Obama on Wednesday following several recent serious breaches.
Pierson, who was appointed only last year to head the US Secret Service after the agency's reputation was marred by events that preceded her tenure as director, testified on Capitol Hill earlier this week on Tuesday amidst recent revelations that have called into question the effectiveness of her office.
After Secret Service whistleblowers revealed to the press recently that the agency has suffered from several breaches, members of Congress called on Pierson to resign ahead of Wednesday's announcement.
"The Secret Service has had its share of challenges in recent years," Pierson wrote in her opening testimony prepared for Tuesday's hearing."I intend to lead the Secret Service through these challenges
READ MORE: Secret Service expecting big changes after intruder compromised White House receptions room
Just a day later, however, Secretary of Homeland Security Jeh Johnson said Wednesday that he has accepted Pierson's resignation and has already placed Joseph Clancy, the former special agent in charge of presidential detail, as acting director of the Secret Service.
"I salute her 30 years of distinguished service to the Secret Service and the Nation," Johnson said of the outgoing director in a statement that circulated that afternoon.
Moments later during a previously scheduled media briefing, White House press secretary Josh Earnest acknowledged the administration's acceptance of the resignation and said US President Barack Obama placed a phone call earlier this day with Pierson "to express her appreciation for her service to the agency and to the country."
Despite recent articles that have cast the Secret Service in a negative light, Homeland Security Sec. Johnson touted the agency in announcing Pierson's resignation.
"It is worth repeating that the Secret Service is one of the finest official protection services in the world, consisting of men and women who are highly trained and skilled professionals prepared to put their own lives on the line in a second's notice for the people they protect," Johnson said in Wednesday's statement. "Last week, the Secret Service was responsible for the protection of the President as well as 140 visiting heads of state or government as they convened at the United Nations General Assembly in New York City. Likewise, in August the Secret Service handled the protection of 60 world leaders as they convened in Washington, DC for the African Summit. As usual, the Secret Service executed these highly complex and demanding assignments without incident. There is no other protection service in the world that could have done this."
READ MORE: Armed man 'slipped past agents, rode in elevator with Obama'
The Secret Service, and particularly Pierson, has come increasingly under fire in recent days due to a number of revelations presented to the press by agency whistleblowers. The Washington Post reported earlier this week that a man who recently had jumped the fence of the White House had made it deep into the presidential mansion, despite claims from Pierson's office that suggested otherwise, and on Tuesday wrote that Pres. Obama was last month placed in an elevator with an armed man, unbeknownst to his bodyguards.
On Wednesday, Earnest, the White House press secretary, said the administration first learned that of that latest breach one day earlier, "shortly before it was publically reported."