Ohio 'heartbeat bill' bans abortion 6 weeks into pregnancy
Published time: 21 Nov, 2014 04:49
Edited time: 21 Nov, 2014 06:28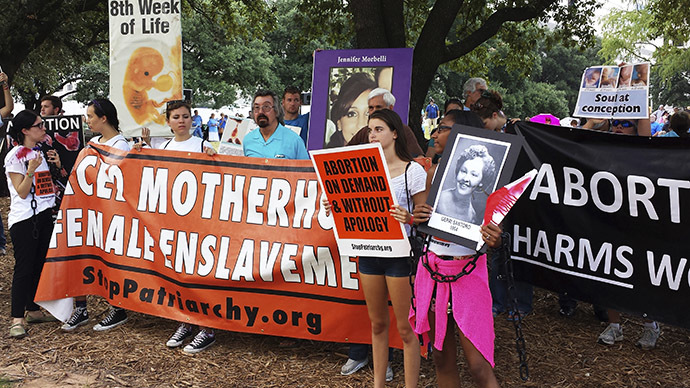 Ohio Republicans are moving forward with a strict new bill that would ban abortions as soon as the fetal heartbeat can be detected – as early as six weeks into a pregnancy.
Known as the "Heartbeat bill", or H.B. 248, the proposal advanced out of Ohio's House Health and Aging Committee by a party line vote of 11 to 6. If it passes the House and Senate – both currently controlled by conservatives – then doctors who perform abortions after the limit would face a fifth-degree felony.
Today in bad news: Ohio legislators advanced the heartbeat bill, which bans abortion at 6 weeks with no exceptions for rape/incest victims

— Allison Pohle (@AllisonPohle) November 20, 2014
Those who oppose the bill say it bans abortion before a woman sometimes even knows she's pregnant, yet supporters argued during the committee meeting that the heartbeat is undeniable proof of life.
READ MORE:Missouri lawmakers override veto, approve 72-hour wait for abortions
"The members of the Health Committee are so callous that they refused to add amendments to provide exceptions for victims of rape and incest or to remove criminal penalties that could be used to imprison doctors that provide abortion care," Kellie Copeland, executive director of the Ohio chapter of the National Abortion and Reproductive Rights Action League, said to Huffington Post. "The chilling effect of this crusade is being felt throughout the medical community and will no doubt result in talented physicians leaving Ohio to practice in other states."
'Heartbeat' bill advances in Ohio--would ban abortions at 6 wks, before many women even realize they're pregnant. http://t.co/j0M7nyUkhv

— Laura Bassett (@LEBassett) November 20, 2014
Even Republicans lawmakers are worried about the effect of the bill should it pass the Senate and the House. President of the State Senate Keith Faber (R) said the bill is "so extreme that it could undermine the anti-abortion cause. It could jeopardize some of the good, pro-life work that we've done in the General Assembly."
READ MORE:Court shuts down most Texas abortion clinics overnight
Additionally, Ohio Gov. John Kasich said at the annual Republican Governors Association meeting that he worries about legal challenges to the measure, which many believe would violate the US Supreme Court's landmark abortion ruling in Roe v. Wade. Kasich is opposed to abortion, though he makes an exception in the case of rape, incest or when the mother's life in in jeopardy. The Heartbeat bill makes an exception only for the health of the mother.
Asked if he would sign the bill, he said, "It's a long way till it comes to my desk."
Before the vote, abortion rights advocates attacked the measure as unnecessary, dangerous and misogynist. The American Civil Liberties Union warned it would draw an immediate, costly legal challenge if passed.
READ MORE:US Supreme Court blocks harsh Texas abortion law
North Dakota is the only other state that has ever passed an abortion bill as extreme as the one pending in Ohio. That bill was struck down and declared unconstitutional by a federal judge in April.
Ohio is steadily making it harder for women in the state to obtain legal abortions. Existing anti-abortion laws are expected to shut down all of the Cincinnati-area abortion clinics. The State Senate has also approved the nomination of Rick Hodges to lead the Ohio Department of Health, a known opponent of legal abortion.