Missouri lawmakers override veto, approve 72-hour wait for abortions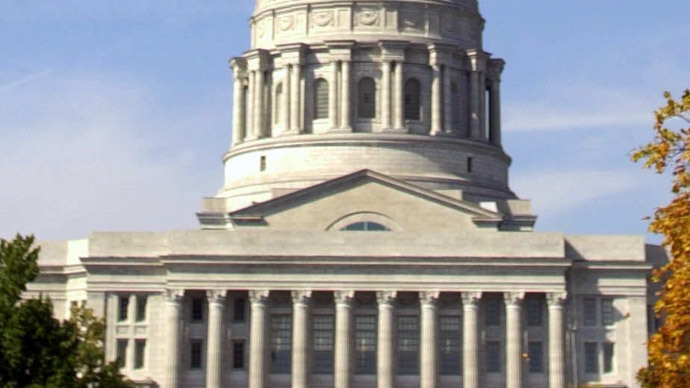 Missouri's Republican-dominated Legislature voted late Wednesday to override Gov. Jay Nixon's earlier veto of a bill that institutes a 72-hour waiting period before a woman can have an abortion. Missouri now has the second-strictest waiting law in the US.
The Republican-led Missouri House and Senate overrode the Democratic governor during a special veto session at the state capitol, as both chambers voted down party lines to achieve a two-thirds majority required to enact the legislation.
The law triples the state's mandated waiting period following consultation with a doctor regarding the abortion procedure. Missouri requires doctors to also share any potential long-term consequences of the procedure, descriptions of gestational development of a fetus and material that claims life begins at conception. Women are also required to hear of adoption alternatives or other services that can help them carry the fetus to term.
The law has no exceptions for rape or incest, as Utah's 72-hour waiting-period law does. Gov. Nixon said he vetoed the bill because it is "extreme and disrespectful" to women to not exempt instances of rape or incest.
The sponsor of the House bill said Wednesday that a fetus conceived from rape or incest deserves protections.
"Incest and rape, those are tragic, tragic events and the men that commit those atrocities should be punished to the full extent of the law," Rep. Kevin Elmer, a Republican, said. "Sometimes I think that they should be put to death. We have innocent life here. It is not as important, according to the governor's veto."
He added that he "value[s] life at all cost."
Critics of the law say it poses a severe risk to women's health, creating an unconstitutional barrier for those seeking to have a legal medical procedure.
"This is designed to demean and shame a woman to get her to change her mind," said Rep. Judy Morgan, a Democrat and an opponent of the law.
Other opponents say the bill will force women, especially low-income women, to incur daunting travel and lodging expenses during the wait.
"I have no right to tell someone else what to do when it comes to their medical decisions," said Rep. Genise Montecillo, a Democrat. "We are trying to play God. We need to really stop this. This is about those who do not like women to make this medical choice for themselves."
There is only one clinic in the state – in the St. Louis area — that performs elective abortions. In the past decade, three Missouri clinics have ceased offering abortions. However, there are abortion clinics in Overland Park, Kansas and Granite City, Illinois, both short distances from Missouri.
"If it cannot wait, go across the river where it can happen tomorrow," said Rep. Kathie Conway, a supporter of the law.
Supporters say the waiting period is simply added period for reflection.
"Another 48 hours could very well be the difference between a life saved and a life ended," said David Sater, a Senate sponsor of the bill, according to the Kansas City Star. "Knowing that a life is at stake, this is the least we can do for these children."
In the Senate, Republicans used a rare parliamentary maneuver to shut down a Democratic senator Jolie Justus's filibuster attempt. The Senate President Pro Tem, Republican Tom Dempsey, said his party was determined to vote on the vetoed bill in a timely fashion, no matter the consequences.
The issue, Dempsey told the Columbia Tribune, was "when are we going to get to a vote? We'd rather to have the vote just before midnight than have the same outcome at 4 a.m."
About 600 supporters of the law rallied inside the state capitol in Jefferson City, the Tribune reported, while about half that number gathered outside the building to oppose the measure.
The overwhelmingly anti-choice Missouri Legislature has pushed aggressively in recent years to limit abortions by passing new requirements on doctors and clinics, and mandating women see ultrasounds, listen to heartbeats and view other materials that persuade them against having an abortion.
South Dakota has the only waiting law in the nation more stringent than Missouri. There, women must also wait 72 hours, but the period can sometimes extend to include more days, as weekends and holidays are not counted. About half of US states require abortion waiting periods of 24 hours.
In June, the US Supreme Court ruled that buffer zones around abortion clinics that restrict access to public sidewalks are an unconstitutional restriction on speech.