Court shuts down most Texas abortion clinics overnight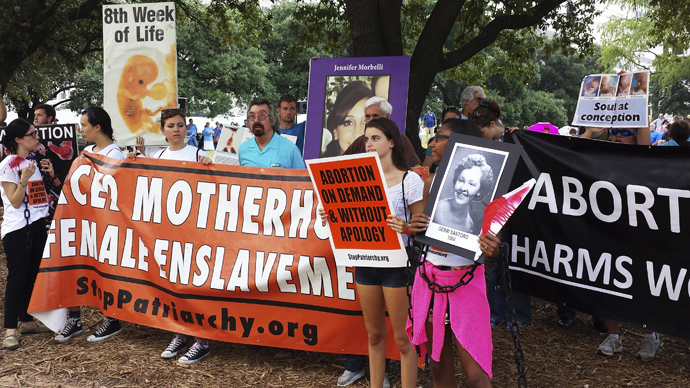 More than half of all abortion clinics in Texas were forced to shut down Friday following a federal appeals court ruling that permits the state to enforce strict new regulations immediately.
The decision was handed down by a panel of the US Fifth Circuit Court in New Orleans on Thursday, according to the Associated Press. As a result of the restrictions going into effect, only seven of the state's remaining 20 abortion clinics can now remain open.
These new requirements are being implemented even though the overall constitutionality of the law, called House Bill 2 (HB2), has yet to be determined. In August, US District Court Judge Lee Yeakel ruled the clinics could stay open while the case made its way through all legal channels, but that decision was thrown out by the appeals court this week.
Under the microscope was whether or not abortion clinics would have to feature the same type of equipment and follow the same building requirements as ambulatory surgery centers, which the Los Angeles Times reported that HB2's new regulations demand. This restriction is meant to apply to clinics even if they only process oral abortion drugs.
Additionally, the law requires any physician who performs abortions to have admitting privileges at a hospital within the area they work in, itself a rule that could force the closure of several facilities.
One year ago, Texas was home to a total of 44 abortion clinics, but the Huffington Post noted these two restrictions alone have shuttered 80 percent of them.
"Today's ruling has gutted Texas women's constitutional rights and access to critical reproductive healthcare and stands to make safe, legal abortion essentially disappear overnight," Nancy Northup, president of the Center for Reproductive Rights, told the LA Times.
Pro-life advocates, however, welcomed the ruling as a boon to women's health.
"Women won in Texas today," said Americans United for Life President and CEO Dr. Charmaine Yoest in a statement. "Without today's ruling, women and their unborn children would bear the deadly risk of abortion clinics that operate with substandard practices. It's time to hold an under-regulated, profit-driven, largely unscrutinized Big Abortion industry accountable for the so-called 'care' they sell."
Others, like Elizabeth Nash of the reproductive rights-focused Guttmacher Institute, said the ruling was troubling because of the havoc it is causing in Texas. She told the LA Times that courts typically delay enforcement of new regulations until the entire appeals process has finished.
"If these clinics close immediately and are closed for any amount of time, it's going to be very difficult to rebuild this system," Nash said to the newspaper. "If this law is ultimately knocked down a year from now, reopening these clinics is going to be incredibly hard. People will have found new jobs."
"This upends the entire system. That's why laws are enjoined until the very end. Because upsetting the status quo is so devastating," Nash added.
As for women in need of the shuttered clinics' services, the Whole Women's Health organization said dozens were scheduled for care this week and will not be able to receive it. The group is now attempting to help women get to their nearest operational clinic.
"The need for the care in the Valley still remains," the group's CEO, Amy Hagstrom Miller, said to the Huffington Post. "We still have so many women coming to our doors asking for help. We're going to do our best to try to get women to the help they deserve and need in the short term."