​More state abortion restrictions passed in last three years than in previous decade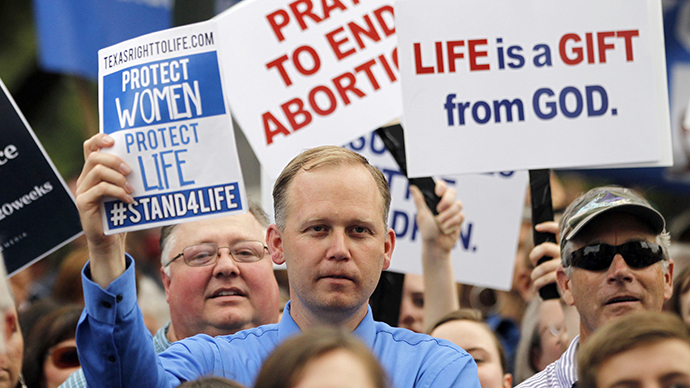 The amount of legislation passed by states across the country that make it more difficult to have an abortion has increased dramatically in the last three years, overtaking those passed a decade prior, according to new analysis.
A new report released Thursday by the Guttmacher Institute indicates that the 205 abortion restrictions passed from 2011 through 2013 overtook the 189 passed from 2001 to 2010. With 70 abortion restrictions enacted across 22 US states, 2013 falls behind only 2011 in most anti-abortion laws passed in a single year.
Forty-five percent of abortion limitations approved since 2011 consist of four categories, the Guttmacher Institute reports: targeted restrictions on abortion providers (TRAP), restraints on insurance coverage of abortion, bans on abortions at 20 weeks post fertilization (or 22 weeks following a woman's last menstrual period) and curbs on abortion medication. From 2011 to 2013, states passed 93 laws that fall into one of those four classes. Only 22 such measures were approved in the previous decade.
The rise in new legislation from 2012 to 2013 is explained, in part, by circumstances in four states. Both North Dakota and Texas did not have legislative sessions in 2012. They accounted for 13 new restrictions in 2013. In addition, the 2012 elections brought new political power brokers sympathetic to anti-choice legislation in Arkansas and North Carolina. The two combined for 13 new restrictive measures in 2013 after passing none in 2012.
Women seeking an abortion nationwide now often see highly different political landscapes as opposed to those found in 2000. In that year, only two states - Mississippi and Utah - had five of 10 major types of abortion limitations in action. In 2013, 22 states have five or more restrictions. Louisiana now has 10 of its own.
The number of states supportive of abortion rights - having 0 to 1 major restriction, according to Guttmacher - has fallen from 17 to 13 since 2000. California actually expanded the types of providers allowed to perform surgical abortions or prescribe medication.
So-called middle-ground states - 2 to 3 major restriction - went from 20 to 10.
The proportion of American women living in states Guttmacher calls restrictive - 4 or more major restrictions to abortion access - jumped to 56 percent as opposed to 31 percent in 2000.
In addition to the four main categories of restrictions, states also passed measures pertaining to parental involvement in approving abortions, public funding for the procedure, waiting periods and counseling and ultrasound mandates.
Twenty states targeted access to family planning services in 2013. Of the 17 states with budget line items related to funding of family planning programs, Maine was the only one to drastically cut financial aid. Though family planning remained stable nationwide, bids to limit family planning providers' eligibility for state and federal funds continued. Ten states had abortion-related restrictions on family planning providers by the end of 2013.
Texas actually traded its "longstanding and successful federal-state family planning expansion … for a much smaller and entirely state-funded program" once the federal Centers for Medicare and Medicaid told the state it could not exclude providers who were associated with abortion.
Since 2005, the Texas health department has taken US$30 million from family planning to fund so-called 'crisis pregnancy centers' that often attempt to persuade pregnant women against an abortion. The centers do not have to follow state or federal safety regulations, nor are they required to employ a licensed medical director.
Hawaii became the 18th state to offer protections to sexually-assaulted women, mandating that they receive complete, medically accurate information on emergency contraception from a hospital. Yet Oklahoma and Missouri put up blocks to emergency contraception access.
Meanwhile, Colorado and Illinois became the eighth and ninth states to require medically accurate sexual education that includes information on contraception. North Carolina and Kansas passed new laws to limit comprehensive and scientifically correct sex education.
You can share this story on social media: