Uber investigating NYC executive for spying on journalist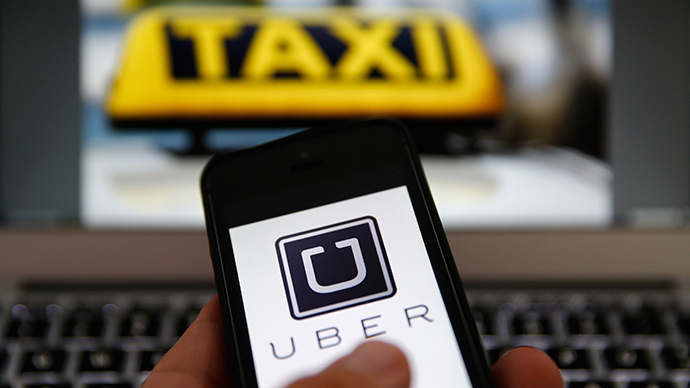 Popular ride-sharing service Uber announced it is now investigating allegations that one of its most senior New York executives spied on a reporter by tracking her movements without her permission.
According to Buzzfeed, the general manager of Uber New York, Josh Mohrer, used a software program called "God View" to keep tabs on one of its journalists – without ever asking for permission or notifying the individual. God View – which is accessible to Uber staff members – offers a top-down view of not only where Uber drivers are as they drive across a city, but also the location of users who request pick-ups.
The outlet first picked up on the behavior earlier this month, when a Buzzfeed reporter met with Mohrer only to be told by the executive that he was tracking her ride. Two months prior, Mohrer had sent the same reporter logs of her Uber rides.
UPDATE: UBER investigates... http://t.co/PWITFsICcL

— DRUDGE REPORT (@DRUDGE_REPORT) November 19, 2014
If the company finds Mohrer violated its privacy police – which was just published on Wednesday even though Uber claims it has always been operational – he could be fired or otherwise disciplined.
In the now-published privacy policy, Uber states that it "has a strict policy prohibiting all employees at every level from accessing a rider or driver's data. The only exception to this policy is for a limited set of legitimate business purposes," such as troubleshooting user or driver issues and checking for fraud.
READ MORE:Uber VP suggests spending $1mn to take revenge on journalists
While Uber said they are investigating the incident, the latest revelations are raising even more eyebrows since an executive recently suggested targeting and digging up dirt on journalists who are critical of it.
if you question @BuzzFeed's credibility as a news platform, make sure u read its @Uber coverage: http://t.co/WEulKfZ77t

— Jose Antonio Vargas (@joseiswriting) November 19, 2014
At a dinner in New York on Friday, which included journalists and executives from Huffington Post and Buzzfeed, a senior Uber executive said the company should consider spending millions of dollars to hire a team of opposition researchers to dig up dirt on its critics in the media – and specifically to spread details of the personal life of a female journalist who had criticized the company.
When the details of his comments started appearing in the press, the executive, Emil Michael, said he believed what he said was off the record. In a statement released Monday, he said regretted them and didn't reflect his or the company's views.
"The remarks attributed to me at a private dinner — borne out of frustration during an informal debate over what I feel is sensationalistic media coverage of the company I am proud to work for — do not reflect my actual views and have no relation to the company's views or approach. They were wrong no matter the circumstance and I regret them," the statement read.
. @ariannahuff if you'd heard what @BuzzFeedBen did-- would huffpo have been concerned enough to report it?

— Sarah Lacy (@sarahcuda) November 19, 2014
READ MORE:Uber-angry cab drivers attack student for using taxi app
The journalist targeted was Sarah Lacy, editor-in-chief of Pando Daily, who told Buzzfeed, "These new attacks threatened to hit at my only vulnerability, the only part of my life that I'd do anything to protect: my family and my children."
The article that sparked Michael's criticism of Lacy was one in which she accused Uber of "sexism and misogyny," and where she wrote that she was deleting her Uber app after she learned the company appeared to be working with a French escort service.
"I don't know how many more signals we need that the company simply doesn't respect us or prioritize our safety," Lacy wrote.
Michael's remarks came as the company was seeking to improve its relationship with the media and the image of its management team. They recently hired Obama's campaign strategist, David Plouffe, as a policy strategist.
#StartUps Uber CEO Says Exec's Threats To Journalists "Showed A Lack Of Humanity"… http://t.co/Ylb9iTTABS#NewsFeedpic.twitter.com/EYQi9N9gIZ

— Tony Rocha (@RealTonyRocha) November 19, 2014
Uber has captured news headlines for its ability to attract venture capital support, its aggressive business practices, and its disruption of traditional taxi services. The service works through an app that alerts drivers who subscribe to the program that a user is looking for a ride. Riders pay drivers, and the company takes a cut. While city taxi commissions have approved the app for use by their fleet, cab drivers in some cities have taken exception to the service, and thousands of drivers in Berlin, London, Madrid and Paris held a national day of action protesting the service in September.
READ MORE:Uber and out: Taxi app temporarily banned in Germany
Journalists have paid attention to the company for its success, but several articles have been critical about its efforts to fight competition revealing tactics beyond the usual competition providing a better or cheaper service. There have been revelations of a male-dominated work environment, and accounts of a sexual assault by a driver with a criminal record, prompting questions about the company's vetting program.
READ MORE:Therapists in cabs? Yes, if you live in Stockholm
Lacy has criticized the company before – along with other Silicon Valley companies – in an article titled, "Venture Capital and the Great Big Silicon Valley Asshole Game," wherein she took on Snapchat, Uber, Secret, Rap Genius, Tinder, Crunchfund and the venture capitalists who support the companies.
Uber spokeswoman, Nairi Hourdajian, said the company does not do "oppo research" of any sort on journalists, and has never considered doing it. She also said Uber does not consider Lacy's personal life fair game, or believes that she is responsible for women being sexually assaulted.