Therapists in cabs? Yes, if you live in Stockholm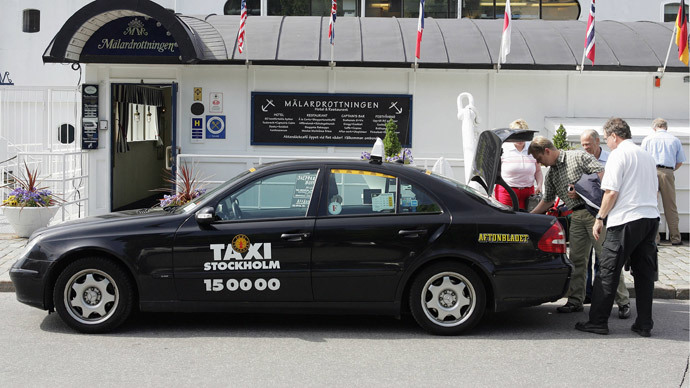 Suffering winter depression? Fret not. The Swedish capital's taxis will now offer a live therapist sitting in the back of the cab, talking you through your relationship with your domineering mother.
For now it's a pilot program started by Stockholm Taxi, which kicked off this Monday and will last for two weeks. The people and medical specialists involved believe they're the first to launch such a project. And their idea is backed up by scientific data.
It's still a bit of a lottery, as you'd have to catch one of the three cabs armed with backseat counselors. But you can book a trip in advance, according to The Local.
The idea was born out of a simple realization that people are prone to sharing their more personal thoughts and worries on those dull and quiet drives.
Many of us have had experiences in which the taxi driver played the role of the counselor – or at least a listener. But according to Taxi Stockholm spokeswoman Natalia Santos, serious data revealed that in Sweden, "around 70 percent of people said their taxi journeys were a good time for reflection and that they often found their minds wandering."
"And when you think about it, the drivers can even become like therapists. So we decided to put the two together for all the Stockholmers – especially considering it's getting so cold and dark now," she told the Swedish edition of the paper.
Mia Fahlen – one of the psychologists on the project – believes there could be immeasurable value even in a short, 10-minute trip. Besides, "a lot of people are lonely. There are so many single people in Stockholm," she explains.
"And a lot of the people I meet from abroad tell me they're frustrated with Sweden. They say it's really hard to meet people and that even when they try, the Swedes can be very quiet."
The service is expected to cost you much cheaper than a regular visit to the therapist as well: Fahlen says one hour with her costs up to 1,200 kronor ($165).
Asked if Taxi Stockholm is simply trying to find a gimmick to wean away customers from the incredibly popular Uber taxi-app, the company said "they're not really a threat… as long as everyone is playing by the same rules then we're happy to have the competition on the roads."
READ MORE: Uber and out: Taxi app temporarily banned in Germany
The people behind the project are hoping that the short campaign will at least give them a good idea of how successful it might be in the long run.