Uber and out: Taxi app temporarily banned in Germany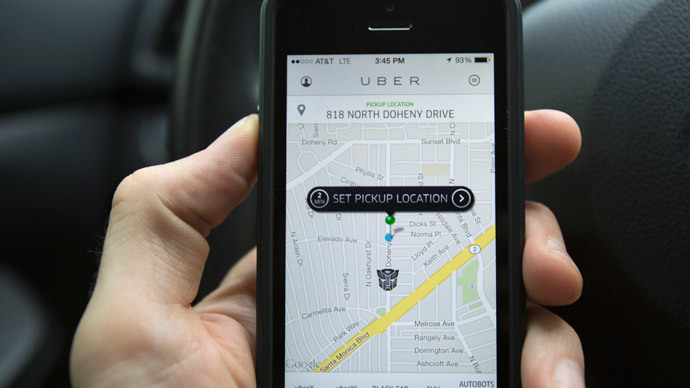 The popular taxi app Uber has been temporarily banned by a regional court in Germany. The fast-growing company will be fined up to €250,000 every time it provides service without a license anywhere in the country.
The Frankfurt Regional Court said Uber can no longer offer smartphone services, which connect drivers and customers directly. The court found that Uber is in violation of Germany's Passenger Transport Act.
The case was brought by taxi co-op Taxi Deutschland claiming the San-Francisco based company violated transport laws, alleging that not all drivers and cars had the proper permits. Taxi licenses in Europe can cost up to €200,000 (US$270,000) a pop. There are an estimated 7,000 taxi drivers in Berlin, 2,000 of which are self-employed.
Uber isn't taking the ruling sitting down, and boldly said it will continue operating and plans to appeal the court decision.
"We believe innovation and competition is good for everyone, riders and drivers. You cannot put the brakes on progress," a spokesman of the $18 billion company said
#Uber appears to be still accepting ride requests in Berlin, despite the ban issued by Frankfurt court last week. pic.twitter.com/MAFHgJDJHr

— William Gill (@williamgill) September 2, 2014
Uber has faced fierce opposition from taxi firms who believe it creates unfair competition. Strikes have been held across Europe protesting against Uber, including in the German cities of Berlin, Cologne, Frankfurt, and Hamburg.
Nevertheless in Germany, Uber has increased its consumer base fivefold. Taxi Deutschland runs a rival cab-fetching smartphone application.
"We're not afraid of our adversary because the law is on our side," Anja Floetenmeyer, a spokeswoman for Taxi Deutschland, said.
A similar private car service called Blacklane still continues to operate.
Uber lets users see a grid of the nearest taxi and order it directly from their mobile device. The cars are all registered and the drivers are licensed and have passed background checks.
The startup, launched in 2009, has been made popular by the likes of former New York Mayor Michael Bloomberg. It was first launched across college towns offering on demand, real-time cab services, and now operates in 200 cities
You can share this story on social media: