'Starving us out': Massive taxi demos block streets in major EU cities (PHOTOS, VIDEOS)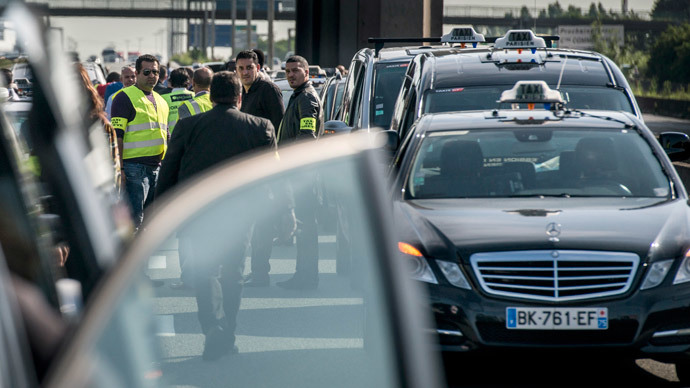 Traffic chaos gripped major cities in Europe on Wednesday as taxi drivers in the UK, France, Spain, Italy, Germany, Belgium, and Portugal staged their biggest protest so far in the battle for their livelihood against taxi hailing apps.
A number of taxi summoning applications – the most popular of which is San Francisco-based Uber – have threatened the jobs of many licensed European taxi drivers, many of whom took to the streets in their cars for the massive demonstration.
Such applications allow users to see the nearest registered cars and hail them directly from their mobile. Licensed taxi drivers say this gives private hire cars an advantage while putting the traditional European taxi model and drivers' jobs at risk.
London tourist hubs blockaded
Up to 12,000 black cabbies and private hire cars jammed traffic near London's tourist hubs of Trafalgar Square, Whitehall, and Parliament Square from 2 p.m. local time in a protest the taxi drivers started planning weeks ago.
Taxi demo not due to start til 2pm but Whitehall already jammed pic.twitter.com/UNFST4ttLA

— Rory Cellan-Jones (@ruskin147) June 11, 2014
@pwhiteley41 Can't lol Taxi Demo pic.twitter.com/z2brIItm5b

— DaveSW4Taxi (@ProvisionalDave) June 11, 2014
The Metropolitan Police said that "repeated attempts" to contact the organizers of the campaign failed. In an open letter, the security authorities warned the taxi drivers that without official written notification, the protest "could give rise to criminal liability" and lead to arrest.
@TheLTDA Re threat when working around demo by @metpoliceuk The tweet been deleted but here is screen shot of letter pic.twitter.com/7alUvYpz5X

— Justin Adams (@justin_adams1) June 9, 2014
"Today's demo goes ahead, 2pm T Sq/ Whitehall/P Sq. Comply with all police instructions, do not give up, do not be beaten, just head back!" the Licensed Taxi Drivers Association wrote on Twitter, despite the warning from police.
Do not give up, keep coming , we r winning, if diverted return by any route however circuitous ! United we stand! RT

— The LTDA (@TheLTDA) June 11, 2014
In the square nearly #taxidemo#tflpic.twitter.com/ymElyh54Ep

— Dave Forrester (@dopepeddlar) June 11, 2014
Proud to of been part of this today !! #taxidemopic.twitter.com/b6loNSbOB4

— Lee Sheppard (@sheppy69) June 11, 2014
Posters were earlier placed all over London calling for the strike, with the intention of "failing London" traffic to stress the importance of licensed taxi drivers.
Demo posters going up on the ranks! pic.twitter.com/Sjr33g3yqg

— The LTDA (@TheLTDA) June 3, 2014
Some mimicked a WWI recruiting campaign featuring military commander Horatio Kitchener.
Demo posters still going up, TAXI being handed out at the stations with demo details. More texts & emails to members pic.twitter.com/ZX6K1279i1

— The LTDA (@TheLTDA) June 9, 2014
"They're killing us off, starving us out," Mick Fitz, a London black taxi driver who has been in the business for years, told Reuters.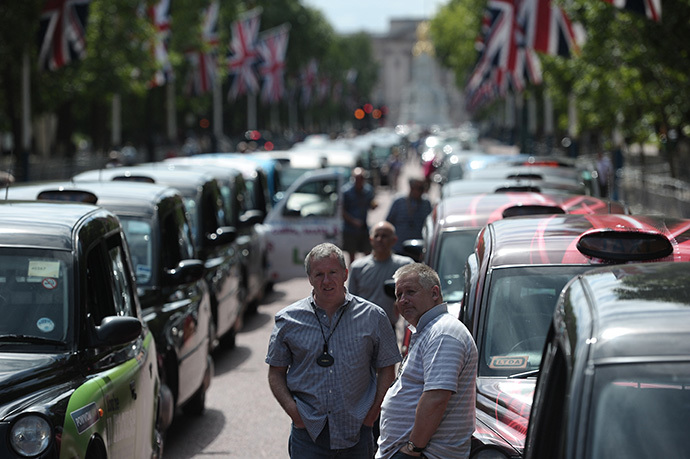 "With their taximeter, their apps that they use, their technology, those are taximeters basically, which by law only we are allowed to use," Fitz said, referring to the 1998 British law reserving the right to use a meter for licensed black taxis.
In response to the mass demonstration, Uber said that it has seen an 850 percent increase in its users from last Wednesday.
@SergioSierra67@Elite_TaxiBcn@xaviertrias#Londonpic.twitter.com/FEpDnQzl9e

— Andy (@zmantaximanz) June 11, 2014
Uber also took advantage of the mass strike, using it to promote its service.

"While the taxi protests may seek to bring Europe to a standstill, we'll be on hand to get our riders from A to B," the company said, according to Bloomberg.
Brilliant viral marketing from @Uber in London today. Must have been a proper mission getting all the cabbies to sign up, mind.

— Sam Philip (@SamPhilip) June 11, 2014
RT parisian taxi @viano93 comes to London for the Demo .United we stand !! @TFL_Failpic.twitter.com/bpjBG1NWXO

— Taxicologue à Paris (@Taxis_FR) June 11, 2014
"Black cabs have been a symbol of London for many decades, known across the world. But symbols, no matter how iconic, cannot be allowed to stand in the way of innovation," said director general of the Institute of Directors, Simon Walker, as quoted by BBC.
London's licensed taxi drivers were also joined by their French colleagues.
London in the aftermath of #TaxiDemo@INRIX_UKpic.twitter.com/qiLAR5egVX

— Greg Hallsworth (@GregHallsworth) June 11, 2014
Taxis block roads in Paris
Across Paris, 55,000 professional taxis and 15,000 cabs went on strike on Wednesday, said Nadine Annet, vice president of the FNAT taxi association in France, as quoted by Bloomberg.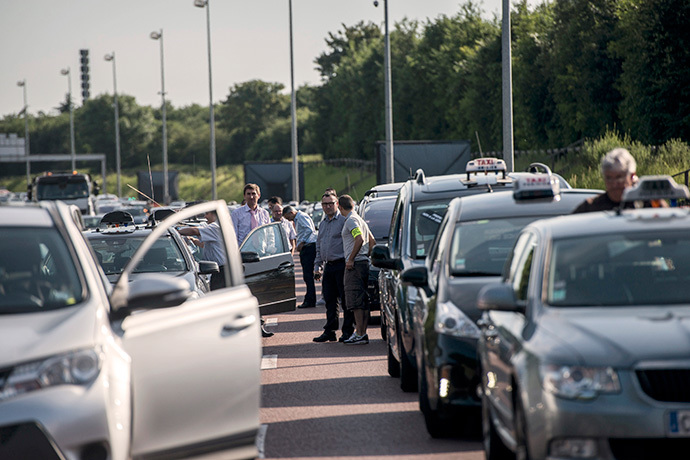 She added that the city's taxi drivers jammed traffic on major arteries into the city, with about 1,200 Parisian drivers blocking Charles de Gaulle and Orly airports on Wednesday.
Periph bloqué #grevedestaxis de l'absurdité d'un monopole illégitime http://t.co/fhiAIuWDwZ@Paris#taxi@leplus_obspic.twitter.com/HQ6Qm7RtVE

— Xavier Pavie (@XavierPavie) June 11, 2014
Local TV reported that the A1 highway that circles Paris was halted by a 200-kilometer traffic jam.
live paris @SergioSierra67@UnitedCabbies@TaxiEliteMadrid@TaxiBerlin_DEpic.twitter.com/hN9iPu6oLy

— zaher (@zaherinho) June 11, 2014
German taxi drivers take to the streets
Thousands of German taxi drivers in Berlin, Köln, Frankfurt, and Hamburg also took part in the Wednesday strike. They protested against Uber and similar apps such as Blacklane (a German limousine car service) which they believe create unfair competition.
Taxi-Demo in #Köln: Rund 60 Fahrer protestierten gegen die Konkurrenz aus dem Netz. http://t.co/D52PlQDhGL (ala, kra) pic.twitter.com/8USGyUNk5f

— ksta.de/koeln (@ksta_koeln) June 11, 2014
"It has to be regulated. It has to be fair. It cannot go on like this anymore. We have to pay for all the costs and our licenses. They pay for nothing except their cars and petrol," 64-year-old Siegfried Liebesgesell from Berlin, a taxi driver for 35 years, told the Local.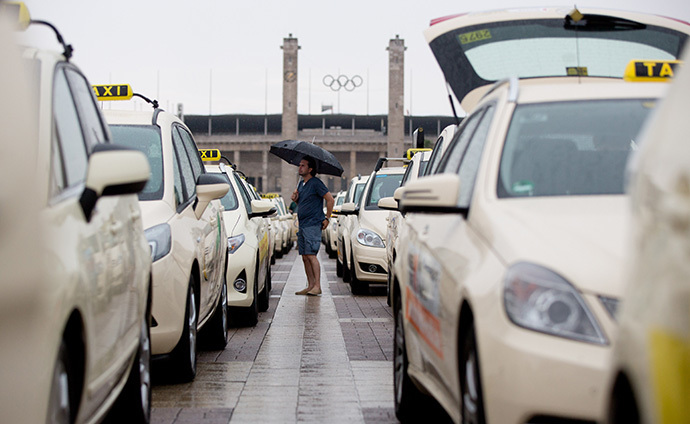 Taxi licenses in Europe can ultimately cost up to 200,000 euros (US$270,000) a piece. There are an estimated 7,000 taxi drivers in Berlin, 2000 of which are self employed, Liebesgesell added.
Madrid strike planned for 24 hours
The Spanish capital and major tourist city of Barcelona held similar demonstrations against carpooling apps on Wednesday. Madrid planned the strike to last 24 hours – from 6 a.m. Wednesday to 6 a.m. Thursday.
Preparaos para evitar un futuro asi #huelgataxi#uberoffpic.twitter.com/28HSPcg1KV

— Dani (@dfonsecag) June 6, 2014
The Spanish Ministry of Public Works has warned that companies or individuals offering Uber-type services face fines of up to 6,000 euros ($8115), while users could be fined up to 600 euros ($812).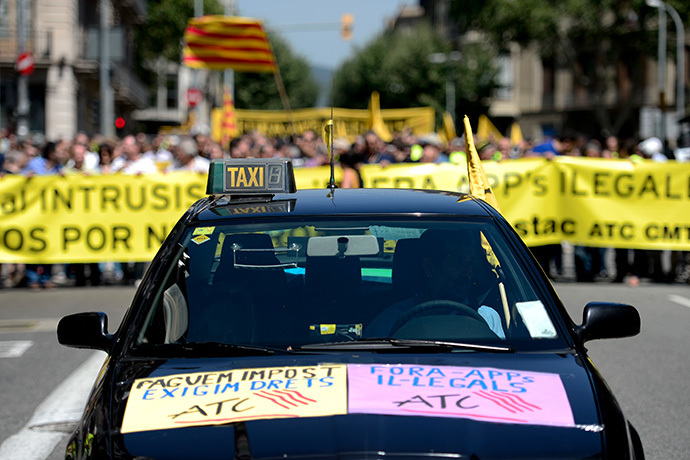 Bilbo en Bcn #TaxiatWarpic.twitter.com/Ug36oH5lLE

— Óscar (@oscartaxibcn) June 11, 2014
Taxi strike in Barcelona today - bit of a zoo at train station from airport on way to #GENSummitpic.twitter.com/P9UG3nZvzJ

— Nicole Blanchett (@NicoleBlanchett) June 11, 2014
#TaxiAtWar@xaviertriaspic.twitter.com/nSSdfrPo6w

— Elite Taxi Bcn (@Elite_TaxiBcn) June 11, 2014
Excepcional respuesta de participación #uberoff#taxiatwarpic.twitter.com/2Tr74yw7OS

— J.A.Martinez |||*||| (@ThePhandango) June 11, 2014
Uber,si quieres leyes hechas por encargo a tu medida vete a comprarlas a otro lugar. Vete de Europa. Apestas #UBEROFFpic.twitter.com/kj01SWQoGh

— Sergio DLP (@PSergiotaxi) May 26, 2014
Demos against ride-hailing apps were also held in Rome, Lisboa and Brussels.
Pour une fois qu'on ne doit pas attendre un #taxi à #Bruxelles. Ah si, quand même ? #Grèvepic.twitter.com/LRuKkyatvn

— Sébastien Meunier (@sebmeunier) November 26, 2013
You can share this story on social media: