#NotGoingToBrazil hits Twitter as Rousseff slams 'campaign against World Cup'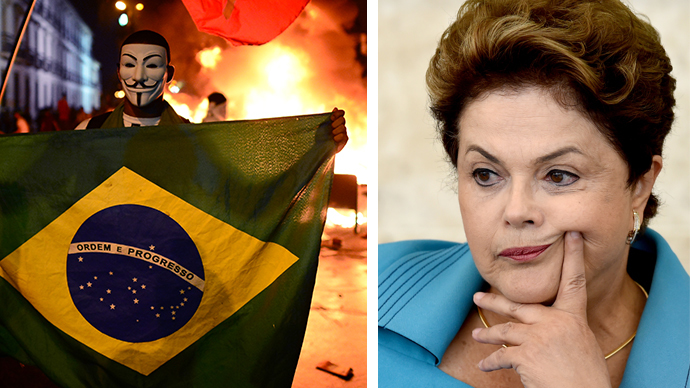 The recent protests against this month's FIFA World Cup have spread to Twitter with the hashtag "I am not going to Brazil because…" Brazil's president has slammed the protest as a campaign against FIFA and her party.
"Today, there is a systematic campaign against the World Cup – or rather, it is not against the World Cup but rather a systematic campaign against us," President Dilma Rousseff said in the southern city of Porto Alegre, AFP reported.
Rousseff said those behind the mass demonstrations are only exploiting the moment to undermine her centrist Workers Party (PT) ahead of the general elections scheduled for October 5. She did not say who is behind the campaign.
Even in the days when the likes of Pele were leading Brazil to glory, "we did not confuse the World Cup with politics," she said.
Rousseff said that criticism toward Brazilian authorities' spending on the World Cup was "disinformation," saying the modernized airports and transport infrastructure will benefit Brazil in future.
#NoVoyABrasilPorque
'Need food, not football': Read more on Brazilian graffiti art which shows outrage over World Cup
On Thursday, the hashtag #NoVoyABrasilPorque ("I am not going to Brazil because...") appeared on Twitter to protest the World Cup. First introduced in Colombia, it quickly went viral worldwide.
"Poverty that exists in this country demonstrates that it is not worth supporting the World Cup," tweeted user @santiagojuva in a typical comment.
The hashtag is mostly used by people or human rights organizations in Latin America and Spain who wanted to protest treatment of the poor during preparations for the competition.
#NoVoyABrasilPorque la imagen habla por si sola.. pic.twitter.com/ccfezVdl2Y

— Joule (@jolehurtado) June 5, 2014
"I [love] football. I [do not love] the World Cup of Inequality Brazil 2014" InspirAction is a Spanish human rights foundation, published a poster on its twitter.
Thousands of Brazilians protest government spending on World Cup
'I'm not going to Brazil because' hashtag tackles #WorldCuphttp://t.co/r2YYCulWrcpic.twitter.com/2LssgbUjYS #NoVoyABrasilPorque

— The Stream (@AJStream) June 7, 2014
The protests take issue with the billions of dollars the Brazilian authorities have spent preparing the country for the competition. The demonstrators claim the money could have been better spent on building low-income housing to provide thousands of homeless Brazilians with a place to live.
On Wednesday, Sao Paulo's subway workers declared an indefinite strike against government policies. Union leaders have demanded a pay rise for metro workers, who receive a starting salary of $582 a month.
Also on Wednesday, around 12,000 of the Homeless Workers Movement marched on Sao Paulo's Corinthians stadium. The protest, dubbed "World Cup without the people, I'm in the street again," was peaceful, but the organizers have promised to escalate their actions if the government does not listen to their demands.
#NoVoyABrasilPorque la pobreza que se vive ene se país e muestra de que no vale la pena apoyar el mundial pic.twitter.com/u20eQGOAgm

— Santiago Juárez (@santiagojuva) June 5, 2014
However, not everyone in the country is willing to rally against the soccer tournament. Some people in Sao Paulo, one of Brazil's biggest cities, have come out on protests against both politicians and striking subway workers.
"It's not the Cup that's messing up the country. It's been like this since Don Pedro [Alvares Cabral, discoverer of Brazil in 1500] arrived," Carlos Alberto Torres, 63, a retired administrator of Rio de Janeiro's Sugar Loaf mountain, told AFP. "Someone is always robbing the country."
Brazil rolling out the red carpet for the rich as they sweep the poor underneath it #WorldCup #NoVoyABrasilPorquepic.twitter.com/9nD4mJ2zl0

— Viva la causa! (@70torinoman) June 8, 2014
#NoVoyABrasilPorque Las personas son más importantes que un mundial. pic.twitter.com/hjbgxogcz5

— Lucha Obrera (@luchanoacaba) June 5, 2014
'#NoVoyABrasilPorque…': Los futboleros de Twitter explican por qué no van al Mundial http://t.co/E7iEGkYJJupic.twitter.com/pNgr1Q3pA4

— RT en Español (@ActualidadRT) June 8, 2014
You can share this story on social media: