Taxi firm offers 'ethnically white' drivers after UK child sex scandal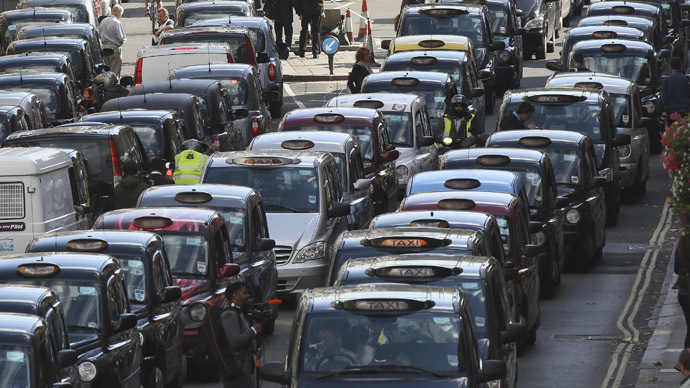 Taxi customers in Rochdale can request an ethnically white driver after two Pakistani men working for the Car 2000 firm were jailed during Britain's biggest child-sex grooming scandal, in which 47 young girls were raped and trafficked.
The firm, which now offers "local" drivers, took over the rival Eagle Taxis in 2009, which had employed the drivers involved in a scandal.
Stephen Campbell, manager of Car 2000, said the demand for white taxi drivers was a direct consequence of the scandal.
"We have had quite a lot of customers requesting what they call a 'local' driver. A bit insane if you consider that most of the [Asian] lads were born in Rochdale," said Campbell.
He further pointed out that "it's a business," and said "we have got a duty to do what the customer asks us to. I don't think we can discriminate against the customer in the same way. It is a business at the end of the day. We have a large bank loan to pay back."
According to Mark Widdup, director for Economy and Environment at Rochdale Borough Council, the policy of offering white drivers is perfectly legal and does not breach the minicab firm's license.
"This is the first the council has heard of this company's policy. However, this appears to be a decision made by the company and there is currently nothing in the conditions of their license which states that they cannot operate such a policy, just as some firms choose to offer customers only female drivers," Widdup said.
The majority of drivers for Car 2000 are of Asian origin, but the company reportedly has up to 60 calls per week asking for 'local' drivers.
Campbell said that the Asian drivers were in "a terrible position" after their treatment by customers. He praised the drivers for being harder-working than their British counterparts, claiming "[the Asian drivers] do what they are asked and they don't complain about it. They have a much better work ethic."
READ MORE:MPs investigate police failure in Rotherham child abuse scandal
This disclosure comes amid growing racial tensions in Rochdale and neighboring Heywood. Simon Danczuk, MP for Rochdale, said the effects of the affair were "extremely worrying" and expressed concern at the level of hostility toward Asian minorities.
Heywood was at the center of the grooming scandal, which saw a sex trafficking gang of mainly Pakistani origin prey on at least 47 girls. Two of the nine men jailed were taxi drivers with Eagle Taxis.
Mohammed Amin, 45, of Fallinge, who was a driver for the firm for 14 years, was given a five-year jail sentence for sexual assault. Abdul Aziz, from Rochdale, and also a driver for Eagle Taxis, received a nine-year term for trafficking and sexual exploitation.
Heywood and Rochdale police and social services were condemned for "shocking" failures in protecting victims.
Speaking to RT, Nick Ryan, advisor to the anti-racism group Hope Not Hate, said: "It's very sad that tensions still exist following the 'grooming' scandals and tragedy of child sexual exploitation in Rochdale."
Ryan believes more work needs to be done to build the relationships in areas affected by the grooming scandal.
"There will be all too many on the political extremes looking to exploit this situation for purely political ends - or to stir up further hatreds"
The scandal has provoked further political ramifications. In the Heywood and Middleton by election of October 9, the UK Independence Party, which takes a harder stance on immigration restriction, polled 617 votes short of the incumbent Labour Party.