US to open detention facility for women, kids illegally entering country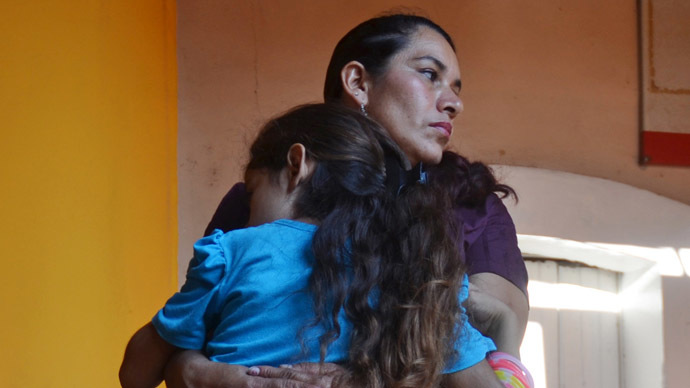 US Immigration and Customs Enforcement says it will open a detention facility for illegal female immigrants with children in Texas. It will open its doors in December, but has drawn criticism from rights groups who label it 'inhumane'.
The complex in Dilley, Texas, about 70 miles (110km) southwest of San Antonio, which will accommodate up to 2,400 women and children. The US is currently facing a crisis about how to deal with almost 70,000 unaccompanied children who have mostly traveled from Central America and crossed the US border.
The facility will be staffed by 600 Corrections Corporation of America staff employees. Those being held at the center will also have access to medical teams; while there will also be legal facilities available.
"With the opening of the Dilley facility, ICE will have the initial capacity to house up to 480 residents, but the ultimate capacity to house up to 2,400 individuals," said Acting ICE Director Thomas S. Winkowski on the department's website.
The South Texas Family Residential Center, as it is known, is the fourth facility set up by the Department of Homeland Security to deal adults with children who have crossed the border illegally.
Protesters request McCombs school not be associated with new immigrant detention facility http://t.co/sVy5RgmSZIpic.twitter.com/B0ngF1OV8l

— The Daily Texan (@thedailytexan) November 19, 2014
Many immigrants will be moved from a temporary complex in Artesia, New Mexico, where US Immigration and Customs Enforcement (ICE) stopped taking in new individuals on November 7.
"ICE opened the temporary facility in Artesia in June as a critical piece of the government's response to the unprecedented influx of adults with children at the southwest border. Since then, the numbers of illegal migrants crossing into south Texas has gone down considerably," said Winkowski, according to the department's website.
US to close inhumane migrant detention centre in Artesia, New Mex, but opening huge new one in Dilley, Texas http://t.co/Rkw7M0w4L5

— Nina Lakhani (@ninalakhani) November 18, 2014
ICE say that the residential centers offer an, "effective and humane alternative to maintain family unity as families await the outcome of immigration hearings or return to their home countries." However right groups have hit out at the move to detain families, rather than letting them live freely until a potential deportation notice is served.
"It's truly offensive that the United States is institutionalizing the practice of family detention. The government has failed to show that detaining families is compatible with ensuring due process rights are protected," said Ben Johnson of the American Immigration Council, AFP reported.
The Obama admin confirmed it will continue detaining vulnerable moms & kids in new, for-profit facility in Dilley, TX http://t.co/vePL9utZdt

— ACLU of Texas (@ACLUTx) November 19, 2014
Mary Meg McCarthy, of the National Center for Immigrant Justice, said that "detaining mothers and children is misguided, inhumane."
The new center in Dilley will open in December, to coincide with the facility in Artesia completely ceasing operations at the end of the year.
In July, the Obama administration called on lawmakers to approve an additional $3.7 billion in funds for border control and child health services to adequately address the flood of child migrants arriving in the US from Central America.
In the first half of 2014, more than 52,000 unaccompanied minors crossed the Mexican border into the United States in southwest Texas. There has also been a sharp increase in mothers from Central America carrying their children across the border.
The numbers far outpace a US Conference of Catholic Bishops report released in January that estimated 60,000 minors will enter the US from Central America without adult supervision by the end of 2014. According to Customs and Border Patrol, the 52,193 children caught in 2014 is nearly double the 26,000 caught in 2013.
You can share this story on social media: