Biden downgrades wounded troops number by 47k in Veterans Day speech (VIDEO)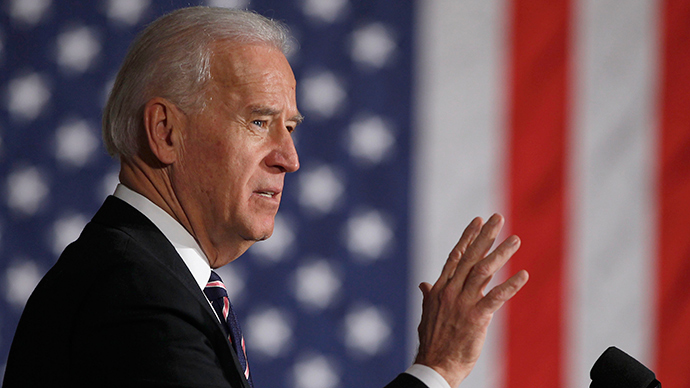 Speaking at a Veterans Day event at Arlington National Cemetery on Tuesday, US Vice President Joe Biden understated the number of US soldiers wounded in the Iraq and Afghanistan wars by 47,000.
"Every day for the last six years, I ask my staff early in the morning to contact the Department of Defense to get a detailed report of the number of troops deployed, the number wounded, and the number killed. Not a general number; the exact number every day," Biden said at a ceremony to honor military veterans at the nation's most renown resting place for service members who have passed.
"Because for every one of those warriors there's an entire family, extended family, back in America that has bled or is bleeding."
Possibly misreading his script, Biden went on to drop an important numeral from the number of wounded in Afghanistan and Iraq, America's first- and third-longest foreign wars, respectively.
"As of this morning, US troops died in Iraq and Afghanistan: 6,703; troops wounded in Iraq or Afghanistan: 5,168."
Biden was correct to say that 6,703 troops died in the post-9/11 wars, according to the US Department of Defense. But there have been 52,168 troops wounded in these wars, rather than 5,168.
This is, of course, not the first time Biden has misspoken, but it usually occurs when the Vice President wanders off his official script. Most recently, in early October, Biden accused the UAE, Saudi Arabia, and Turkey of funding terrorism and inciting militant Sunni elements to fight against Syrian President Bashar Assad, helping aid the rise of Islamic State, the extremist group that has come to control large regions of Iraq and Syria.
"What did they [the three countries] do? They poured hundreds of millions of dollars and thousands of tons of weapons into anyone who would fight against Assad – except that the people who were being supplied were Jabhat al-Nusra and al-Qaida and the extremist elements of jihadis coming from other parts of the world," said Biden.
The Gulf allies of the US took issue with the characterization. Turkey's President Tayyip Erdogan said Biden was now "history to me," and UAE's foreign minister said the remarks "are far from the truth."
In September, Biden has a particularly impressive week of gaffes and defamatory statements. He touted the career of Senator Bob Packwood, who resigned from the Upper Chamber in 1995 over allegations of serial sexual misconduct, in front of a conference of female voters; he called 'Shylocks' those who had offered bad home loans to US service members deployed overseas; he said former Singapore prime minister Lee Kuan Yew was "the wisest man in the Orient"; and he publicly contradicted President Barack Obama's military strategy against Islamic State.
Meanwhile, the Obama administration has continued reform of the government's healthcare agency for veterans following accusations earlier this year that employees at the US Department of Veterans Affairs (VA) had falsified appointment data and given shoddy care to veterans. Dozens of VA employees have been fired for their part in the scandal.
The new secretary of the VA, Robert McDonald, said in an interview aired on Sunday that the department may lay off as many as 1,000 additional employees who "violated our values."
In addition, the Obama administration claims the number of homeless veterans in the US has gone down 33 percent since 2010.
You can share this story on social media: