Exiled from paradise? Hawaii to relocate homeless with one-way plane tickets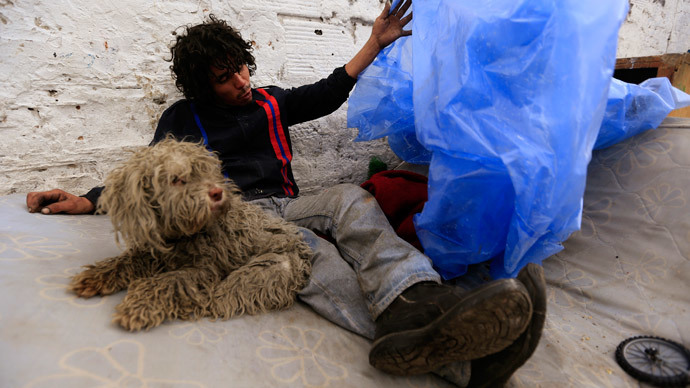 ​One of the biggest shelters in Hawaii has secured the funding to start an initiative that will vet the homeless population of Waikiki and ultimately select 120 individuals to be flown elsewhere with one-way plane tickets.
Hawaii's Institute for Human Services (IHS) officially launched its $1.3 million initiative to fight homelessness this week, and among the facets involved in the effort is a program that will put dozens of people on airplanes in order to relocate them away from the tropical island town.
"We found out that many (Waikiki homeless) are transient who made a choice to become homeless, as well as people who became homeless shortly after arriving in Hawaii," Kimo Carvalho, development and community relations manager for IHS, told Civil Beat. "We are trying to do an aggressive public relations effort, trying to water down misinformation, basically not making Hawaii be an attractive destination to come and be homeless."
To accomplish as much, officials behind the multi-pronged program plan on putting around 140 individuals into area shelters during the effort's first year, while flying another 120 "transient individuals" back to wherever they came from.
Last year, the State Legislature approved $100,000 to be used towards a three-year "Return to Home" program that would have similarly involved purchasing one-way plane tickets for a substantial chunk of the Waikiki homeless population, but Governor Neil Abercrombie, a Democrat, refused to release the funds to Department of Human Services reportedly because he feared it would encourage individuals to come to Hawaii with the intent of receiving a free trip home.
IHS Executive Director Connie Mitchell told Hawaii News Now last month that around 500 homeless people presently reside on the streets of Waikiki, a beachfront neighborhood in Honolulu that boasts a total population of around 18,000, according to census statistics from 2013. If the IHS succeeds, then ideally more than half of that figure will be admitted to a shelter or relocated off the island within the next year.
"I think a lot of people may not even know about IHS who are in Waikiki. So it's really an opportunity for us to just let people know that there is help if they're looking for help," Mitchell said.
But in addition to IHS, the relocation program has also found support in another group: Hawaii's tourism industry. In September the Honolulu City Council approved measures that prohibit sitting and lying down on sidewalks in Waikiki, and proponents of those bills cited concerns from the hospitality community when making their case.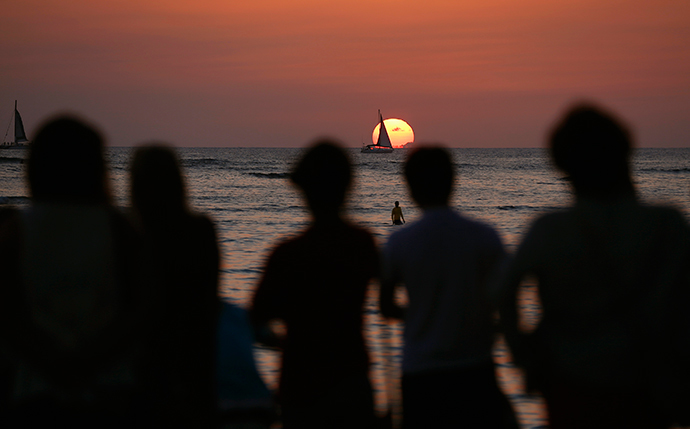 "We are pushing to make it illegal to sleep on the sidewalks of Waikiki, because we've heard from our hotel industry that it's very concerned about keeping Waikiki as an attractive visitor destination," Jesse Broder Van Dyke, a spokesman for Honolulu Mayor Kirk Caldwell, a Democrat, told the Associated Press ahead of last month's vote.
"It's time to declare a war on homelessness, which is evolving into a crisis in Honolulu," Mayor Caldwell, himself wrote in an essay that appeared in The Honolulu Star-Advertiser this past June. "We cannot let homelessness ruin our economy and take over our city." Ultimately, the measure that would have banned people from resting on city sidewalks was rejected by local lawmakers.
Regardless, the mayor's wish may now soon come true, but at a cost nevertheless. IHS is contributing $824,000 to the cause, and the Hawaii Lodging and Tourism Association last week pledged $100,000 of their own.
"When the number one complaint from our visitors is why they will not be coming back to Hawaii is homeless, you have an issue," George Szigeti, president and CEO of HLTA, said to Hawaii News Now.
"So when IHS came to us with a plan of action tailored to address the homeless situation in our Waikiki community, we were pleased and we immediately pledged our support," Szigeti said.
Next, according to Civil Beat, HIS hopes to raise another $400,000 to fund the full program, which will also be used to boost the resources at area shelters, including employment and medical services.
"I do think that conversation will have to touch on a couple very sensitive rails and I think a central rail is going to be this idea of what is aloha and how we, those who live here, view what is aloha and what is our message going to be nationally," Colin Kippen, the state's homeless czar, told Civil Beat. "How will that message be delivered in a way which preserves the essence of what aloha is?"
But Szigeti of the Tourism Association told KHON News last week that the program, which officially started this Monday, may take a while to make a difference. "I think this is a program that's going to need some sustainability," he told the network. "It's not going to be one year to fix the problem. We need to be here next year and the year after and address the needy.
"When IHS came to us with a proposed plan of action for Waikiki's homeless situation, we were thrilled," he added. "Homeless will get the help they need and those who live, work and visit our Waikiki community will appreciate how this problem can be effectively addressed."
Others, like Interfaith Alliance Hawaii's Bishop Stephen Randolph Sykes, aren't certain the city should be spearheading a campaign, however, that is so heavily focused on dispersing the homeless population by any means necessary. "We recognize Waikiki is our economic engine, and having our homeless there is not something that is necessarily beneficial," he previously told AP, "but creating an island-wide type of situation where we're criminalizing homelessness is just not 'pono,' it's not ethical, because these people don't have any place to go, and we're just pushing them around."
You can share this story on social media: