Hawaii lawmaker wages campaign against the homeless and their belongings with sledgehammer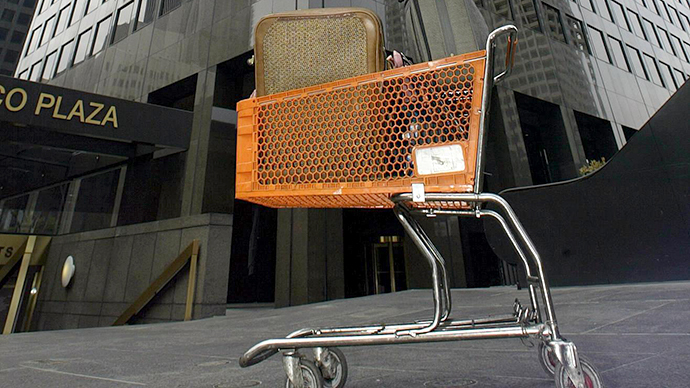 In the past two weeks residents in Hawaii noticed what appeared to be a crazed individual carrying a sledgehammer through the streets of Honolulu, a state lawmaker looking to rid the city of homeless people by targeting their belongings.
State Representative Tom Brower (D) is currently dedicated to dealing out his own personal brand of "justice" by seeking out homeless people and destroying their possessions. Brower estimates that he has used the sledgehammer to smash at least 30 shopping carts, rendering them useless by bashing in the front wheels. 
"I got tired of telling people I'm trying to pass laws. I want to do something practical that will really clean up the streets," he told Hawaii News Now. "I find abandoned junk, specifically shopping carts, and I remove them." 
Brower admitted he was "disgusted" with homeless people during an interview with the Honolulu Star-Advertiser, adding that he has not taken a homeless person's cart directly from them but that is a possibility in the future. 
"If I see shopping carts that I can't identify, I will destroy them so they can't be pushed on the streets," he said. "I don't want to be threatening anybody. I think it's threatening to steal things and then walk around with them like it's their own." 
Brower did say that he is unafraid to wake people up, though. 
"If someone is sleeping at night on the bus stop, I don't do anything, but if they are sleeping during the day, I'll walk up and say, 'Get your ass moving,'" he said. 

Hawaii state rep. seen taking a sledgehammer to homeless people's shopping carts. WATCH KGMB: http://t.co/HuQABbnex3pic.twitter.com/qWoqoRhHiR

— Hawaii News Now (@HawaiiNewsNow) November 19, 2013
At least 19.5 percent of the Hawaiian public reported experiencing some form of mental illness in 2011, with 3.5 percent thought to suffer from severe problems, according to a report from the National Survey on Drug Use and Health. 
Beyond Hawaii's reputation for being a popular tourist destination complete with endless sunbathing opportunities and ideal surfing conditions, the state's homeless population has also  swelled in recent years. Lack of affordable housing, healthcare problems, unemployment, and substance abuse are among the myriad of factors pushing people to survive without shelter. 
The Hawaiian island of Oahu saw its homeless population increase by 28.6 percent between 2005 and 2007. Other, much smaller increases were reported throughout the state in the years directly after, although government funding to city shelters has also increased. 
Still, at one point earlier this year, state lawmakers were trying to come up with a plan that would put homeless on planes and fly them to the mainland United States. 
For these and other reasons, some in the community are saying Brower has made victims out of the very people he should be trying to help. Marya Grambs, executive director of Mental Health America of Hawaii, told the Star-Advertiser he is only making the problem worse. 
"His message to the public is that it's okay to commit acts of violence against homeless people, against vulnerable people," she said. "It's okay for vigilante justice."
You can share this story on social media: