North Carolina police threaten to arrest church charity for feeding the homeless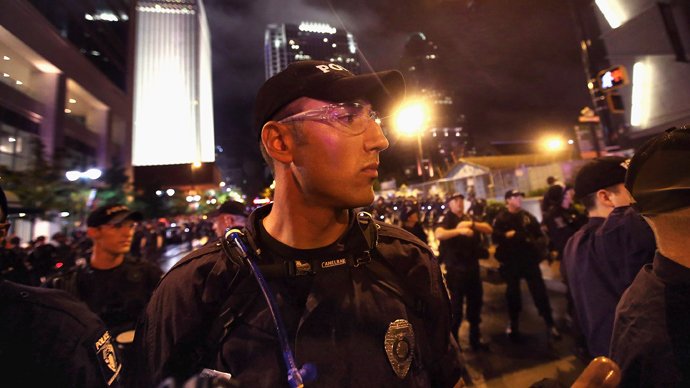 A non-profit organization says North Carolina police threatened to arrest members of the charity group for distributing food to more than 70 homeless people in downtown Raleigh on Saturday morning.
Love Wins Ministries, a church group that tries to care for the city's homeless, was preparing to serve breakfast on Saturday. The group had free coffee and sausage biscuits for more than 70 homeless people, but local police stopped the non-profit from handing it out. Police officers threatened to arrest anyone who tried to distribute food, claiming it violates one of the city's ordinances but refusing to say which one.
"This morning we showed up at Moore Square at 9 a.m., just like we have done virtually every Saturday and Sunday for the last six years," Rev. Hugh Hollowell, the ministry's pastor and director, wrote in a blog post. "Today, officers from Raleigh Police Department prevented us from doing our work, for the first time ever. An officer said, quite bluntly, that if we attempted to distribute food, we would be arrested."
Since 1998, Sec. 9-2022 of the rules governing city parks prohibits the distribution of food without a permit, but the non-profit claims its efforts were never previously halted. Hollowell was disturbed at the fact that police refused to name the ordinance that prohibits public food distribution, thereby keeping the group in the dark about what they were doing wrong.
"No representative from the Raleigh Police Department was willing to tell us which ordinance we were breaking, or why, after six years and countless friendly and cooperative encounters with the Department, they are now preventing us from feeding hungry people," Hollowell wrote on the group's website. "When I asked the officer why, he said that he was not going to debate me. 'I am just telling you what is. Now you pass out that food, you will go to jail.'"
Hollowell told WRAL-TV that the police work for the mayor and the City Council, who oversee responsibility for the revitalization of downtown Raleigh. Even though his group cleans up the mess after serving meals, he believes the city perceives his efforts as a challenge to the revitalization effort.
Police spokesman Jim Sughrue told WRAL that no one was arrested on Saturday and members of the group were "simply informed" about the rules.
But Love Wins is not the only non-profit organization whose efforts to help the homeless were brought to an abrupt halt: another group, Human Beans Together, has already been notified that its members could no longer help the homeless on public grounds. In response, Human Beans moved its operations to a private parking lot, but police also asked them to leave that area on Sunday.
 "We had lots of volunteers and lots of hungry people and nowhere to go," said volunteer Todd Pratt.
Mayor Nancy McFarlane and City Council member Mary-Ann Baldwin on Sunday pledged to address the matter this week and try to come up with a solution that will both keep the city clean and allow the non-profits to continue helping the homeless.
You can share this story on social media: