Aloha! Hawaii to offer homeless one-way ticket out of state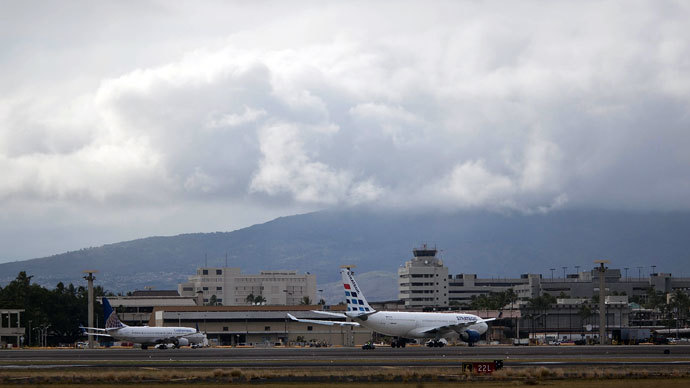 Hawaii is set to embark on an unusual new program for reducing the size of the state's homeless population by offering them a one-way ticket back home.
Under a program dubbed 'return to home' the Aloha State is looking to cut back on the expenditures currently going to food, shelter and other services for its homeless population, currently numbering some 17,000.
The three-year pilot program is set to be launched during the current fiscal year, as $100,000 has been appropriated to fund one-way airline tickets, and possibly even spots on cruise ships, to return the homeless back to the continental US.
The program itself will be run by the state's Department of Human Services, which recently told MSN News that it had certain reservations regarding the concept of one-way trips out of the state for those with limited means.
"The administrative requirements ... are costly and administratively burdensome," department spokeswoman Kayla Rosenfeld said Tuesday.
"Provisions include: transportation to the airport, orientation regarding airport security and ensuring proper hygiene. Additionally, if state funds were utilized for the purpose of sending people home, the participants would be required to sign voluntary departure agreements that would need to be recorded in databases.Given these requirements and others, and a minimal appropriation of $100,000 for a three-year pilot project, providers are understandably reluctant to take on a state-funded return to home program," she added.
Rosenfeld also expressed concerns that the 'return to home' program would be perceived by some as "an invitation to purchase a one-way ticket to Hawaii with a guaranteed return flight home."
Likewise, local media has found plenty of conflicting opinions on Hawaii's pilot program.
"It's a controversial idea. Critics point to potential abuse of the program and view it as a Band-Aid approach to a deeply rooted problem," wrote Nathan Eagle of the Honolulu Civil Beat.
"But supporters see it as a win-win. The homeless get a fresh start in a supportive environment and the state can focus its limited funding on local residents."
Still, even those working with Hawaii's homeless population believe the program, though seemingly draconian, could have its uses.
Victor Geminiani, executive director of the Hawaii Appleseed Center for Law and Economic Justice, a nonprofit that works on affordable housing issues, told the Honolulu Civil Beat that the return-to-home program "fills a gap."
"Selectively used, it is a way of providing an appropriate solution for people in a particular situation," said Geminiani. "But the devil is in the details."
A 2010 profile by NPR on Hawaii's growing number of homeless cited a $3 daily cost of living for those who made the trek to the archipelago state.
At the Sumner Homeless Men's Shelter in downtown Honolulu the number of homeless was increasing by a rate of 10 percent over the previous rate, with one-third of all new arrivals -  1,300 annually at that point -  coming from out of state.
If Hawaii's new program sounds unusual, it is actually not the first of its kind. A similar program was profiled by the New York Times in 2009 which also paid for one-way trips for the homeless out of the city, with such exotic faraway destinations as Paris, Johannesburg and San Juan, Puerto Rico. In the past, the city government had also worked with the Salvation Army through a similar program called 'Homeward Bound.'
Beyond New York, other cities in the US have previously offered one-way transportation for the homeless, including San Francisco, Baton Rouge, Louisiana, and Fort Lauderdale, Florida.
"These kinds of  programs have been used historically to ship homeless people out of town," Michael Stoops, director of community organizing for the National Coalition for the Homeless, told MSN News.
"In the homelessness field it was once called greyhound therapy. Hawaii now goes a step higher with airplane therapy. Oftentimes local police departments run such programs offering the stark choices of going to a shelter, jail or hopping on a bus or plane home."
State legislators backing Hawaii's program, which was floated in the past but rejected for the high cost of airfares out of the state, told the Huffington Post that it is not meant to be a "silver bullet."
"It's fractional, it's not for 5,000 homeless people," said State Rep. John Mizuno. "It's going to be a handful of homeless people that we send home, again – home to their support unit."
Those opting to take advantage of a free trip from Hawaii back home will do so purely on a voluntary basis. In order to be eligible, individuals must demonstrate that they have a support system in place back in their home state, and can only participate in the program once.
You can share this story on social media: