Alaska, Oregon and Washington, DC vote to legalize recreational marijuana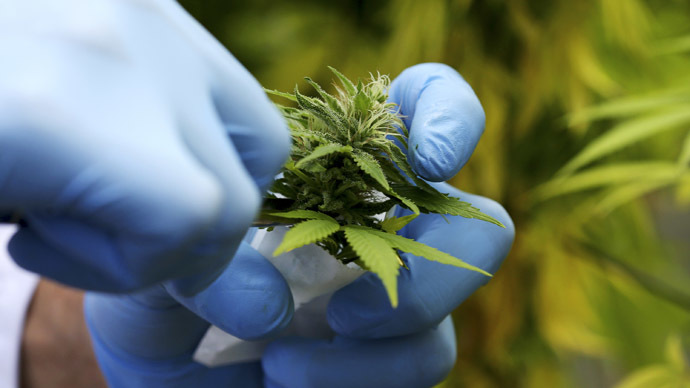 Tense voting on Tuesday saw recreational marijuana legalized in Washington DC and Oregon, with Alaska expected to follow suit. In Florida, a vote to legalize the use of medical marijuana fell just short of a constitutional 60 percent majority.
In Washington DC, the measure – known as District Initiative 71 – allows residents to grow up to six marijuana plants in their homes and possess up to 2 ounces of the drug for their own use.
Support for the measure in DC registered at 65 percent in favor (20,727 votes) to 29.5 percent against, according to National Public Radio. Medical marijuana was already legal in DC.
READ MORE: Trick-not-treat: 8yo California girl given crystal meth with Halloween candy
Over in Oregon, people hugged and cheered as the measure was passed – dispensing with the "medical marijuana" terminology. The Measure 91 proposal will safely regulate marijuana sales and possession at all levels, supporters say.
Oregonian legalization campaigners view the state with its already existing vigorous medical cannabis program as the forerunner in a crucial second wave of legalization across the US.
"We have ended a painful, discriminatory, harmful policy that has terrible consequences for our state," said Anthony Johnson, a longtime marijuana legalization advocate, as he took the stage at the Southeast Portland club Holocene, where the Measure 91 party was under way, The Oregonian reported. He said the reform was "decades in the making" and "replaced a policy that is smarter, more humane… It's a policy whose time has come."
In Alaska, the measure to legalize recreational marijuana early on Wednesday led by about 52-48 percent with all precincts reporting preliminary results. Both sides said the initiative had passed.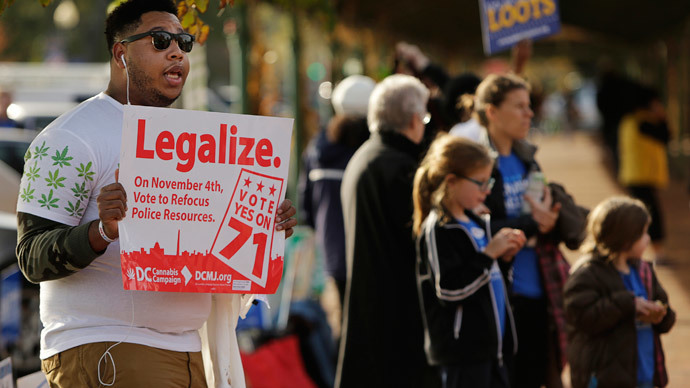 "Marijuana prohibition has been an abject failure, and Alaska voters said enough is enough," said Chris Rempert, political director of the Campaign to Regulate Marijuana like Alcohol, in a statement, Reuters reported.
The way Measure 91 was applied consisted of a mix of Washington and Colorado laws, financed for the most part by donors from outside the state campaigning for recreational marijuana.
The true power of the 'Yes on 91' campaign, however, is illustrated in the staggering difference in numbers: compared to less than $200,000 raised by 'No on 91,' the pro-legalization campaign secured $4 million in funding.
The measure will come into effect July 1, 2015, allowing adults over the age of 21 to possess one ounce in public and up to 8 ounces at home. The only thing still illegal would be to drive a vehicle and smoke at the same time.
Production and sales of marijuana will be regulated by the Oregon Liquor Control Commission, while tax revenue will go toward public services – schools, addiction treatment centers and various other mental health services.
In Florida, the ballot measure gained the support of 57 percent of voters, but the measure fell short of a 60 percent constitutional majority required under state law.
READ MORE: Pot of Gold: Alaskan marijuana sales set to generate $100mn in taxes
Proposed as a constitutional amendment, it would have permitted patients to use marijuana to treat "debilitating medical conditions" such as cancer, glaucoma, hepatitis C, AIDS, HIV, multiple sclerosis and more. Additionally, it would have sanctioned marijuana use for "other conditions for which a physician believes that the medical use of marijuana would likely outweigh the potential health risks for a patient."
Currently, 23 US states have legalized medical marijuana.
You can share this story on social media: