Trick-not-treat: 8yo California girl given crystal meth with Halloween candy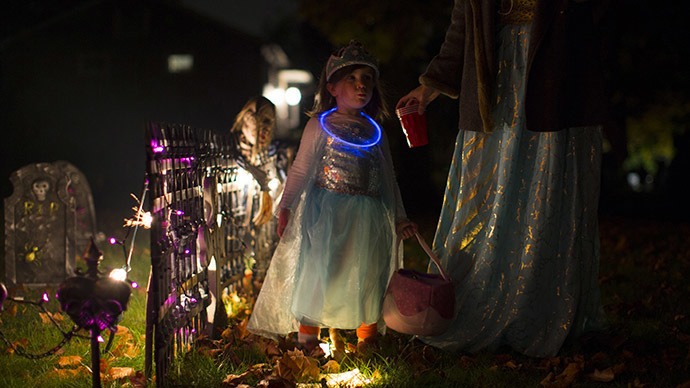 Police in northern California are looking into who gave a plastic bag of methamphetamine to a trick-or-treating 8-year-old girl on Halloween.
Her father found the small zip-style bag filled with powder-like substance among the kid's Halloween candy and called the police at around 8.30 am local time Monday.
Police found that the bag contained one-tenth of a gram of crystal methamphetamine, AP reported.
The girl had been trick-or-treating in the Promenade neighborhood of Hercules, a town in San Francisco Bay Area.
It is not clear if the girl was given the drugs intentionally or by accident, and the authorities currently have no suspect, local Sergeant Ezra Tafesse told Contra Costa Times.
The complications in finding the suspect are connected to the fact that it is hard to identify the fingerprints after so many people handled the evidence.
"More than anything, we want to educate the public to inspect their children's candy before giving it to them," he added.
Tafesse also said that drugs are given to kids as candy sometimes, but it's usually marijuana.
"A tenth of a gram is enough for felony charges filed for possession of a controlled substance," Tafesse said.
Locals were bewildered by the incident, with Norman Santos, a Promenade resident, saying he was surprised as it is a good community, Bay City News reported.
"I think that's sick," said David Pel, another Promenade resident. "That person is so sick."
You can share this story on social media: