Illinois drops plans to ban medical marijuana patients from owning guns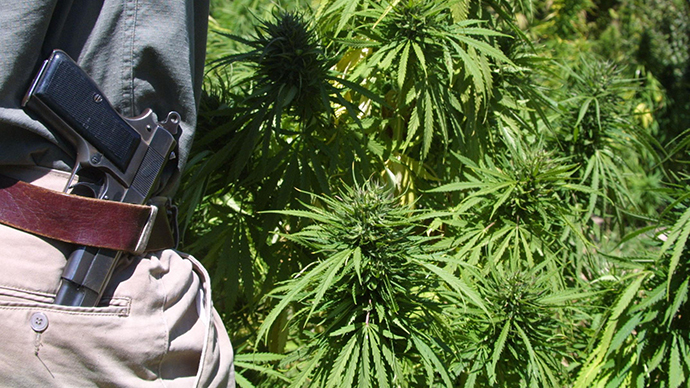 Officials in Illinois have agreed to shoot down part of a proposed bill that would have prevented medicinal marijuana users from legally owning guns.
After outcry erupted earlier this year from Second Amendment advocates and marijuana legalization proponents alike, regulators in the Prairie State said this week that a controversial provision that would have obliged residents to choose between guns and weed has officially been gutted from the latest version of proposed rules for implementation of the Compassionate Use of Medical Cannabis Pilot Program Act.
The Illinois Department of Public Health had originally included language in that proposal that would have required gun owners to give up their firearms if they wished to partake in the medical marijuana program the state is expected to soon roll out. Specifically, that provision would mandate that Illinois residents surrender their Firearm Owners Identification (FOID) cards in order to receive similar medical cannabis ID cards. On Friday, however, the Dept. of Public Health said that the provision has been removed amid complaints.
"The State is continuing to examine how the State's medical cannabis and firearm laws may interact with federal firearm laws," the department said in a press release.
Illinois' new medical marijuana law went into effect at the start of 2014, but patients must wait until several state agencies settle on rules for the program. The Marijuana Policy Project advocacy group said"the rule adoption and implementation process will continue for most of the year," and until then "patients will not have any legal protections or safe access to their medicine."
But advocates of the state's proposed medicinal weed program told the Associated Press on Friday that the department's decision to churn out new proposed rules was a good sign regardless.
"Anything that makes it less burdensome for the patients is always a good thing," Julie Falco — a Chicago woman who uses cannabis to counter the symptoms of multiple sclerosis — told the AP.
"I'm happy to see that they have changed the provision," added State Rep. Lou Lang (D-Skokie). "I did ask them to remove it. I'm not the only person who did."
Nevertheless, marijuana is still considered a Schedule 1 controlled substance as far as the United State Department of Justice is concerned. In 2011, the DoJ said notwithstanding state laws permitting medical pot, it is still illegal for an "unlawful user" of any controlled substance — be in marijuana or meth — from buying or possessing a gun.
"It presents a novel legal conundrum," National Rifle Association lobbyist Todd Vandermyde told the Chicago Tribune earlier this year."The courts are going to have to reconcile it."
On Friday, Marijuana Policy Project Chris Lindsey said the Dept. of Public Health's latest changes were "several significant improvements in the departments' proposed rules."
Meanwhile, the Colorado Department of Public Safety said this month that crime rates there have not surged, despite recreational, not just medical, marijuana being recreation for all adults as of the first of the year.