Chicago more dangerous than Afghanistan?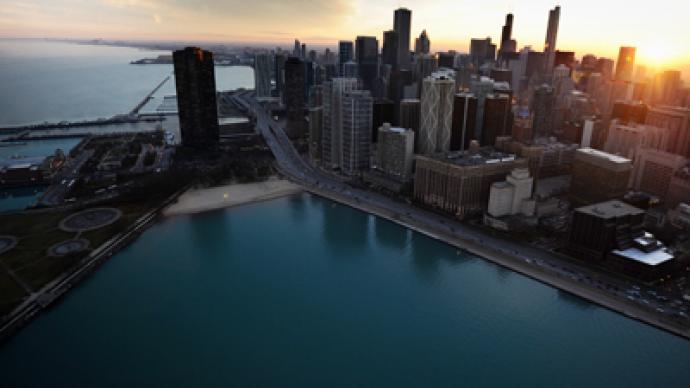 If you're planning a visit to Chicago soon, don't forget your sunscreen. The Windy City gets ungodly hot in the summer time, with temperatures peaking above 100 degrees Fahrenheit in early August. And don't forget the bulletproof vests, either.
Along with deep dish pizza pies and some of the best museums America has to offer, Chicago, Illinois can now advertise that it offers something else special for tourists: a good chance of being shot at. So far in 2012, more people have been killed in the metropolitan Midwest city than the number of US servicemen in Afghanistan, where American troops are trying to tie up the loose ends in a war that's approaching the eleventh year mark.
Barely six months into 2012, Chicago has already hosted 228 homicides this year; overseas in Afghanistan, the body count for US troops has reached a comparably meager 144. Matched up against other major cities, Chicago's murder rate exceeds four-times what residents of New York have experienced this year, reports The Daily. What's worse, however, is that death toll isn't expected to teeter off anytime soon.
"Violence has always been most pronounced on summer weekends in Chicago," Roseanna Ander of the University of Chicago Crime Lab tells The Daily. "One likely factor [for this year's rise in gun violence] is the warmer-than-usual weather and the early spring. Over 80 percent of shootings occur outdoors and in public places."
Temperatures in Chicago are already in the low-90s and expected to only increase in the coming weeks and month before autumn weather aims to make the Windy City that much more tolerable. In the meantime, however, homicide detectives have their work cut out for them. Last weekend saw nine people in Chicago killed in only the span a few hours, which came but two weeks after another 10 lost their lives in shootouts.
"I don't know how to overcome it, except to keep communicating the facts," Chicago Police Superintendent Garry McCarthy told reporters this week, reports the Chicago Tribune. "And that's what we're going to continue to do."
The homicide rate for the city of Chicago is so far up 50 percent from one year earlier. That isn't to say, of course, that the recent surge is the start of an all new trend. Since the War in Afghanistan began in late 2001, around 2,000 US soldiers have lost their lives while fighting for Uncle Sam; during that same span of time, homicides in Chicago have exceeded 5,000.
"If you look at past decades, you see, as in the rest of the country, a significant decrease in shootings and homicides," McCarthy adds to The Daily. "But we have haven't moved as far down as cities like L.A. and New York."
US President Barack Obama and his family were in Chicago this weekend to attend the wedding of a family friend, an event which prompted the Chicago Police Department to dispatch between 100 and 200 cops to patrol the area, reports The Chicago Sun-Times'. Although it's not unusual for law enforcement presence for be that extreme for an event featuring such high caliber guests, some officer say that the city might have better things to do with its police force.
"Just look at what's been happening every single weekend," Daniel Gorman, vice president of Chicago's Fraternal Order of Police, tells The Daily. "Although we appreciate the overtime, we still can't ignore that we've got a manpower crisis, and the recent violence in the city is proof of that crisis."