Colorado crime levels see little change since marijuana legalization – study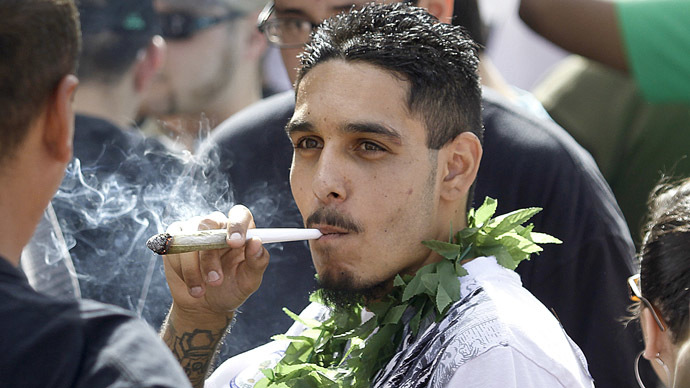 Less than six months into the experiment that Colorado took up by legalizing marijuana, state officials have released new data indicating that crime has fallen across a number of demographics since January 1.
The Colorado Department of Public Safety released data through the end of February indicating that not only has the doomsday scenario that law enforcement officials predicted not come true, but crime has fallen by significant margins.
Compared to the same time period in 2013, overall property crime fell by 14.6 percent in Denver. Homicide rates, while not leaving the single digits in either year, fell by 66.7 percent while the number of robberies decreased by seven percent. Other violent offenses have remained consistent or increased.
Authorities have admitted that the two-month sample size is far too small to be conclusive, although the signs are encouraging after fears that Denver would descend into a metropolitan hellscape if cannabis were to become legal for residents over 18 years old.
"We quite frankly don't know," Henny Lasley, spokesperson for Smart Colorado, which aims to keep marijuana away from children, told Vox. "We've had three complete months of retail marijuana. We were getting those questions three days into legalization. It's a pretty short window."
It is likely that an accurate view of the changes will not be available until three or four years at the earliest, according to Tom Gorman, director of Rocky Mountains High Intensity Drug Trafficking Area (HIDTA).
"This is a great opportunity for us to find out what happens when you legalize a substance like marijuana," he told Vox. "Just wait and watch what happens in these labs, and then you can make a decision based on data and facts and not rhetoric."
Such opinions stand in stark contrast to the warnings Coloradans heard in the months and weeks leading up to 2014. Various lawmakers, police officials, and community leaders said cannabis must remain illegal in order to avoid what would be certain chaos for the state - primarily the Denver metro area, where most of the legal dispensaries are concentrated.
Sheriff Tom Allman of Mendocino, California - where marijuana is legal for medicinal use and could soon be for recreational use - was not shy when warning about the consequences that such legislation would have.
"Thugs put on masks, they come to your house, they kick in your door. They point guns at you and say, 'Give me your marijuana, give me your money,'" he told CBS last year. "Without taking any quantum leaps we've said, 'If you grow marijuana, you're going to have large amounts of money, greed, and violence.'"
Some marijuana dispensaries have reported being burglarized, yet as another recent report found, the number is hardly widespread. Last month, the scientific journal PLOS One published the result of research conducted throughout the country that set out to determine what, if any, effect medicinal marijuana legalization had on crime levels.
The scientists determined that medical marijuana did not contribute to higher crime levels and may even contribute to lower levels of crime, particularly homicide. Like the Denver Department of Public Safety, though, the experts warned that all results are preliminary.
"Perhaps the more likely explanation of the current findings is that the [medical marijuana] laws reflect attitudes and behaviors that have been established in those societies," the University of Texas at Dallas researchers wrote in PLOS One. "If their attitudes and behaviors reflect a more tolerant populace that is less likely to infringe on one another's personal rights, we are unlikely to expect an increase in crime and might even anticipate a slight reduction in personal crimes."
You can share this story on social media: