Colorado swiftly backtracks on edible pot ban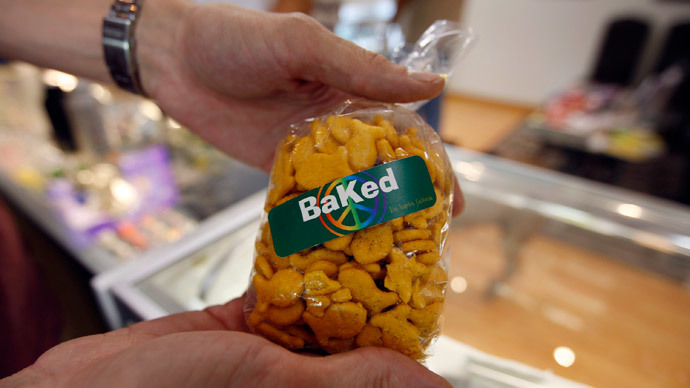 State health officials in Colorado have promptly turned away from a proposal to ban most of the edible marijuana products currently sold in the state, marking a significant reversal less than a day after the idea was made public.
As a 22-person panel of experts met to discuss potential changes to the laws regulating the state's budding recreational marijuana industry, the Colorado Department of Public Health and Environment (CDPHE) suggested on Monday that the group consider dramatically limiting the kind of edible pot products that can be sold.
Currently, state law allows adults to legally purchase a variety of marijuana products made with the plant's potent active ingredient, THC.
READ MORE:Colorado police worried pot candy will ruin Halloween treats
After triggering backlash from marijuana groups and other pot supporters, however, the Health Department is backing away from its proposal.
"Our recommendation does not represent the view of the governor's office, nor was it reviewed by the governor," CDPHE Executive Director Dr. Larry Wolk told the Huffington Post. "It was put together only in consideration of the public health challenges of underage marijuana ingestion."
Meanwhile, CDPHE Deputy Executive Director Karin McGowan told the Associated Press that there were multiple proposals being considered by regulators, and an edible pot ban was just one.
Jess Lawrence, a spokesperson for the department, said that a ban "was not our intent."
"We want to be strong stewards of the public's will," Lawrence said. "We do not want to drive these products into the black market."
Speaking for CDPHE is Jess Lawrence. "We do not want to drive these products into the black market, that is not the intent."

— Kristen Wyatt (@APkristenwyatt) October 20, 2014
Asked about banning edibles, CDPHE: "That was not our intent. We want to be strong stewards of the public's will."

— Kristen Wyatt (@APkristenwyatt) October 20, 2014
While the CDPHE maintains that it was not promoting a ban, its recommendation specifically asks regulators to consider limiting edible pot products to hard lozenges and tinctures.
"Prohibit the production of retail edible marijuana products other than a simple lozenge/hard candy or tinctures that are plainly labeled using universal symbol(s) and that users can add to their products at home," the proposal reads. "Hard candy/lozenges would be manufactured in single 10 mg doses/lozenges and tinctures would be produced and labeled with dosing instructions, such as two drops equals 10 mg."
The potential risks of edible marijuana have been debated in Colorado ever since two deaths were linked to the products earlier this year. In March, a Wyoming college student died after jumping off the balcony of his hotel room – after reportedly eating a pot cookie containing six times the recommended single-serving dosage of THC.
The following month, a Denver man shot and killed his wife after reportedly eating pot candy beforehand, though police suspected other drugs to be involved as well.
Since then, regulators have discussed breaking up pot edibles and packing them by serving size, reducing serving sizes in general, improving labeling methods, and possibly mandating that they have a specific look outside of their packaging.
Safeguards for children are also being considered, since the majority of pot candy is virtually impossible to tell apart from regular sweets. Last week, the Denver Police Department released a public service announcement warning parents to keep an eye out for pot-infused treats, especially with Halloween around the corner.
Still, marijuana advocates have come out strongly against any potential ban
"Unfortunately, this debate is often driven by a small faction of people whose goal is to reinstate the failed policy of prohibition," Mason Tvert, communications director for Marijuana Policy Project, said to HuffPost. "It's unfortunate that so much time is being spent discussing proposed bans, when it could be spent discussing realistic approaches that could actually have the intended effect of preventing accidental and over-consumption."