Colorado trying to come up with new rules for edible marijuana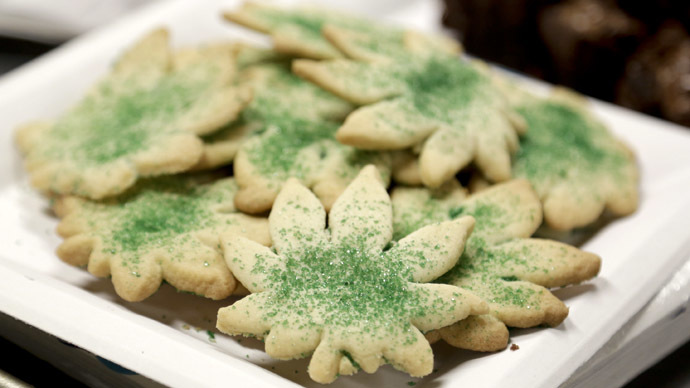 Following two recent deaths in Colorado believed to be linked to edible marijuana, state officials have decided to examine and rework regulations related to products such as pot cookies and brownies.
According to USA Today, officials will meet on Wednesday to "discuss and consider reasonable amounts of active THC in retail marijuana products in proportion to product serving size."
Currently, Colorado law states that 10 mg of THC – marijuana's active ingredient – is equivalent to one serving of the drug, but edible products are not required to be sold in a single serving, nor does the law require pot producers split the package up into separate servings. As reported by the Associated Press, a single package of pot-infused food – sometimes as small as a piece of candy – could contain up to 10 servings of THC.
"Basically, we are trying to figure out how to come up with a reasonable THC concentration or amount in edibles in proportion to product safety size," Dr. George Sam Wang of Children's Hospital Colorado told the AP. In the past, Wang has treated children who'd become sick after ingesting pot.
Earlier this month, NBC reported that a Denver man who shot and killed his wife was reportedly found to have eaten pot candy beforehand, though police said other medication could have been in his system. Police stated the man's wife was on the phone with 911 asking for help since her husband was "totally hallucinating" and "talking about the end of the world." By the time police arrived at the house, the wife had been killed with a shotgun.
In March, meanwhile, a 19-year-old college student from Wyoming died after jumping off the balcony of his hotel room. The student had reportedly eaten an entire pot cookie containing 65 mg of THC – more than six times the recommended dosage in a single serving. According to NBC, the store clerk who sold the cookie suggested breaking it into pieces instead of eating it all at once.
"Coloradans are used to eating a whole cookie. They're used to eating a whole brownie," lawyer Christian Sederberg, a member of the task force meeting on Wednesday, told USA Today. "We need to make it easy for the consumer to understand what the product is that they're taking to ensure their safety."
It's unclear exactly what kind of regulations state officials are considering. One option could be packaging edible products into pieces that could be easily separated, like a perforated chocolate bar. Another could be to mandate food to be individually wrapped by serving size.
So far, marijuana advocates are onboard the effort to take another look at regulations.
"All of us want to make sure people are safe," Meg Collins of the Denver-based Cannabis Business Alliance, as well as a member of the task force, told the AP. "The industry is stepping up and is looking at the best ways to educate and communicate to its customers safe ways to recreate with marijuana."
You can share this story on social media: