Colorado police worried pot candy will ruin Halloween treats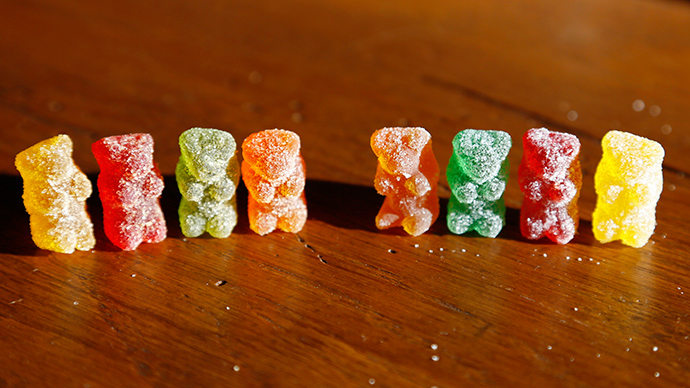 The American tradition of Halloween trick-or-treating is rife with urban myths about children being handed poisoned chocolates or razor blade-laced apples. This year, Denver police are worried about a new form of candy corruption: marijuana.
To counteract the new fear of cannabis candy in Colorado – which legalized the herb in 2012 – the Denver Police Department has put out a public service announcement (PSA) telling parents to be on the lookout.
Read More:Colorado cracks down on marijuana-based munchies
In the new PSA, created with Urban Dispensary pot shop owner Patrick Johnson, parents are warned that marijuana-infused candy looks like the real thing. Johnson said sales of the edibles account for 20 to 30 percent of his revenue, with names like 'Mountain High Suckers.'

"With Halloween fast approaching, Colorado citizens are in a unique position in the country – watching our kid's candy for marijuana edibles," Denver police told United Press International.
Read More:Toxic trail: Forgotten vials of ricin and plague discovered at US govt lab
Manufacturers have found the cheapest way to market their products is to use knock-off candy and spray them with hash oil. In the PSA, a sour patch candy infused with cannabis is nearly impossible to tell apart from the real thing – as are gumdrops, peach rings, and lollipops.
Johnson's recommendation is if the candy is not in a wrapper or doesn't look like a well-known brand, avoid it.

"If anything that your child brings home that doesn't look like it comes from a company like Hershey's, or one of the larger manufacturers...if they don't look like something familiar," said Johnson. "It's best just to toss that stuff in the trash and not let your child consume it."
Sorry folks, but stoners are not trying to spend all their weed money on getting your kids high on Sour Patch edibles http://t.co/eyFe8WqYbx

— Samantha Escobar (@myhairisblue) October 16, 2014

There are real and worrying concerns about edible marijuana candy. Children have been turning up ill from consuming it at Colorado hospitals, and two adults have died with possible links to pot-based food. In March, a man jumped to his death from a Denver hotel balcony after consuming six times the recommended dose of marijuana-infused cookies. Another man shot his wife after eating marijuana-laced candies, although investigators think he had other drugs in his system at the time.
Read More:'Watched too much Breaking Bad': Woman tried to poison mother inspired by TV series
Colorado passed a law in May 2014 to increase regulatory oversight of edible and concentrated forms of cannabis. The law says products that contain marijuana must be easily distinguishable from regular foods, and limits sales to individuals to one ounce of the drug.
You can share this story on social media: