Manhattan's Times Square hosts Cannabis Business Expo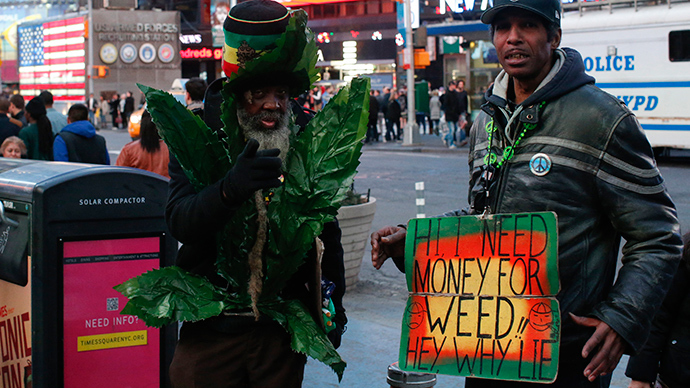 Investors, businessmen and at least one state senator were among the 900 or so attendees that turned up at a Times Square hotel in Manhattan this week for the International Cannabis Association's first ever conference in New York.
Reuters reported this week that around 300 attendees paid $500 apiece to attend the Cannabis Business Expo at the Times Square Marriott Marquis, but a spokesperson for ICA, the organization that hosted its first East Coast Cannabis Business Expo from Saturday through Monday, said as many as 900 people turned out to learn about the budding marijuana business that has grown especially in recent months following the passing of laws in Colorado and Washington that lets adults there legally purchase pot for recreational purchases.
Fortune Magazine reported from the expo that attendees sat through seminars like "Seed to Sale Tracking" and "Employment Law Issues Arising out of Medical Marijuana Use" to learn more about a topic that remains relatively taboo but has found itself closer to the mainstream than ever before in recent months. State Senator Diane Savino (D), a sponsor of New York's medical marijuana bill, also was on hand, Fortune reported, to speak at the conference and host a campaign fundraiser.
While Colorado and Washington are currently the only places in the United States where adults aren't subjected to a pot prohibition, the District of Columbia and 23 states from coast-to-coast have passed measures in recent years that allow residents to enjoy cannabis for medical purposes. Should the experiments underway in Colorado and Washington prove successful, then more states may soon adopt measures loosening restrictions on weed. If that does occur, however, then an currently nonexistent infrastructure will have to be mostly built from the ground up, which is one of the reasons in particular that hundreds flocked to this week's expo.
"We think that in a few years you're going to look at cannabis as a commodity the same way that you look at corn or wheat," Steve Janjic, the chief executive officer at Amercanex, told Reuters. According to the newswire, Janjic's company is one of several firms that's "trying to create a wholesale commodities market for different types of marijuana."
Patrick Vo, the chief financial officer of Florida-based BioTrackTHC, added to Reuters that his company's product — software that allows business owners to track crops literally from "seed to sale"—is in an unusual spot right now as states around the country start to consider new marijuana laws.
"This is getting to be legal now, and no other industry in the world just wings it," Vo said.
According to CNBC, other attendees at the recent Manhattan conference touted businesses that market high-inducing products to injured athletes and even pets.
"It's non-psychoactive, so it doesn't get your pets high," Rob Streisfeld, a consultant for HempMeds, told CNBC. "It does have tremendous benefits and potential to help with seizures, anxiety and all other benefits regarding neuro-protection."
"Bizarrely enough we have products out there for people right now, but for animals it's moving much more slowly," added HempMeds CEO Andrew Hard. "Sometimes the regulation for animals is more stringent than it is for people."
America's largest national cannabis trade show, the Third Annual Marijuana Business Conference and Expo, is scheduled for next month in Las Vegas, Nevada. Meanwhile, states considering whether or not they should follow in the footsteps of Washington and Colorado received some welcoming news this week: recreational pot sales were up in the Rocky Mountain State in August, new statistics released this week by the Colorado Department of Revenue reveal, with sales for that month amounting to $34.1 million — beating medical marijuana sales in the state for the first time since recreational weed became legal there in last January.
You can share this story on social media: