Colorado activists sue to halt taxes on legalized marijuana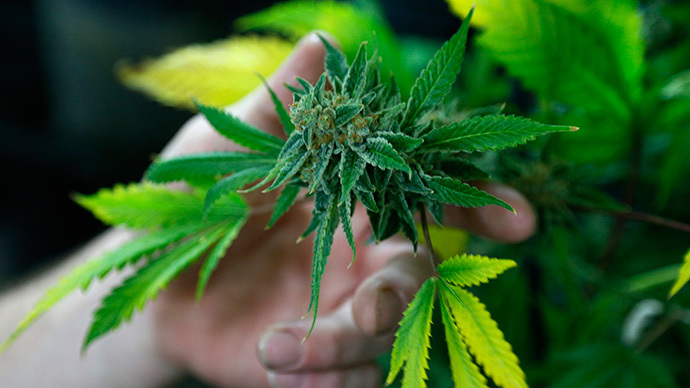 A group of marijuana activists has filed a lawsuit claiming they should not have to pay taxes on pot in Colorado, an assertion that threatens to upend legalization in the state less than a year after it became law.
Rob Corry, a local attorney, filed the suit in a Denver District Court this week, asking a judge to order an injunction against the state and the city of Denver because the collection of marijuana-related taxes violates the right against self-incrimination guaranteed by the US Constitution.
The nearly 40-page complaint argues that anyone who buys or sells pot in the state of Colorado – where legalization was approved by a 2012 state referendum and became law on January 1 – is unwittingly implicating himself in a crime. Even though marijuana was approved for recreational use in Colorado and Washington, the drug is still prohibited under US federal law. The Obama administration has made clear that drug laws will not be enforced where cannabis was approved by voter initiatives.
"There can be no possible scenario where a person paying...marijuana-specific taxes can also be in full compliance with federal law," the lawsuit reads, as quoted by Reuters.
The potential tax revenue has been one of the major attractions for residents and lawmakers previously reluctant to endorse such legislation. While Washington state has yet to open retail marijuana shops, revenue in Colorado has already exceeded expectations, with the state raking in $11 million in sales and excise taxes in the first half of 2014.
Much of the initial revenue will be spent on regulating the marijuana industry before the rest is dedicated to improving education in Colorado. However, Corry has taken exception to the size of the collection extracted; retail purchases include a 15 percent excise tax and 10 percent sales tax.
"The tax rates are so high that the underground market has experience a resurgence in Colorado," Curry complained in the suit, telling 9 News in Colorado that the criminal element will only expand.
"It's pretty clear that the black market is never going to go away with these taxes," he said. "In my mind overtaxation is just as bad as prohibition."
The lawsuit has confused lawmakers and marijuana advocates alike, with a spokeswoman for the state attorney general telling Reuters that "Mr. Corry's claims are bizarre and lack legal and logical consistency. We will aggressively defend the state against any legal challenge."
Other pro-cannabis attorneys were skeptical as well. Brian Vincente, a Colorado attorney who has been involved with a number of notable pot cases, told 9 News that Corry's suit could force a judge to measure state law against federal law, surely a losing battle for marijuana users.
"It's a bit of a reckless argument," Vincente said. "There's a small chance that a judge may decide to follow through on the supremacy clause and question the validity of this program. We think that's a very marginal chance at best."
Corry himself is no stranger to conflicts with the police, earning a reputation as one of Colorado's leading cannabis activists while leaving a record of arrests in his wake. Leading a demonstration against the prohibition of public consumption of marijuana, Curry was arrested for passing out free joints at rallies in Denver and Boulder. He was also cited at a Colorado Rockies game for lighting up while seated at Coors Field.
Lawsuits like the one in question seem slated to continue as Colorado continues to blaze the trail for other states considering legalization measures (22 states and Washington DC permit medicinal marijuana). As Corry's suit demonstrates, the lingering issue has more to do with marijuana finances and Colorado's opposition to federal law than any kind of puritan uncertainty.
Governor John Hickenlooper signed into law Friday HB 1398, which will allow marijuana distributors to pool their money together and create lines of credit that the measure refers to as "marijuana financial services."
The bill sought to correct the problem of stores dealing only in cash, an unpopular stipulation made necessary by the federal government's refusal to allow banks to deal in illegal goods. Many observers have predicted that HB 1398 will be made irrelevant by the federal restrictions.
"We are all having nightmares about this issue," Michael Elliott, the executive director of the Denver-based Marijuana Industry Group, told the local KCNC. "HB 1398 is likely not a solution to the banking problem, but an opportunity to move the conversation forward."
You can share this story on social media: