​DEA blackmailed doctors with ties to medical marijuana – reports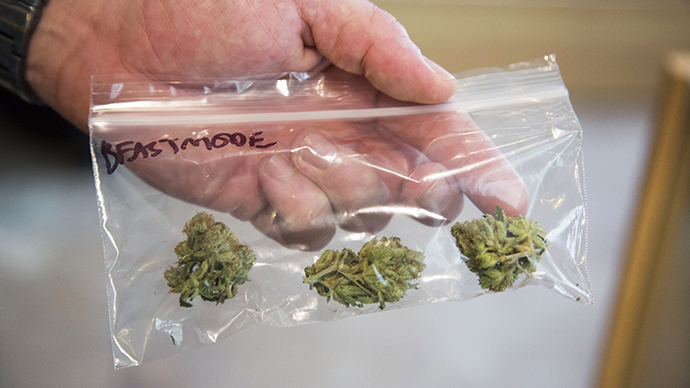 The Drug Enforcement Administration allegedly threatened doctors associated with medical marijuana dispensaries in Massachusetts, telling them they would lose their federal license to dispense medications unless they severed ties with marijuana companies.
At least three doctors told The Boston Globe and MassLive.com that DEA agents visited their homes or offices with ultimatums. The alleged visits highlight tension between federal law, which prohibits the use of marijuana, and various state laws that have allowed the sale and use of medical and non-medicinal marijuana. Massachusetts voters agreed to allow medical use of marijuana in the state in 2012.
Dr. Samuel Mazza, on the board of a medical marijuana dispensary, told the Globe that he found multiple messages on his answering machine and a DEA business card on his home door upon returning from vacation in February.
"You either give up your [DEA] license or give up your position on the board ... or you challenge it in court," Mazza, chief executive of Debilitating Medical Conditions Treatment Centers, said DEA investigator Gregory Kelly told him upon making contact.
Mazza's Debilitating Medical Conditions Treatment Centers was one of first 20 dispensaries to receive preliminary state approval to open a medical marijuana firm. He relinquished his prescription license since, he said, it wasn't required for his part-time job conducting surgery at a Veterans Affairs hospital.
Yet the Globe found two other doctors that had given up their positions on boards of medical marijuana operations.
One doctor who asked the Globe that he stay anonymous told the newspaper that he was offered the same ultimatum by a DEA agent.
"The gist was to get me to either relinquish the DEA license, if I insisted on continuing with the dispensary, or give the license up 'temporarily' while involved with the dispensary," he said.
The doctor said he had no choice but to give up his position at the dispensary in order to guarantee his ongoing ability to prescribe other medication.
Medical-marijuana dispensaries in Massachusetts are not required to have doctors on their executive boards, yet many applicants for state approval do so to increase their chances of getting a license in what is a highly-competitive process.
"What the applicants tried to do was to put together a really robust team that would show professionalism and also the right kind of backgrounds that would make any sort of medical program happen, marijuana or otherwise," said Valerio Romano, an attorney who founded Massachusetts Marijuana Compliance. He also represents two doctors who were supposedly visited by DEA agents.
Romano said the added scrutiny on the state is surprising, given Massachusetts has strong regulations on medical marijuana compared to other states.
"Massachusetts has this really highly regulated framework, where there's a lot of effort put into making sure medicine is really only for patients, and I have not heard of this in any other state with such a framework," he told The Huffington Post.
DEA head Michele Leonhart has not taken lightly the wave of added acceptance marijuana has received in recent years throughout various states in the US. She told Congress in April that marijuana legalization "makes us fight harder."
Leonhart opposed the US Justice Department when it said in August that it would work with Washington state and Colorado in their efforts to "implement strong and effective regulatory and enforcement systems" after the states had legalized regular marijuana sale and use.
According to The Huffington Post, she has reluctantly accepted the Obama administration's second-term efforts in drug-sentencing reform, a punitive tool of the decades-long Drug War in the US.
"Certainly the administration, the executive office, seems to indicate that they want to leave [state marijuana regulations] alone. One would presume that the DEA would take their cue from the rest of the executive office, but I guess in their case they're not," Romano said. "This is another way they can go after the dispensaries without actually violating the letter and what they've been instructed."
Late last month, the US House approved a measure that aims to bar the DEA from spending money to counter medical-marijuana companies that are legal pursuant to a state law.
You can share this story on social media: