Ruth Baby Ginsberg, dragon cat, 7ft battle robot: Crazy Halloween costumes you should see (VIDEO)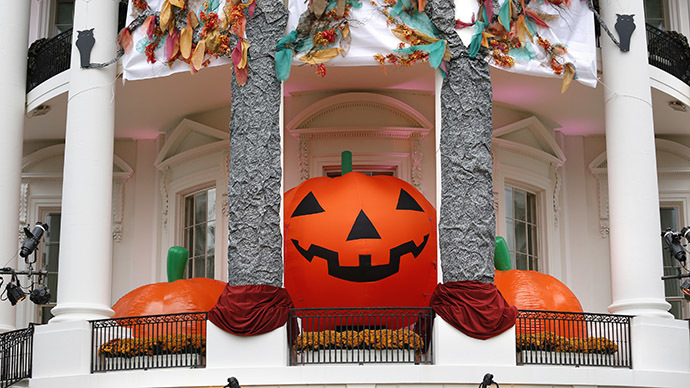 If Halloween is good for anything, it is to witness the beautiful, creative, and sometimes insane lengths people will go to in order to throw on a good costume – or potentially embarrass their children and pets.
READ MORE: #Shameless: People don ISIS attire for Halloween
The internet was bombarded with photographs and videos of Halloween costumes on Friday, but while Katy Perry puzzled Americans by dressing up as a Cheeto, the one participant who stole the hearts of social media users won't even remember being the star of the holiday.
The uncontested winner – as tweets and some outlets proclaimed – was "Ruth Baby Ginsburg," the adorable child of Ohio resident Kate Livingston. Soon after hitting Twitter, the image was shared almost 4,000 times. Of course, the infant's costume was named after Supreme Court Justice Ruth Bader Ginsburg.
Ruth Baby Ginsberg wins Halloween, so stop trying. (h/t @NaamaHaviv) pic.twitter.com/T9ETbhL025

— Taffy BrodesserAkner (@taffyakner) October 31, 2014
Continuing the trend of amazing costumes featuring babies, Ryan Bowen ended up constructing a seven-foot MechWarrior costume…and placed his infant son Geraint right in the middle of it. The merging of father and son into metal super soldier certainly looked impressive, and Bowen's wife said he had been looking to make the costume since before their child was even born.
"My husband had this costume planned for several years, long before we had a child. The inspiration was a computer game he played in high school," reads the post in the family's Imgur gallery. "When we found out we were having a baby, he got to work. Ryan sketched out the rough designs probably two months before Geraint was born. With so much baby stuff coming in the mail, we had plenty of boxes for him to work with, so he just had to buy a few things to make it."
3Some people, on the other hand, could not help but dip their toes into the current state of concern over the Ebola outbreak. During New York City's Halloween Parade, one man went as a seemingly infected medical official – complete with a traveling quarantine zone.
Ebola man #Halloween parade #nyc@RuptlyNewsroompic.twitter.com/kUAIku3ZxN

— greg jeske (@gregjeske) November 1, 2014
Humans were not the only ones getting into the Halloween fun on Friday, though, as a couple of videos surfaced showing animals celebrating in their own special way. These giant tortoises in San Diego, California, for example, happily went to town on a pumpkin.
Little lion cubs in the San Diego Zoo Safari Park were presented with their own Halloween treats. Zoo keepers say the orange toys will help them practice skills like chasing and pouncing.
In Russia, bears also got pumpkins to play with.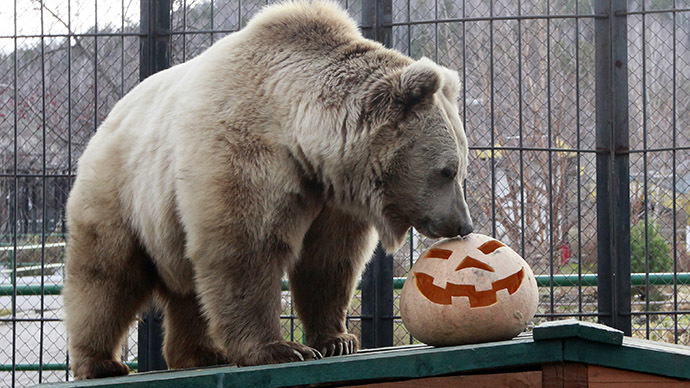 Meanwhile, the white-furred Belyash the cat bravely stood by as its Yekaterinburg owner shaved its hair, painted its body, and generally embarrassed it before transforming it into a fearsome – but mostly cute – red dragon.
Other cats were granted costumes of a simpler variety.
OK THE HALLOWEEN AWARD GOES TO THIS CAT pic.twitter.com/o45TcIHpQy

— SHOPJEEN.com (@SHOPJEEN) November 1, 2014
Despite all the creativity on display, Halloween wasn't entirely without controversy. Walmart found itself in hot water with customers for offering "Fat Girl Costumes" online, though the company quickly apologized after fierce backlash from people all over the country.
Elsewhere around the world, British government minister Norman Lamb lashed out against Halloween in general, saying it "demonizes" people with mental illnesses.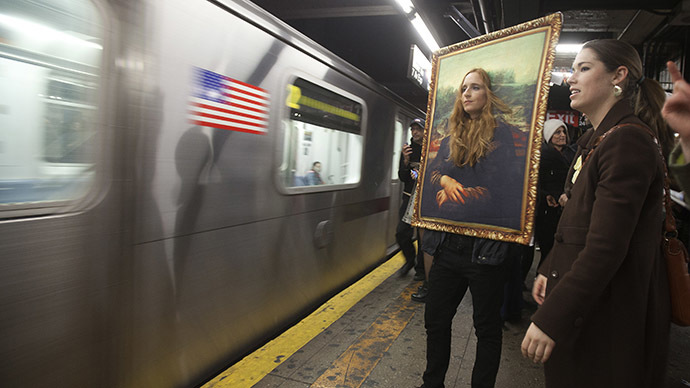 "This Halloween culture is dangerous," he said, as quoted by the Guardian. "It conditions all of us to fear mental illness, to see people as 'psychos,' or 'schizos,' or 'freaks.' It makes us believe that mental illness is something otherworldly. We have to tackle this damaging stigma which prevents young people from seeking help when they need it, or talking about any problems they might be having."
While the minister worried about the effect of Halloween on the mentally ill, one French town banned clown costumes this year. Apparently, young people in wigs and greasepaint – sometimes armed with pistols, knives and bats – have been terrorizing and at times beating up people across the country.
READ MORE: Evil clown outbreak leads French town to ban them for Halloween