​Evil clown outbreak leads French town to ban them for Halloween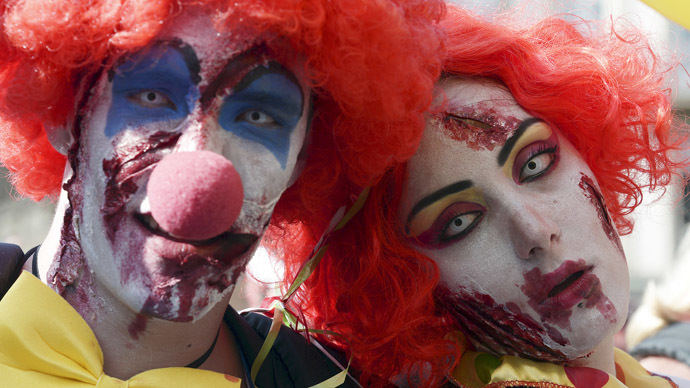 A French town has decided to ban clowns this Halloween after a wave of incidents involving freakish, terrorizing and sometimes violent clowns swept across the country.
Vendargues, a town of 6,000 residents in southern France, said it wants to temporarily outlaw clown costumes for the year's biggest time of costume parties to "avoid any disruption" during the festivities, Mayor Pierre Dudieuzere said.
"It's about protecting children by preventing any ill-intentioned clowns from mixing with residents," the town hall explained.
The ban applies to all people aged over 13 and will be in force in all public spaces on October 31 and November 1, an order published on the town's city hall website says.
The decision, which will briefly make Vendargues a safe haven for people with coulrophobia (the fear of clowns), comes as France is experiencing a series of bizarre and eerie pranks involving clowns.
Spooky young people in wigs and greasepaint, sometimes armed with pistols, knives and bats, have been terrorizing and at times beating up people all over the country. One violent incident resulted in the perpetrator being jailed for four months.
At the weekend police arrested 14 teenagers dressed as clowns, who were carrying weapons in the Mediterranean port town of Agde.
The phenomenon has prompted anti-clown vigilantism. Police said people increasingly reported spotting clowns "outside schools, but also on public roads."
The authorities called on the people to settle down while professional clown organizations complained of harassment from the suspicious public.
The evil clown fad is believed to originate in viral YouTube video and a recent episode of the TV series American Horror Story featuring a clown killer.
You can share this story on social media: