Crazy knife-wielding clowns terrorize small French town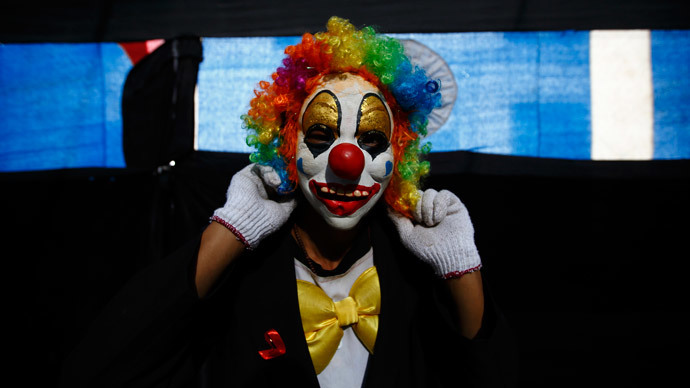 A small town in Northern France was left in panic after several people were attacked by clown, or clowns unknown. In one of the attacks a student was threatened with a knife. Police have reportedly arrested a man suspected of aggravated violence.
The small town of Douai and its suburbs in northern France reported several incidents involving belligerent clowns last week, said French La Voix du Nord newspaper.
On Monday, a girl was chased by an armed person wearing a clown costume in Sin-le-Noble commune, she told police authorities. The attacks continued on Tuesday when a middle school student said she was attacked by a clown in Lambres-lez-Douai commune.
Wednesday saw the scariest attack when a clown threatened a local student with a knife in Flers-en-Escrebieux commune near a primary school.
Police picked up a homeless man who was wearing a black wig and red clown nose for questioning. The police later released him, saying that he only "begs in his clown costume" and "doesn't hurt anyone."
Clown aperçue à Wazemme.En plus c'est vraiment pas une blague,restez sur vos garde et n'hésitez pas à sortir arme pic.twitter.com/7Z95J0aFjc

— Z2 ♛ (@Zinedine_Mzt) October 16, 2014
"There is surely some semblance of truth to these reports, but it's all become clouded," an unnamed police officer told La Voix du Nord, "For some people it's turned into a phobia. There is an uncontrollable snowball effect here."
Soon after the incidents, an anxious mother called local France TV, saying that clowns carrying fake guns had appeared in front of her children's school.
However, the school principal told France TV that school personnel hadn't seen the elusive funny men.
"A lot of students were anxious; we had to reassure some of them. This phenomenon of rumors has more of an effect on young people. Two parents even called us to find out if school entrances were secured," the principal added.
"@AHS_FRA: Vous avez vu l'histoire des clowns qui se baladent un peu partout en Amérique mais aussi en France haha ?" pic.twitter.com/NVPT5Lcdhr

— H (@haroIdx) October 16, 2014
Social media burst with 'clown' remarks. Some users made posts in twitter, saying they had seen "armed clowns."
"Clown seen in Wazemme (Lille). On top of it, it's really not a joke, stay vigilant and don't hesitate to go out armed," Tweeter @Zinedine_Mzt wrote.
On Friday, French media reported that police arrested a man who is accused of threatening children with a knife.
Police authorities told local residents "not to make their jobs more difficult by spreading false rumors on the internet."
This is not the first time people dressed as clowns have terrorized quiet towns. Earlier in October, the residents of Wasco, California, were on alert for sightings of a ghoulish clown, or clowns, in some instances brandishing a weapon.
You can share this story on social media: