Walmart in hot water over 'fat girl' Halloween costume section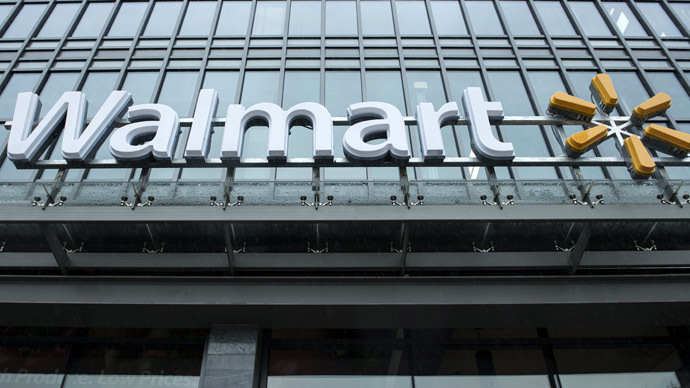 American retail giant Walmart has apologized after a collection of Halloween outfits available for sale on its website were branded as "Fat Girl Costumes."
The store first made waves on Monday this week when it was discovered that a rather insensitive label had apparently ended up being applied to a page of adult plus-size costumes being sold ahead of Halloween.
Critics quickly lashed out at the company and took to social media to voice their complaints, in turn putting Walmart in the peculiar position of having to apologize after "Fat Girl Costumes" became a trending topic among Twitter users.
.@Walmart Not sure labeling these as "Fat Girl Costumes" is the best approach. http://t.co/BY9zHhSMOZpic.twitter.com/zAxFVYVRVw"

— sean carter (@carterartist) October 21, 2014
Jesus, @Walmart actually has a 'fat girl costumes' page. Really, @Walmart? One more reason among hundreds that I'm glad I don't shop there.

— Sara Ryan (@foodstuffsnati) October 27, 2014
The company has since said they're sorry for the gaffe, but not before being berated on the internet and ending up the topic of articles published by the likes of Time, People, CNN and others.
"Let's start taking bets on how long it'll be until the Fat Girl section disappears and we're subjected to a totally sincere apology from a retail giant who really really cares," Jezebel, one of the first e-outlets to report the issue, speculated early Monday.
Soon after, Walmart did in fact circulate an apology.
"This never should have been on our site," a spokesperson for Walmart, Ravi Jariwala, told ABC News. "It is unacceptable, and we apologize."
The headline has since been scrapped from the site, and Jariwala said the company is working to "ensure this never happens again." According to Jezebel, however, insensitive product descriptions on the retailer's website didn't die with the removal of the "Fat Girl Costumes" tag.
"Walmart, God bless them, has something to offend just about everyone," Anna Merlan wrote for the Site. "[I]f being called fat isn't quite your speed, why not peruse one of these racist American Indian parody outfits? Or this entire selection of "Gypsy" costumes? Or, returning to fatness, this super witty and sophisticated Fat Tinkerbell get-up for men? The description reads "Tinkerbell really let herself go since she has been out of work for so many years!" Get it? Get it? Sigh."
.
You can share this story on social media: