Family of first Ebola victim in US released from quarantine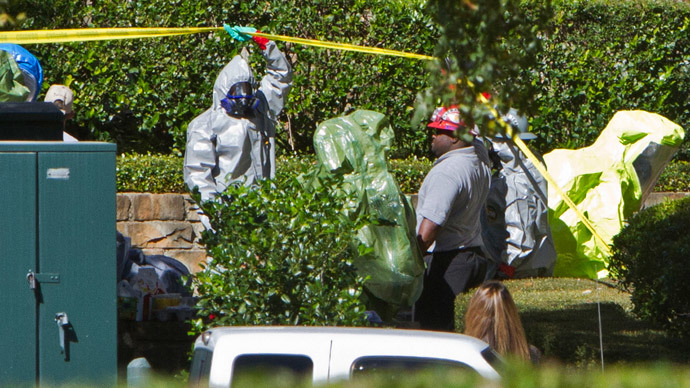 The mandatory quarantine for the family of Thomas Eric Duncan, the first Ebola patient in the US who died on October 8, has ended. With the release, Louise Troh, Duncan's fiance who was held at a secret location in Dallas, expressed both relief and grief.
"We are so happy this is coming to an end, and we are so grateful that none of us has shown any sign of illness," Troh said in a statement, according to Reuters. "We continue to mourn his loss and grieve the circumstances that led to his death, just at the time we thought we were facing a happy future together."
By court order, Troh, her 13-year-old son, Duncan's nephew, and a family friend were taken to an undisclosed location with an armed guard inside a gated community, AP reported, following Duncan's Ebola diagnosis in late September.
The group was among dozens of others whom health officials believed had close enough contact with Duncan following his trip from Liberia to require the three-week quarantine. Twenty-one days is the incubation period for the Ebola virus, thelatest outbreakof which began in West Africa earlier this year and has killed more than 4,500 people in the region ever since.
According to AP, officials said Monday that 43 of 48 on their original Ebola watch list have gone through the 21-day period and are now in the clear. Others who cared for Duncan at Texas Health Presbyterian Hospital will stay under watch until Nov. 7. Two nurses -Nina PhamandAmber Vinson- who cared for Duncan there have since been diagnosed with Ebola and are being treated in isolation units.
READ MORE:5 things about Ebola you should know
Duncan took himself to the hospital on Sept. 26, claiming he had a headache and stomach pains. He was sent away with medication for a misdiagnosed sinus infection. Two days later, he was back at Texas Presbyterian with harsher symptoms, including projectile vomiting and diarrhea. He tested positive for Ebola shortly after.
The at times haphazard reaction to Duncan's symptoms and diagnosis at Texas Presbyterian and, more broadly, from city and state officialshas been criticizedby some who say proper precautionswere not takento avoid spread of the virus.Last week, the nation's largest nurses' union alleged erratic protocols at the hospital for handling Ebola.
A lab supervisor who had handled a specimen from Duncan was cleared for Ebola by US health officials on Sunday, but not before causing panic aboard a cruise ship. Out of precaution, the worker reportedly isolated herself on a Carnival Cruise Lines ship with about 4,000 passengers on a seven-day voyage that ended on Sunday in Galveston, Texas. Fears of a possible Ebola carrier barred the boat from docking for a scheduled stop in Cozumel, Mexico,accordingto AP.
Initial response criticized
Meanwhile, late last week, the World Health Organization (WHO) admitted that its initial response to the Ebola outbreak in West Africa wasslow and disorganized.
According to AP, the WHO in a draft memo blamed its own experts for not taking disease control serious enough given the region's dilapidated health systems and slack border control.
"Nearly everyone involved in the outbreak response failed to see some fairly plain writing on the wall," read the document, which goes on to describe a WHO in disarray.
Dr. Peter Piot, who co-discovered the deadly virus, said that the WHO has acted far too slowly, mainly because of its Africa office.
"It's the regional office in Africa that's the frontline. And they didn't do anything. That office is really incompetent," he said.
Amid an intense spotlight during Duncan's diagnosis and treatment, some in his family have said he was a "victim of a broken system," as his nephew wrote in the Dallas Morning News last week.
"From his botched release from the emergency room to his delayed testing and delayed treatment and the denial of experimental drugs that have been available to every other case of Ebola treated in the U.S., the hospital invited death every step of the way," Josephus Weeks wrote in an op-ed.
Prior to the op-ed, Weeks released a statement shortly after Duncan's death that said his uncle "was treated unfairly" and "wasn't given a chance."
'I want to breathe'
Troh and her family left isolation at midnight local time Sunday, the statement said.
"I want to breathe, I want to really grieve, I want privacy with my family," Troh told the AP on Friday.
The quarantine meant Troh and other family members were unable to attend Duncan's memorial service at his mother's church in North Carolina. Troh was set to marry Duncan later in the week after he had arrived in Dallas from his native Liberia.
The family of Youngor Jallah - Troh's daughter who cared for Duncan just before he went to the hospital for the second time - was not barred from leaving their own Dallas home, though they were subject to twice-daily temperature checks administered by the US Centers for Disease Control and Prevention.
"I'm telling you, just to step outside will be so great. To hug my mom and grieve for Eric, not over the phone like we've been doing but in the flesh," Jallah told AP.
Troh thanked "angels from God," the teams of health care workers and city officials who assisted them this month. She also expressed sympathy for the nurses who tested positive for Ebola.
"We thank all people of kindness who have prayed for us during this time, and we join your prayers now for others who are suffering too," she said. "We have lost so much, but we have our lives and we have our faith in God, which always gives us hope."
Troh's pastor, George Mason, said he is coordinating with the city, county, and philanthropic outlets to help rebuild the family's life given they had to suddenly part with nearly all of their possessions upon Duncan's diagnosis and their own quarantine.
"They were left with nothing. They are completely devastated by this, so there's need to have their lives rebuilt," Mason told AP.
Troh told AP she would like to write a book about her life, a "love story" about growing up in Liberia, how she met Duncan at a refugee camp in Ivory Coast, his quest to be reunited with her and their 19-year-old son in the US, and his tragic - and very public - death.