CDC says US needs to 'rethink' Ebola containment efforts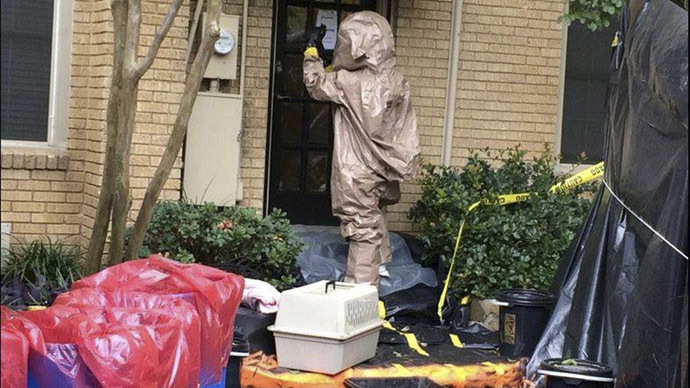 Following the identification of the United States' second confirmed case of Ebola, the Centers for Disease Control and Prevention declared the need to "rethink" the way it is handling efforts to contain the virus.
"We have to rethink the way we address Ebola infection control, because even a single infection is unacceptable," CDC Director Dr. Tom Frieden said on Monday, according to NBC News.
As a result, the agency is "doubling down" on outreach and training as it moves to ensure medical staff around the country are prepared for any incoming patients.
Meanwhile, American nurses feel that hospitals are not adequately equipped to deal with a possible domestic outbreak of Ebola, according to a survey by National Nurses United that was quoted by CNN.
READ MORE: First to contract Ebola in US: CDC confirms Texas health care worker's diagnosis
In the poll, 76 percent of the 1,900 nurses sampled noted that no policy regarding suspected Ebola patients had been shared with the staff. They also said more hands-on training is required, as well as ample protective equipment in the event that a patient is admitted.
According to Frieden, the CDC is considering whether suspected Ebola patients should be taken to specific hospitals that may be better prepared to handle the situation.
"Stopping Ebola is hard. We're working together to make it safer and easier," he said, as quoted by NBC. "Together I'm confident that we will stop it. What we all need to do is take responsibility for improving the safety of those on the front lines."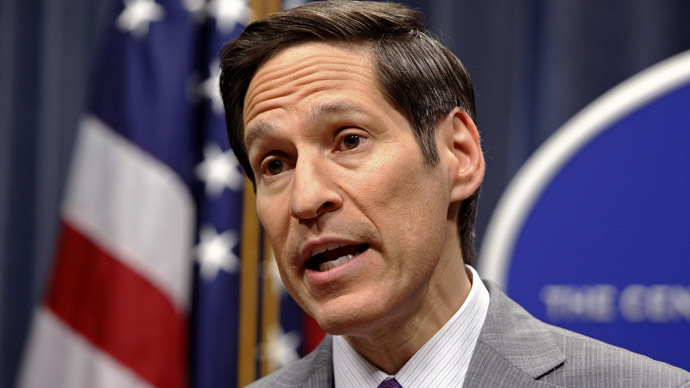 Still, Frieden said that since one Texas nurse has contracted the virus, more cases could be confirmed soon, particularly since breaches in safety protocol could have extended to other workers.
"Unfortunately, it is possible in the coming days we will see additional cases of Ebola," Frieden said, according to Reuters. "This is because the health care workers who cared for this individual may have had a breach of the same nature."
The Texas nurse who helped care for Thomas Eric Duncan – the first confirmed case of Ebola in the US – has been identified now as 26-year-old Nina Pham, according to local news station WFAA. Although Pham reportedly wore protective gear during all her interactions with Duncan, who died last week, she contracted the virus anyway. This led Frieden to say a breach in safety protocol was the likely reason for the infection.
Although Pham was confirmed to have had "extensive contact" with Duncan during his stay at Texas Heath Presbyterian Hospital, she was not among the 48 individuals being tracked after coming in contact with Duncan. She is currently listed in stable condition.
Even the number of staff members being monitored came under fire on Monday, when the Associated Press reported that roughly 70 people helped care for Duncan. That means that significantly more people than previously expected could have faced exposure to Ebola, though it's still unclear exactly how many people had direct contact with the patient.
The numbers, as well as other details on the care provided to Duncan, came from medical records provided to the AP. For some reason, however, the CDC does not have these records.
#BREAKING: Nina Pham, 26, is the nurse being treated for #Ebola. This image is provided by her family. pic.twitter.com/qzlYDrMSvx

— Jason Whitely (@JasonWhitely) October 13, 2014
Meanwhile, the US continues to screen passengers at five different airports in the country, hoping to keep infected individuals from exposing others to the virus. On Monday, Frieden said that 91 passengers have been flagged for an additional screening at New York's John F. Kennedy International Airport alone, though none were found to have been exposed to Ebola.
READ MORE: Ebola vaccine research stalled by budget cuts - NIH director
Frieden also responded to calls calling for the US to implement a travel ban on flights from West Africa.
"On the issue of banning travel, I understand that there are calls to do this," he said, according to The Hill. "I really tried to focus on the bottom line here. The bottom line is reducing risks to Americans. ... Stop it at the source in Africa."
However, not everyone is convinced the CDC's airport screenings will work. Larry Gostin of Georgetown University said US screening protocol is likely the same as what is being implemented in West Africa, where the virus has spread rapidly. He also said that under current CDC standards, Duncan himself would have slipped past officials, since he did not display symptoms until after he entered the US.
"Fever screening can be unobtrusive, but let's not have the false impression that this is a tried-and-true method and it's going to keep Ebola out of the United States," he told Minnesota Public Radio. "It's just not the case."
Gostin added that false alarms could also force officials to devote hours of time on a single case, while others could use medication to lower fevers in order to get past screenings
You can share this story on social media: