Ebola outbreak to get 'a lot worse' – UK Health Secretary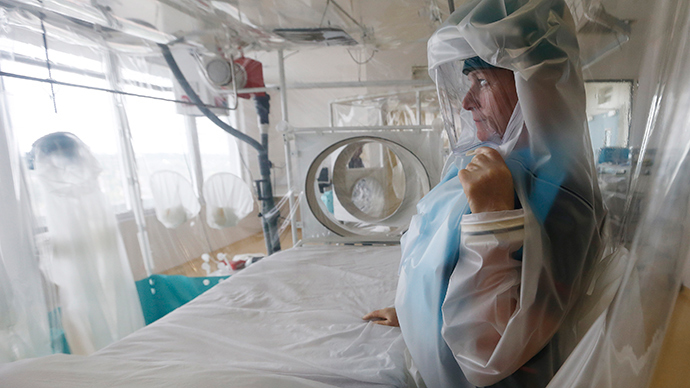 The UK Health Secretary Jeremy Hunt warned the UK should prepare for Ebola to get "a lot worse," while London Mayor Boris Johnson said there is "little doubt" a case of Ebola will be found in the UK, most likely in London.
In an effort to prepare for potential Ebola cases in Britain, the government announced passenger screening plans, launched a national mock Ebola exercise and bolstered its NHS phone line to help identify potential cases.
Hunt made a statement to MPs on Monday about the UK response to the Ebola outbreak. He called the Ebola a "global public health emergency" and said the virus "risk in the UK remains low but we have to prepare for the situation getting worse."
More than 4,000 people have died from Ebola since March, according to the World Health Organization.
Hunt also announced that call handlers on the NHS 111 phone line will try to identify potential Ebola cases. "If the person with symptoms has recently been to West Africa and is at high risk of having been in contact with Ebola, 111 will immediately refer them to local emergency services for assessment by ambulance personnel with appropriate protective equipment," Hunt said.
Callers who think they might have Ebola will be asked about their recent travel history. Ebola symptoms include vomiting, diarrhea, fever and breathing problems.
Although Hunt told BBC Breakfast that he thinks very few people will use the service, the UK still has to prepare for the situation to get worse.
"So I want to make sure we are prepared for the fact it is now more likely than not that someone will arrive in the UK with Ebola and one of the most crucial things in that situation is what happens when they make their first contact with the NHS," he said.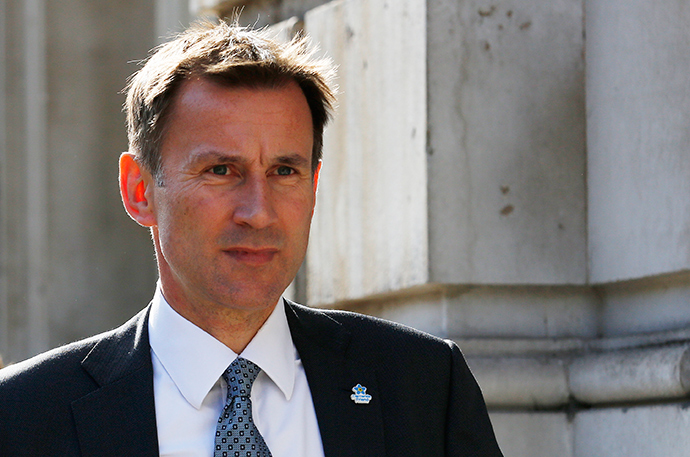 On Saturday, Chief Medical Officer Dame Sally Davies said it would not be surprising if there was a "spillover" of Ebola into the UK and that she expects "a handful of cases in the next few months."
In order to prevent people carrying the disease entering the UK undetected, the government announced screening plans for passengers arriving from Ebola-hit countries in West Africa into Britain. Passenger screening will begin at London's Heathrow Airport on Tuesday, Hunt said.
Prime Minister David Cameron ordered health checks at Heathrow and Gatwick airport and Eurostar terminals on passengers coming into the UK from Sierra Leone, Guinea and Liberia, the three worst-affected countries.
"Although the risk to the UK remains low, in view of the concern about the growing number of cases, it is right to consider what further measures could be taken, to ensure that any potential cases arriving in the UK are identified as quickly as possible," the chief medical officer said.
London Mayor Boris Johnson said on Sunday that the screening plans are "far from perfect."
"It's one of those cases where we are at risk of seeming to promise stuff that doesn't really make any sense," he said on the BBC's Andrew Marr Show. "You can't blood test everybody coming into the country. The idea of screening it at airports is far from perfect as a solution."
Screening at airports in Liberia, Sierra Leone and Guinea have been in place for several weeks to ensure all passengers leaving those worst-affected countries are checked.
On Saturday, the UK held a nationwide simulated outbreak exercise to test the nation's readiness to deal with an Ebola case, which left Hunt "doubly assured" that the UK is ready to cope with a potential Ebola case.
Last week, the Ministry of Defence announced that more than 750 British military personnel and the medical ship RFA Argus, which has a fully-equipped hospital, are being sent to West Africa to help contain the outbreak. The UK is also delivering 'Ebola aid flights' to Sierra Leone, including beds, protection suits, tents and ambulances.
Hunt said he would receive an estimate from the Chief Medical Officer of the number of cases that the UK will likely have to deal with in the next three months.
You can share this story on social media: