No faith in American justice: Aafia Siddiqui withdraws her appeal of 86-year prison term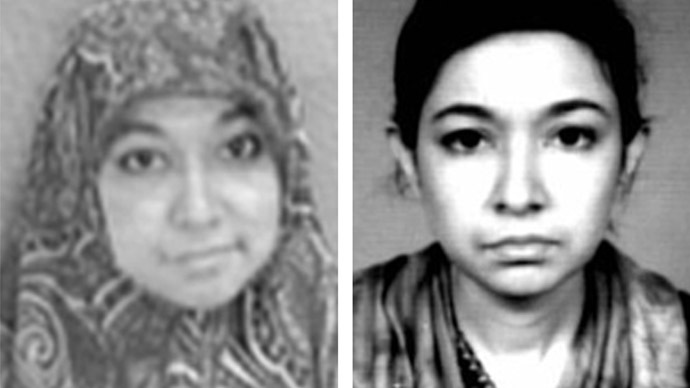 Pakistani neuroscientist Aafia Siddiqui has withdrawn what is likely the final appeal of her conviction for attempted murder of American agents in Afghanistan. Islamist militants have attempted to free Siddiqui in prisoner swaps with the United States.
US District Judge Richard Berman acknowledged the withdrawal on Thursday, saying Dr. Siddiqui had "clearly and unequivocally" requested an end to the appeal process. He ordered the case closed, adding that he would likely have ruled against Siddiqui anyway, Reuters reported.
Berman wrote that she had adequate legal counsel and that he would not seek a hearing to further question her.
Siddiqui, 42, is being held in a prison medical center in Texas where she is serving an 86-year sentence for allegedly shooting at FBI agents, US soldiers and interpreters who sought to interrogate her in Ghazni, Afghanistan for supposed links to Al-Qaeda. Shot in the abdomen, she was the only person wounded in the encounter.
There are conflicting reports as to what led to Siddiqui's trial. She was believed to have been married to Ammar Al-Baluchi, the nephew of alleged 9/11 mastermind Khalid Sheikh Mohammed. In 2003, Al-Baluchi was taken into US custody, and Siddiqui was later placed on the FBI's 'Most Wanted' list for being an alleged Al-Qaeda operative. That year, she disappeared with her three children. The US said she was at large, helping Al-Qaeda plot attacks. Siddiqui's family and supporters, though, say she was detained and endured five years of torture at the US prison at Bagram Air Base in Afghanistan. In 2008, US officials announced Siddiqui's arrest and charged her with assaulting US military personnel.
A jury found Siddiqui guilty in 2010. Her legal team had argued for an acquittal based on a lack of evidence that her rifle had fired. In 2012, an appeals court affirmed the conviction and sentence, rejecting claims that she had not received a fair trial.
In May, a newly-appointed lawyer for Siddiqui filed the appeal of her conviction. Yet in July, Siddiqui directly appealed to Berman, stating in a letter that she had no faith in the US legal system and did not want to press further appeal.
Siddiqui was educated in the US, holding degrees from the Massachusetts Institute of Technology and Brandeis University. She is a mother of three.
Several Islamic militant groups have attempted to compel Siddiqui's release through prisoner swaps. In August, Islamic State, the extremist group currently the target of US-led airstrikes in Syria and Iraq, offered to release an American hostage in exchange for Siddiqui, among other demands that were all ultimately denied.
In urging her release, Islamist groups have often cited allegations made by Siddiqui's family that she was raped and tortured at Bagram Air Force Base.
Siddiqui, also known as the 'Lady Al-Qaeda' and the 'Grey Lady of Bagram,' is unlikely to be allowed another appeal at this point barring extraordinary circumstances, such as new-found evidence. Thus, she might not understand the ramifications of her appeal withdrawal, wrote Robert Boyle - her attorney that filed the appeal on her behalf in May - to Judge Berman last month.
According to Reuters, Boyle said last month that Siddiqui was likely unaware of the Islamic State swap proposal when she withdrew the appeal, and that given those circumstances, her actions should not be held against her.