The USA against Aafia Siddiqui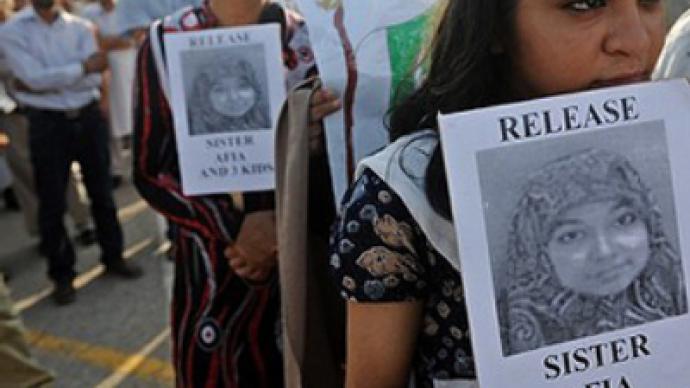 During two years of hearings, a Pakistan citizen who was charged with being the only terrorist woman in Al Qaeda has turned into an unarmed person who allegedly managed fighting six American officers.
The US District Court in New York has postponed announcing Aafia Siddiqui's sentence. She was suspected of organizing a trade network for Liberian blood diamonds to fund Al Qaeda. She was tried, however, for attacking US officers. Her lawyers are hoping she gets not a life sentence, but rather a maximum of 12 years imprisonment.
Dr. Aafia Siddiqui is 38. She was born in Pakistan to the family of a neurosurgeon. She studied in the USA from 1990 to 2001, including at the Massachusetts Institute of Technology. She has a PhD in neurobiology. Her three children were born in the USA.
In 2008, protests against arresting and trying Aafia Siddiqui were one of the crucial arguments of the Pakistani opposition that forced President Musharraf to resign. Now this argument is used by opponents of current President Zardari, whose position has been weakened by the high death toll from the ongoing floods.
Al Qaeda facilitator or a victim of the Secret Service?
She went missing with her kids in 2003 in Pakistan when she left her parents' place in her car. Pakistani press reported she was being interrogated by the FBI in Pakistan. Then she disappeared. In 2004, John Ashcroft, the US attorney general, called Aafia "the main Al Qaeda facilitator."
According to different Pakistani human rights officers, from Нuman Rights Watch (HRW) to the Dr. Aafia Siddiqui Humanitarian Support Committee, between 700 and 1,600 people have gone missing in Pakistan since 9/11. Pakistani human rights officers believe that the secret services of their country, in cooperation with the CIA, are responsible for their kidnappings.
In July 2008, UK journalist Yvonne Riddley stated that Aafia Siddiqui was kept at the US military base prison in Bagram, Afghanistan, where she was being tortured and raped. Amnesty International (AI) declared Aafia Siddiqui a hostage illegally held at the military base.

Wire agencies spread the information that Aafia Siddiqui was detained by the Afghan military near the Gazni governor's home, and handed over to American servicemen. According to somewhat contradicting information, the woman was walking around the governor's house with a map of New York, on which sights were marked. Moreover, she was carrying chemicals, a pamphlet containing bomb manufacture instructions, a plan for poisoning former US presidents Carter and Bush Sr., as well as a flash drive with letters to Al Qaeda members.
Secretary of State Hillary Clinton (a presidential candidate at the time) thanked the Secret Service for doing a good job.
The Grey Lady
In August 2008, Aafia Siddiqui was brought to the USA for further investigation and trial. Her sister, Dr. Fouzia Siddiqui, a former Harvard student, witnessed that Aafia looked like she weighed no more than 45 kilograms and was extremely exhausted; she could barely move or talk, and her facial bones looked fractured.
After a two-year trial, she was charged with attacking the US servicemen and agents who were trying to interrogate her. According to the prosecution, she grabbed a rifle from one of the officers and tried shooting. Media continue calling her "the grey lady of Al Qaeda."
The conviction is based on testimonials from FBI officers and the US army, as well as on the words of Gary Woodwort, a member of the Braintree Rifle and Pistol Club in Massachusetts. He insists that he remembers teaching Aafia Siddiqui to shoot a gun in the early 1990s.
On February 3, the US District Court in Manhattan pronounced her guilty. Her sentence was supposed to be announced on August 6, then it was postponed to August 16; now, it's August 23.
Nadezhda Kevorkova, RT

You can share this story on social media: