BTK serial killer taking part in book to 'help' victims' families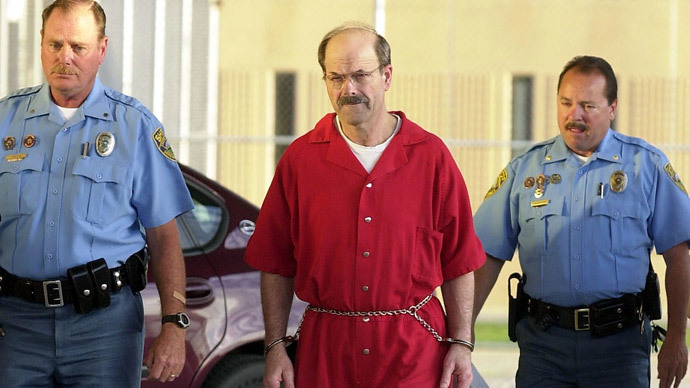 A chance to understand the motivations of a mass murderer could soon arrive in a book about the BTK serial killer. Dennis Rader says he is working with an author in hopes of helping his victims' families.
Writing from his cell in the El Dorado Correction Facility, Rader sent a four-page letter to The Wichita Eagle saying that he is cooperating with a new book detailing the 10 murders he committed between 1974 and 1991. If a deal goes through, he says the book will benefit his victims' families.
BTK was an acronym for "bind, torture and kill," which the killer used as a sign-off in his letters to The Wichita Eagle at the time of the murders. The letters described the details of the killings to police and local news outlets. Rader tortured and killed each of his victims.
"I can never replace their loved ones, my deeds too 'dark' to understand, the book or movies, etc., is the only way to help," wrote Rader. "The main reason for the book idea, is to help VF's (Victims Fund) monetarily wise; something I had hoped for years, to help them and in a way to pay my debt to them."
A court settlement bars Rader from profiting from his crimes, and he signed over his media rights to the families of his victims. A percentage of any profits from the book will go to the families of the victims, according to the attorney representing most of the families. Since Rader was incarcerated nine years ago, he has turned down many media requests for interviews because of the court settlement.
READ MORE: Missouri executes Neo-Nazi serial killer with controversial drug
The book's author is Katherine Ramsland, a forensic psychology professor at DeSales University in Pennsylvania, who has been corresponding with Rader. She thinks the academic book will help investigators and criminologists understand people like Rader.
"I'm trying to make this a serious effort that will have some benefit for people who study this kind of crime," Ramsland told The Wichita Eagle.
Rader is serving 10 life sentences for killing a family of four in 1974, and three more victims by 1977. Afterwards, he went dormant for nearly a decade, with his last killing taking place in 1991. Most of his victims were strangled or suffocated. He was caught in 2005 and sent to state prison that year.
READ MORE: DNA study 'unmasks' Jack the Ripper
Rader also wrote to the newspaper on the recent news that horror author Stephen King was about to do a book tour in the state. King's novel 'A Good Marriage' was inspired by the BTK killer and sparked a negative reaction from Rader's daughter, who said it "exploited" her family. King is promoting a different book during his upcoming tour.