Russian serial-killer cannibal ate victims' livers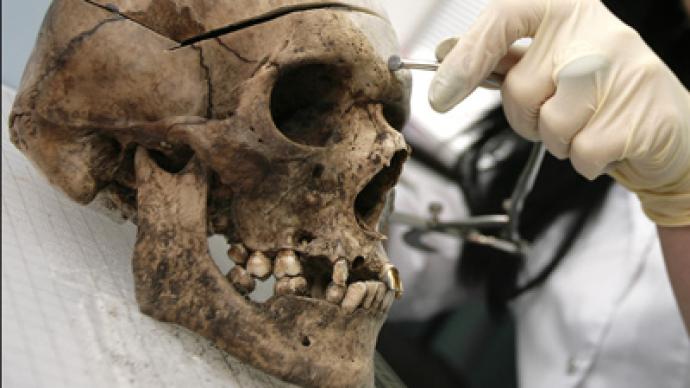 An alleged serial killer who practiced cannibalism has been arrested in Central Russia. The detainee has confessed to at least six murders, but the number of victims could be higher. Reports say the accused wanted to impress his girlfriend.
Twenty-four-year-old Aleksandr Bychkov was initially arrested in Russia's Penza Region on suspicion of involvement in a hardware store robbery. However, while being questioned Bychkov suddenly began telling police about corpses he had buried in a ravine near his home.According to the police spokesperson, investigators found the remains of six people. They were "recovered from the ground and sent for examination."The examination revealed that Bychkov had chopped his victims into pieces. He then cut out their livers and ate them."The facts of cannibalism in some episodes did take place," a high-ranking source from law enforcement body in the region confirmed to Izvestia newspaper.Reports emerge Bychkov had been trying to impress his girlfriend by killing and eating people – or it least to pluck up some courage to see her."She blanked me. She said I'm spineless, and I am a lone wolf. I'll prove it. She doesn't know and I cannot tell her anything," Bychkov reportedly wrote in his diary, as online tabloid LifeNews quotes him. According to the tabloid, Bychkov has already told police of a grave with a seventh body. Law enforcers suspect he may have been involved in more murders, since quite a number of people went missing in the region between 2009 and 2011.
"The suspect identified the photographs of people shown to him. In addition, he pledged involvement in other similar cases," said the official spokesperson of investigation committee, as cited by Izvestia.Law enforcers have been concealing information about these crimes in an effort to avoid community panic. The local police chief even tried to calm citizens by publishing a newspaper article in which he claimed groundless rumors spread quickly in such a small city. He claimed the investigation had not confirmed that murders had occurred.Meanwhile, in 2011 the court sentenced disabled man Aleksandr Guplov for these crimes. It is now evident he was most likely wrongfully convicted.
You can share this story on social media: