Missouri executes Neo-Nazi serial killer with controversial drug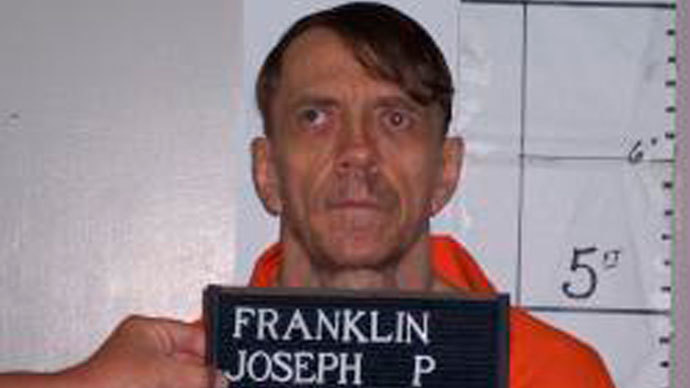 Serial killer Joseph Paul Franklin, 63, died from lethal injection early Wednesday at the Missouri Eastern Correctional Center in Bonne Terre more than three decades after he went on a violent spree that claimed upwards of 20 victims.
Franklin was formally convicted of killing only eight people, but claimed to have murdered as many as a dozen more during a three-year-long effort to, as he recently told CNN, "get a race war started."
A white-supremacist, Neo-Nazi and member of the Ku Klux Klan, Franklin had been serving six life sentences behind bars for a series of racially-motivated killings. It was his role in the 1977 sniper shooting of Gerald Gordon outside of a suburban St. Louis synagogue, however, that landed him on death row until his execution early Wednesday.
Franklin was pronounced dead at 6:17 a.m. local time that morning after being administered a lethal dose of a single sedative, a barbiturate called pentobarbital that had never before been used in the state of Missouri for the purpose of executing a prisoner. United States District Court Judge Nanette Laughrey for the Eastern District of Missouri ordered a hold on Franklin's killing on Tuesday because he feared execution by pentobarbital carried "a high risk of contamination and prolonged, unnecessary pain beyond that which is required to achieve death," but that stay and another filed by District Judge Carol Jackson were quickly appealed by the state. The Supreme Court said they wouldn't weigh in on the matter, and Franklin was killed after a several-hour delay Wednesday morning.
Days earlier, Missouri Gov. Jay Nixon denied clemency for the inmate due to the "merciless acts of violence, fueled by hate" that Franklin admitted to.
Between 1977 and 1980, Franklin traveled across the US and carried out horrific acts of violence that specifically targeted blacks and Jews. His rampage began with a synagogue bombing that was unable to claim any lives, but he quickly graduated to picking off victims with the likes of a 12-gauge shotgun, a hunting rifle and other firearms.
"I felt like I was at war. The survival of the white race was at stake," he told Kyung Lah of CNN recently. "I consider it my mission, my three-year mission. Same length of time Jesus was on his mission, from the time he was 30 to 33."
Among Franklin's targets who survived is Larry Flynt, the publisher of Hustler Magazine and long-time civil liberties advocate. Flynt was targeted for printing pornographic images of an interracial couple in the December 1975 issue of his magazine and survived two gunshots fired by Franklin that entered his body and left him paralyzed from the waist down.
Recently, Flynt filed a motion with the American Civil Liberties Union in an effort to have Franklin's sentence commuted to life behind bars.
"In all the years since the shooting, I have never come face-to-face with Franklin. I would love an hour in a room with him and a pair of wire-cutters and pliers, so I could inflict the same damage on him that he inflicted on me. But, I do not want to kill him, nor do I want to see him die," the publisher wrote for the Hollywood Reporter recently.
"I just don't think that government should be in the business of killing people. And I think punishment by putting someone in a 3-by-6 cell is a lot greater than if you snuff out their life in a few seconds with a lethal injection," Flynt added to NPR.
Franklin made no statement before his execution, but told CNN during a recent interview that he was no longer racist, had found religion and repented.
"The scriptures tell us when someone repents, God forgives them. Everything is forgotten, once forgiven. But the state doesn't think that way," he said.
His execution was the first one to occur in Missouri this year, and the thirty-fifth country-wide.
You can share this story on social media: