Alabama executes prisoner deemed mentally ill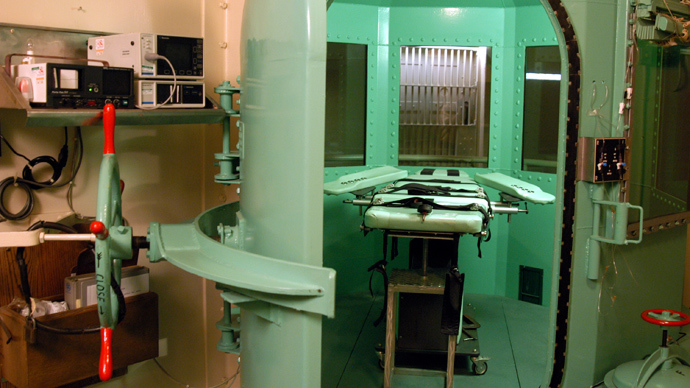 In its first execution since 2011, the state of Alabama has put to death a 29-year-old man who had a history of attempted suicide, took multiple psychotropic drugs, and was widely described as being mentally ill.
The Supreme Court's Atkins v. Virginia ruling bars the execution of mentally ill inmates, claiming that it violates the Eighth Amendment's prohibition of cruel and unusual punishment.
But a prisoners' rights group claims that the state of Alabama on Thursday executed a man who showed clear signs of mental illness.
Andrew Reid Lackey, a 29-year-old convicted killer, was put to death by lethal injection at Holman Prison in Atmore, Alabama. He was convicted for the 2005 murder of Charlie Newman, an 80-year-old World War II veteran who Lackey believed had a vault filled with gold bars. Newman's body was found on Halloween with more than 70 stab wounds.
But the Equal Justice Initiative (EJI), a prisoners' rights group based in Montgomery, Alabama, has argued that Lackey is mentally ill and should not be put to death. In a statement made a week before the execution, the group said that Lackey has suffered from mental illness his entire life, took multiple psychotropic drugs, and previously attempted suicide.
The group notes that no state or federal court has completed an appellate review to determine whether the trial or sentencing was fair.
"His mother testified at trial that he 'lives in Andrew land,' that he does not fully understand 'what is really going on,' and that there has been 'something wrong' with him since he was an infant," the group wrote in the July 19 statement.
"Recently, Mr. Lackey has attempted suicide, saying that his 'mind has started to break down,' and that he was in an 'infinite loop where he sees the end as the beginning,'" the EJI added.
Despite clear signs of mental illness, Lackey never received an expert competency evaluation and the judge never inquired about the medications he was taking. The judge allegedly never asked state officials what illness Lackey was diagnosed with.
Last year, Lackey wrote to the Alabama Supreme Court requesting that his execution be carried out.
"Please set me an execution date," he wrote in the letter, according to court records obtained by AP. "I do not wish to pursue any further appeals for my death sentence."
A family member had allegedly also intervened to expedite the death sentence, Reuters reported. Prison officials said Lackey and his attorney made no last-minute attempts to prevent the execution.
The Supreme Court prohibits the execution of mentally ill inmates, but leaves it up to individual states to determine who qualifies as such.

Last year, the state of Texas executed 54-year-old Marvin Wilson, who had an IQ of 61 and who had been diagnosed as "mentally retarded" by the state's own courts. Despite the diagnosis, state and federal courts were not convinced that he was mentally ill, and he died by lethal injection on August 7, 2012.
The state of Georgia has repeatedly tried to execute Warren Lee Hill, a 53-year-old convicted murderer who has an IQ below 70 and who has been classified as "mentally retarded" by all nine government and state doctors who examined him. But the state argued that the doctors were flawed in their analyses and failed to prove that he was mentally ill beyond a reasonable doubt. Although Hill was recently granted a stay of execution, he only received it due to uncertainty surrounding the controversial Lethal Injection Secrecy Law – not because of his mental illness.
Since the Supreme Court allows states to make decisions regarding inmates' emotional health, those suspected of being mentally ill are occasionally executed. Non-profit group All About Developmental Disabilities has called on the state of Georgia to lower its standard for proving mental disability – which is the same standard used by Alabama.