Mentally retarded Georgia man scheduled to be put to death on Tuesday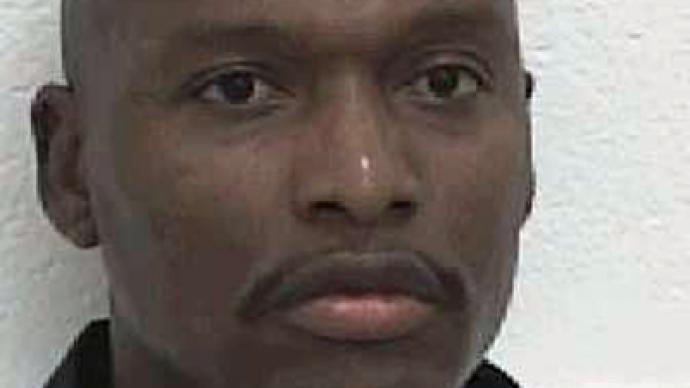 A Georgia prison inmate found by doctors to be mildly retarded is scheduled to receive lethal injection on Tuesday, despite constitutional protections that exist to prohibit the execution of the mentally disabled.
More than 20 years after being convicted of murdering a fellow inmate while already behind bars, Warren Hill, 52, is slated to be killed on Tuesday. Now with only hours left to live, attorneys for Mr. Hill and human rights activists are demanding a last-minute intervention.Back in 1991, the judge overseeing the murder case against Mr. Hill said the defendant was "mentally retarded" by a "preponderance of the evidence," contradicting testimonies from physicians who examined the inmate. Decades later, though, those doctors who examined Hill say they acted in too much of a hurry to reach that conclusion and today agree that the inmate is unfit for execution."The whole process, including my evaluation of Mr. Hill, was rushed … my previous conclusions about Mr Hill's mental health status were unreliable because of my lack of experience at the time," one of the doctors, neuropsychiatrist Thomas Sachy, now claims. All three physicians that gave their original evaluation 12 years ago say today that their decision was rushed and ill-conceived, reports The Guardian. Additionally, the jurors involved in his murder trial and the family of the man he was convicted of killing while in prison has stated that they would not like to see Hill put to death."Several jurors who sat on Warren's original jury have since stated under oath that they would have sentenced him to life without the possibility of parole had that been an option at the time of his 1991 trial, particularly after learning of the evidence of his intellectual disability and history of childhood abuse," Amnesty International reported last year.Brian Kammer, a Georgia lawyer who has worked close to the case, tells the Guardian that with the latest testimonies in the case, "There is now no daylight between any of the experts who have evaluated Mr Hill – in an innocence context this would now be a clear case for exoneration."Mr. Hill was expected to be killed last July, but a last minute hold was granted to reassess the method of execution only an hour-and-a-half before he was scheduled to die. Now just a few months later, the state of Georgia is once again readying to make the kill. One day before he is scheduled to die, Judge Thomas Wilson said on Monday that he would not consider a request for habeas relief, essentially leaving just the US Supreme Court as the only available option to save him from execution. Attorneys for Mr. Hill had asked Judge Wilson to see testimonies from the doctors who initially examined the inmate, but according to the Associated Press, he has refused it on the basis that the request for reconsideration is procedurally barred and that the new evidence doesn't establish a miscarriage of justice.Attorneys for Mr. Hill have submitted a petition with the US Supreme Court, asking for intervention due to the 2002 federal ruling that found executing a person considered "mentally retarded" was in violation of the Eighth Amendment to the US Constitution: the provision that prohibits cruel and unusual punishment. In lieu of federal law, however, individual states can determine their own definition of "mental retardation."Eric Jacobsen, a columnist for Huffington Post, says that the state-wide requirement for what is and isn't mental retardation in Georgia is "a powerful legal concept that does not translate into the way individuals are assessed to determine if they have an intellectual disability. So, while Georgia never contested Mr. Hill's intellectual disability or I.Q. of 70, he was not able to meet the burden of proof."In 2002, the Eleventh US Circuit Court of Appeals said they couldn't touch the case because national law "mandates that this federal court leave the Georgia Supreme Court decision alone — even if we believe it incorrect or unwise."
You can share this story on social media: