Troy Davis executed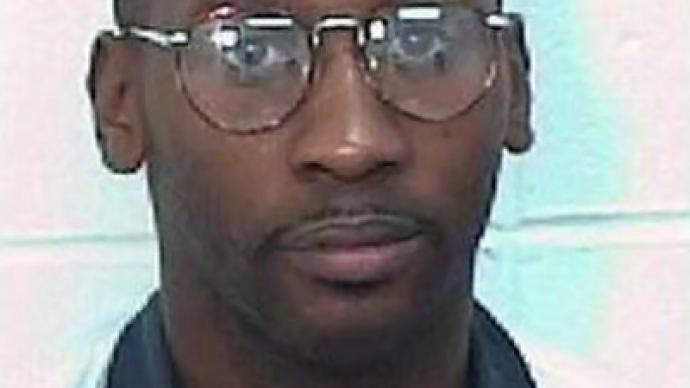 More than two decades after being sentenced to death, Troy Davis was executed by lethal injection this evening in the state of Georgia.
Davis was scheduled to be killed at 7pm ET this evening in Jackson, Georgia, but a last minute maneuver brought the execution to a halt. The United States Supreme Court said they would spend 90 minutes to consider a stay on Davis' execution, but it was not until shortly after 10:20 pm ET that is was announced that they would not keep a lethal combination of chemicals from being injected in Davis.
The execution of Davis began around 11pm and he was reported dead at 11:08.

Crowds gathered in major metropolitan cities across America and the world in recent days to show their support of Davis, who was convicted in 1991 for the shooting of a Savannah, Georgia police officer. More than 20 years after that trial wrapped up, the majority of witnesses that stood trial have since recanted their testimonies in part or in full.
The Georgia Board of Pardons and Paroles was given the opportunity to excuse Davis from the death sentence on Tuesday this week, but denied him clemency. Despite changes in testimonies and the lack of a murder weapon, Georgian authorities were unwilling to alter the death sentence and Davis was killed at 11:08 this evening.

Following the clemency denial out of Georgia, Davis issued a statement made public through Amnesty International:
"The struggle for justice doesn't end with me. This struggle is for all the Troy Davises who came before me and all the ones who will come after me. I'm in good spirits and I'm prayerful and at peace. But I will not stop fighting until I've taken my last breath."
Others on death row are fortunate enough to hold onto their lives for now and many take the same route as Davis. Both Mumia Abu-Jamal and Leonard Peltier, imprisoned for ages, advocate for human rights from within their prison walls. Abu-Jamal and Peltier were both convicted of killing law enforcement officials, but activists often cite a lack of evidence and tampered testimonies – such as with Davis – as only some of the reasoning why these men should be freed. Abu-Jamal – an African American, and Peltier – a Native American, are only a sampling of those persecuted for what many say are being the victims of their own ethnicity in an unjust American legal system

In the time he has spent on death row, Davis has received support from activists across the world, including former United States President Jimmy Carter and Pope Benedict XVI. Last week former FBI Director William S Sessions called on the state of Georgia to halt the execution of Davis, saying that he has "pervasive, persistent doubts" regarding the alleged guilty of the accused.
"Serious questions about Mr. Davis' guilt, highlighted by witness recantations, allegations of police coercion and a lack of relevant physical evidence, continue to plague his conviction," Sessions wrote in an editorial published to the Atlanta Journal-Constitution.
The case of Troy Davis not only calls into question the legal process in the United States, but the human rights hypocrisy that places America yet goes often unreported.
"It's a real embarrassing fact that we have the death penalty in this country that's suppose to be the land of freedom and liberty," filmmaker Katie Halper told RT hours before Davis' execution today. Halper notes that the United States is among the top-5 countries worldwide in executions and says, "That just gives you an idea of how anti human rights we are when it comes to the death penalty."
Roughly 20,000 men and women remain on death row in America and many of them, decades after their crimes they allegedly committed were carried out, still garner support from legions that rally for their innocence. Deirdre O'Connor, the founder and executive director of Innocence Matters, told RT earlier this year that many of these inmates, often poor minorities, are left waiting to die because the state views them as "expendable."
"It becomes less about who did it and less about the search for truth, and more about holding someone accountable. And, because people of African descent and minorities and people who don't have money are treated as expendable, it doesn't matter if we get to the truth."