No data on ISIS plots against US – Obama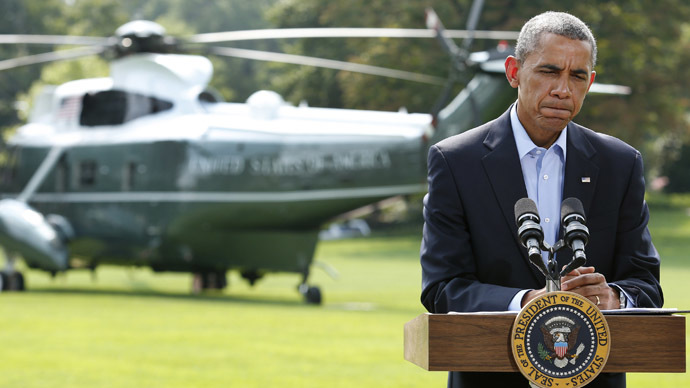 US intelligence failed to find any specific Islamic State plots against America, President Barack Obama said in an opinion piece. Despite the lack of direct threats, Obama promised not to leave the group unchecked, vowing to ultimately destroy it.
READ MORE:US admits there is a much scarier terrorist group than ISIS
"Our intelligence community has not yet detected specific ISIL plots against America. But its leaders have repeatedly threatened America and our allies, and if left unchecked, they could pose a growing threat to the United States," Obama wrote in the Tampa Bay Times on Sunday.
The US president's comments follow the emergence of new intelligence warning that Washington's upcoming confrontation with the Islamic State (ISIS/ISIL) may leave it blind to a more sinister and direct threat from a much lesser known terrorist group – Khorasan.
READ MORE:US launches first 'offensive' airstrike on ISIS near Baghdad
Obama reminded the public of his recent fierce efforts to battle the Islamic State, with the final goal of destroying the group.
"That is why, last month, I gave the order for our military to begin taking targeted action against ISIL. Since then, our brave pilots and crews have conducted more than 170 airstrikes against these terrorists," he said.
"Going forward, as I announced earlier this month, we will degrade and ultimately destroy ISIL through a comprehensive and sustained counterterrorism strategy. Whether in Iraq or in Syria, these terrorists will learn what the leaders of al-Qaida already know: We mean what we say, our reach is long, and if you threaten America you will find no safe haven," Obama stressed.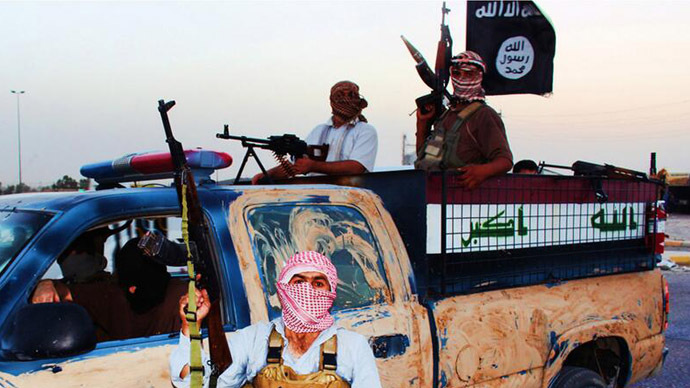 He further underscored that US forces will only support Iraqi soldiers, who will be fighting their own fight.
Obama also focused on overall international involvement in the fight against the Islamic State. "This is not and will not be America's fight alone. That's why we continue to build a broad international coalition. France and the UK are flying with us over Iraq, others have committed to join this effort, and France has joined us in conducting strikes against ISIL in Iraq. Overall, more than 40 countries – including Arab nations – have offered assistance as part of this coalition."
READ MORE:Fight with ISIS spreads across globe: How are roles distributed in that battle?
Meanwhile, Islamic State fighters have made their way to Jordan, as it was revealed that 11 Islamic State jihadists were arrested in the country, and have confessed to planning terrorists attacks, AFP cited a security official as saying on Sunday.
The detained individuals "admitted their links to the leadership of the Daesh organization in Syria and that they were charged with carrying out terrorist operations in Jordan targeting a number of vital interests," the official said, using IS's Arabic acronym.
News of the arrests comes after US Secretary of State John Kerry visited Jordan on September 10 to discuss the creation of US-Arab coalition against the Islamic State with King Abdullah.
During the meeting, Kerry and Abdullah discussed the option of establishing the coalition's base in Jordan.
You can share this story on social media: