Fight with ISIS spreads across globe: How are roles distributed in that battle?
Published time: 15 Sep, 2014 13:01
Edited time: 2 Oct, 2014 09:39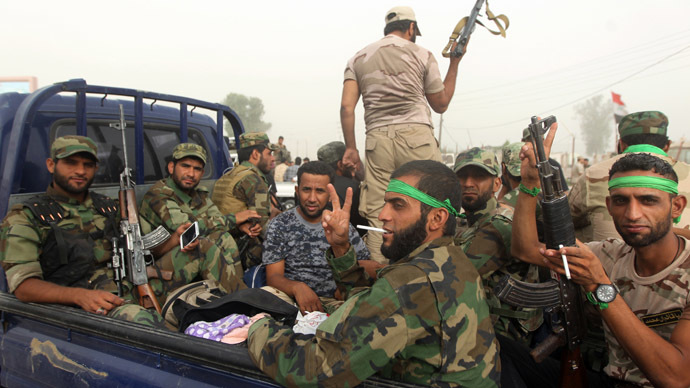 "This can't be America's fight alone," US President Barack Obama stressed in his ISIS speech. Indeed, about 40 countries have joined the battle with the radical group that's left scores dead in Iraq. But who does what on that battlefield?
The main role is still with the US, which has already carried out over 150 airstrikes against the Islamic State (also known as the Islamic State of Iraq and the Levant, or ISIS/ISIL).
At the same time, the US is keeping relatively quiet about which countries are taking part in the fight and what they do exactly. Secretary of State John Kerry told CBS that nearly 40 nations have agreed to contribute to the fight, but "it's not appropriate to start announcing" what roles each will play.
However, an international conference on the IS situation is taking place in Paris on Monday, with world leaders set to debate the anti-ISIS coalition. The meeting includes representatives of some 30 countries, but excludes Iraq's neighbors Syria and Iran. And the roles of the countries and their contributions are already starting to show.
Britain became the first country to officially join the military operation. UK Prime Minister David Cameron called IS "the embodiment of evil" on Sunday, following the group's beheading of its third Western hostage, this time British citizen David Haines. Earlier, IS killed two US journalists in the same manner.
READ MORE:Second British aid worker facing ISIS murder threat
Britain has also pledged to arm Kurdish forces on the ground, support the Iraqi leadership, keep delivering humanitarian aid to the crisis-stricken country, and coordinate with the UN in the fighting.
Cameron specifically noted that "this is not about British combat troops on the ground," but about "working with others to extinguish this terrorist threat."
READ MORE: US govt warned Sotloff's parents of prosecution if they paid ransom - family spox
France, in its turn, has provided 18,000 rounds of 50-caliber ammunition, a senior US State Department official told journalists in a briefing. Also, France provided humanitarian aid for the region.
The French Air Force is also set to start a reconnaissance mission over Iraq on Monday, Foreign Minister Laurent Fabius said.
"We told the Iraqis we were available and asked them for authorization [to fly over Iraq]," Fabius told France Inter radio.
It comes after the French Air Force participated in the latest operation in the Iraqi town Amerli, along with Australia and the UK.
READ MORE:US failure to see Saudi role in 9/11 contributed to rise of ISIS – ex-senator
Australian authorities have also answered the US call for help: currently, the country is getting ready to deploy up to eight military planes, transport aircraft and an E-7A Wedgetail Airborne Early Warning and Control aircraft. However, the country's troops aren't set to take part in the fighting on the ground, Australian Prime Minister Tony Abbott said.
Germany has promised to send military help for Kurdish fighters, and has banned all activities related to IS.
The US State Department also praised The Netherlands for "leading an effort" to stop the foreign fighters supporting terrorism from arriving in the country. The country's leadership also suggested depriving those who support terrorism of Dutch citizenship.
READ MORE:Nearly 1,000 Frenchmen join jihad, dozens of women and kids 'stopped en route'
Canada has given "tangible equipment and ammunition" to the battle against IS. The country's premier declared only days ago that 50 Canadian ops are set to go to Iraq. However, the country isn't to take part in any direct military intervention, CTV reported.
US authorities also announced that Saudi Arabia has proposed to train rebels on its soil and Saudi Foreign Minister Saud al-Faisal stated that there is "no limit to what the Kingdom can provide" in the fight against terrorism. The oil-rich state also gave $500 million in humanitarian aid to embattled Iraq.
Qatar has also provided a few humanitarian flights to the country.
READ MORE:'Neither Islamic, nor state': UK Muslim leaders object to extremist group's name
However, Turkey and Jordan, key US allies in the region, are thought to be reluctant to intervene directly in the anti-IS fight.
Turkey is a NATO member, and borders both Syria and Iraq from the north. Despite this, it won't let the US use its facilities in the mission against the IS, a government official in Ankara told AFP.
Turkey was also absent during the signing of a joint communiqué on the situation in Iraq on Thursday.
The official position about why this is happening is because the IS is holding 49 Turkish citizens as prisoners – some of them diplomatic staff and their families. There might also be a deeper motive for Ankara: the US and Europe are arming Kurdish militants, and the PKK (Kurdistan Workers' Party) is viewed as a terrorist group by the Turkish authorities. So, Ankara may fear that any resources they provide for the operation might end up in Kurdish forces' hands.
READ MORE: Australia to deploy 600 troops, fighter jets to help battle Islamic State – PM
Another controversial situation is with Jordan, which is set to help with intelligence for the mission – but the country's former foreign minister, Marwan Muasher, said that the Jordanian intelligence on Iraq is "second to none."
The role of Egypt in the peace process remains unclear, despite last week's condemnation of IS by the country's Grant Mufti.
IS is the wealthiest terrorist group in history: they gain about $3 million a day from oil, theft and human trafficking, US intelligence agencies and experts say.
The CIA also estimates that the fighting force of the group is at least 20,000 people, and this number is constantly increasing, with some sources putting it as high as 31,500.