Second British aid worker facing ISIS murder threat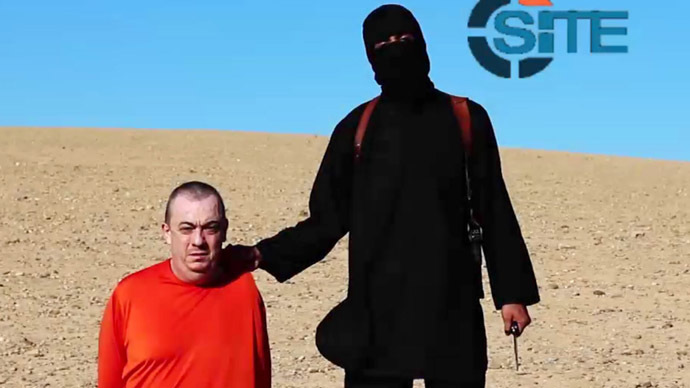 A second British hostage facing execution by Islamic State (IS) militants has been identified as Alan Henning, a taxi driver from northwest England who was kidnapped during an aid mission to Syria.
Henning appeared at the end of a video released on Saturday in which fellow UK hostage David Haines was beheaded by IS (formerly ISIS/ISIL).
In the footage, Henning was dressed in an orange jumpsuit. A masked militant standing next to him threatened to kill the hostage next if UK Prime Minister David Cameron continued to support the fight against the jihadist organization. The alleged executioner, speaking with a British accent, appears to be the same man shown in the previous two videos, in which American journalists James Foley and Steven Sotloff were beheaded.
Henning, 47, is understood to be from Eccles in Greater Manchester and a former taxi driver. He is believed to have been kidnapped around Christmastime last year, shortly after crossing the border from Turkey into Syria while traveling with a humanitarian aid convoy.
Henning volunteered to drive an ambulance full of medical aid to Syria with eight other volunteers from Bolton alongside the UK Arab Society. He helped load supplies, including defibrillators, stethoscopes and oxygen, into ambulances that were driven to Syria to help refugees.
The married father-of-two had made multiple trips to Syria to deliver medical aid with friends. The trips were reportedly financed by the local community in Bolton.
Mohamed Elhaddad, company director of the UK Arabic Society and British convoy leader, described Henning as a passionate humanitarian volunteer. According to Elhaddad, Henning insisted on going a long way into Syria to deliver aid.
"I remember going on two convoys with him, at the end of 2012 and in May 2013, and he was always very positive and very interested in the work.
"But Alan went too far into Syria. He took that extra risk, because he could have accomplished the drop-off at the border," Elhaddad said.
One of the organizers, Kasim Jameel, a taxi driver from Bolton, said "I could tell a lot of stories about the good that Alan has done and about how, as a non-Muslim, he has helped Muslims who have suffered in the conflict."
In a statement, Cameron hailed Briton David Haines, who was killed by IS, as a "British hero."
The PM vowed to "hunt down those responsible and bring them to justice no matter how long it takes" and said the IS and its followers "are not Muslims, they are monsters."
We will do everything in our power to hunt down these murderers and ensure they face justice, however long it takes.

— David Cameron (@David_Cameron) September 13, 2014
"The murder of David Haines at the hands of ISIL will not leave Britain to shirk our responsibility with our allies to deal with the threat that this organization poses. It must strengthen our resolve," he said.
Dr. Shuja Shafi, secretary-general of the Muslim Council of Britain, said there is "nothing in our faith that condones such behavior.
"Muslims in Britain and around the world have condemned these people, and the arguments they use have been refuted comprehensively as being far from the religion of Islam."
You can share this story on social media: