CIA estimates 20k-30k fighters in Syria, Iraq after Obama pledges to destroy ISIS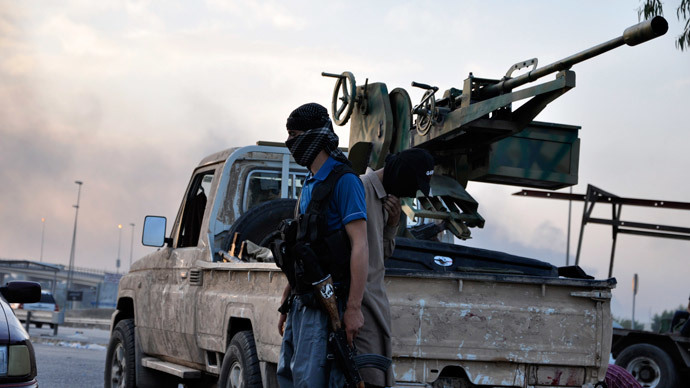 The Central Intelligence Agency believes the Islamic State militant group "can muster between 20,000 and 31,500 fighters" throughout both Iraq and Syria, CNN reports.
If true, that would mean the Islamic State's numbers have more than doubled compared to the agency's last estimate, which pinned the group's total amount of fighters at roughly 10,000.
"This new total reflects an increase in members because of stronger recruitment since June following battlefield successes and the declaration of a caliphate, greater battlefield activity, and additional intelligence," a CIA spokesperson told CNN.
READ MORE:Obama declares airstrikes on Islamic State 'wherever it exists'
In addition to updating its estimates regarding the Islamic State's fighting force, a separate US official also told the news channel that the US government is already conducting surveillance flights within Syria's borders. The United States is looking to collect information that would help it determine when and whether to launch airstrikes in Syria, in order to degrade the group's ability to fight and maneuver.
Stay tuned. The world is held hostage by these magic words - pic.twitter.com/GZMrflG42k

— John Cusack (@johncusack) September 11, 2014
Still, these flights do not indicate that airstrikes will be launched soon, another unnamed official added.
Meanwhile, Pentagon spokesman Adm. John Kirby said that whenever the US does take military action against the group – also known as ISIS or ISIL – it will also consider targeting individuals in leadership positions.
"One of the ways you get at and you destroy the capabilities of an enemy like (ISIS) is to be pretty aggressive against them, and that does include disrupting their ability to command and control and to lead their own forces," Kirby said.
Both of these revelations come less than a day after President Barack Obama outlined his plan to seek out and destroy Islamic State fighters "wherever they exist," noting that military action would be taken not only in Iraq, but also in Syria if necessary.
"I have made it clear that we will hunt down terrorists who threaten our country, wherever they are," Obama stated. "That means I will not hesitate to take action against ISIL in Syria, as well as Iraq. This is a core principle of my presidency: if you threaten America, you will find no safe haven."
Obama also announced that an additional 475 American service members would be deployed to Iraq in the coming days, though he stressed that they would not have a "combat role" and the US would not be sucked into another ground war in the country.
Obama Vows to Destroy Islamic State, But Wider Strikes in Syria & Iraq Point to "Endless War" http://t.co/cgFxMkExsrpic.twitter.com/ig5apFRq4T

— Democracy Now! (@democracynow) September 11, 2014
While US lawmakers debate Obama's proposals and American allies consider what role, if any, they will play in the campaign against the Islamic State, Syria has responded with criticism. A Syrian official said on Thursday that if the US launches an attack within its borders without first consulting with Damascus, the country would consider it an act of aggression.
"Any action of any type without the approval of Syrian government is an aggression against Syria," said Ali Haidar, minister of national reconciliation affairs, to Reuters. "There must be cooperation with Syria and coordination with Syria and there must be a Syrian approval of any action whether it is military or not."
He also raised concern over the possibility that US action could serve as a pretext for striking the Syrian government, which the US opposes.
READ MORE:West may use ISIS as pretext to bomb Syrian govt forces - Russia's FM
You can share this story on social media: