US will have 'many more' 9/11s if it fails to act against Islamic State – House Rep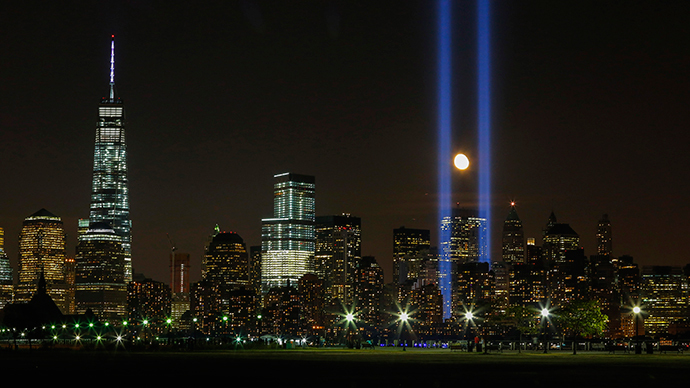 If the US fails to attack Islamic State (IS) militants in Iraq and Syria, the country could face the prospect of "many" terrorist attacks similar to September 11, a top-ranking Democrat says. It comes as the House debates arming Syrian rebels to fight IS.
Speaking during a floor debate at the House of Representatives on Tuesday, Eliot Engel (D-N.Y.) of the House Foreign Affairs Committee expressed his support for President Barack Obama's plan to combat IS (previously known as ISIS/ISIL) and said that failure to authorize the plan would lead to devastating consequences for the US.
"I understand that my colleagues are war weary. I'm war weary. I understand the American people are war weary," Engel said, as quoted by The Hill."But I think doing nothing would invite something very similar that happened to my city, New York City, on that fateful day of Sept. 11, 2001."
"If we do nothing, ISIS (IS) will plot and plan and we'll have many more 9/11s in the United States, in Europe, in the Middle East," he claimed.
The House is currently debating whether or not to pass an amendment that would allow President Obama to direct the military to arm and train rebel factions in Syria in order to fight the Islamic State.
READ MORE:Pentagon: US ground troops may fight Islamic State despite 'no military solution'
Engel's words are the latest in a string of comments that portray IS as an extremely dangerous foe for the US. On Monday, New York Rep. Peter King (R-N.Y.) pointed to the beheadings of journalists James Foley and Steven Sotloff as proof that the group is "not going to be afraid to put a bomb in Lower Manhattan."
During a Senate hearing on Tuesday, Defense Secretary Chuck Hagel argued that it is crucial for Congress to authorize Obama's request to arm anti-IS fighters.
"If the Congress would not agree with that request it would be a pretty devastating message we would send to the world," Hagel said. "They murdered two Americans in the last couple of weeks," he added earlier in the hearing, "I'd say that that's a pretty imminent threat."
On Fox News Sunday, meanwhile, Sen. Lindsey Graham (R-S.C.) said that even more comprehensive action is needed – including American ground troops – to battle the militants, since their plan is to launch attacks on American soil.
"There is no way in hell you can form an army on the ground to go into Syria, to destroy ISIL without a substantial American component," he said. "This is a turning point in the War on Terror. Our [current] strategy will fail, yet again. This president needs to rise to the occasion before we all get killed here at home."
The issue over whether or not to deploy ground troops to Iraq has been debated heavily since Obama outlined his strategy against IS last week. Although the president insists the US will not be dragged into another ground war in Iraq, his more hawkish critics – such as Graham – have argued that no options should be off the table.
During a Senate hearing on Tuesday, Gen. Martin Dempsey kept the door open to the possibility that US troops could be used in a combat role on the ground – particularly if the situation in Iraq ends up taking a turn for the worse. In that case, Obama has told Dempsey to "come back to him on a case-by-case basis."
Despite these statements, Dempsey said that "there is no military solution" to the problems posed by the terrorist group.
Leaving aside the issue of ground troops, the House amendment regarding the training of rebels in Syria is also picking up some critics, particularly in the Senate. Speaking to reporters on Tuesday, Sen. Joe Manchin (D-W.Va) said that billions of dollars were spent to train the Iraqi army during the original invasion – an effort that proved worthless when IS began making gains in the country.
"Spending eight years, spending $20 billion trying to train [a] 280,000-person army in Iraq...First challenge they had, they turned tail and ran and turned all the weapons over to the enemy," Manchin said, as quoted in a separate article by The Hill. He added that trying to sift through the allegiances of the Syrian rebels – who, like the IS, are opposed to the Syrian government – would be extremely difficult.
"We're going to go in and try to carve out 3,000 or 5,000 of those people and say, 'OK, now we want you to turn right and fight ISIL (IS)?'" he said.
READ MORE:US launches first 'offensive' airstrike on ISIS near Baghdad
The debate also comes as some lawmakers are urging President Obama to ask Congress for a more general authorization to engage the IS militarily. While Obama claims he has the authority to act under the existing Authorization for Use of Military Force (AUMF), other lawmakers believe he does not.
"I firmly believe a new authorization for the use of military force is needed to specifically address ISIL and new action in Syria," said Rep. Bradley Byrne (R-Ala.) on Tuesday. "I hope the president will recognize the Article I, Section 8 powers of this Congress which are exclusive and ask us for a new AUMF."
You can share this story on social media: