Pentagon: US ground troops may fight Islamic State despite 'no military solution'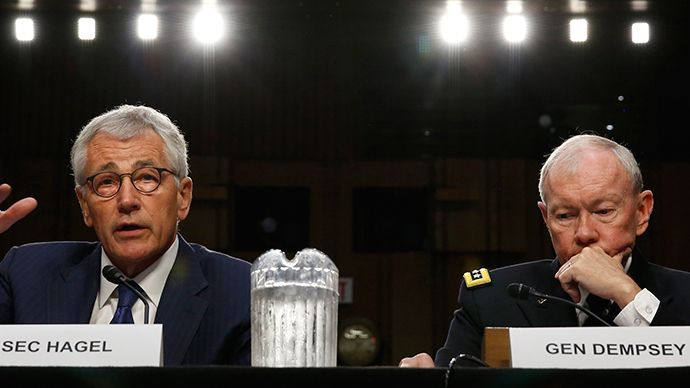 Two of the United States military's top officials testified before the Senate on Tuesday about the growing threat posed by Islamic State militants and acknowledged that the Pentagon's current plan for the situation in Iraq and Syria could soon shift.
As Congress considers whether or not the US government should go forward with a plan proposed by President Barack Obama to train and equip fighters to take on the Islamic State, also known as ISIS or ISIL, American military top brass said the White House may adopt a new strategy if the extremist group's operations in the Middle East intensify and warrant further assistance from the Pentagon.
Pres. Obama has repeatedly gone on the record in recent weeks to state that there will be "no boots on the ground" in Iraq and Syria where the Islamic State continue to wage an escalating campaign of violence, and that US troops will not engage in combat missions, instead relying on airstrikes and providing other assistance to anti-IS fighters.
Gen. Martin Dempsey, the chairman of the Joint Chiefs of Staff, told senators in Washington, DC during Tuesday's hearing that the president's stated policy remains one involving no ground forces in Iraq and Syria. The top commander added, however, that Pres. Obama said to "come back to him on a case-by-case basis" should the situation overseas worsen.
Dempsey made the remarks after Sen. Kelly Ayotte (R-New Hampshire) said she was "not confident" that the Islamic State will be toppled as the White House wishes "without the assistance of our trained special operators on the ground."
Earlier during the three-hour-plus hearing, Gen. Dempsey said he believes that the US and a coalition of allied forces and local troops — who could be trained and armed by the US pending a decision from Congress expected as soon as this Wednesday — could achieve Pres. Obama's mission of degrading and destroying the Islamic State.
Dempsey was quick to say the US can't achieve that goal alone, however, and said that the way forward must involve a "coalition of Arab and Muslim partners, and not through the ownership of the United States."
"To have local forces be involved, supported by local people, is the most significant thing I think we can do as we support them," added Defense Secretary Chuck Hagel, the second of two witnesses to testify during Wednesday's hearing before the Senate Armed Services Committee.
In order for those forces to adequately take on the increasingly sophisticated Islamic State fighters, Dempsey said that Congress should agree to authorize $500 million to be spent on training roughly 5,000 locals who will then serve as ground troops in lieu of American soldiers.
Among the lawmakers who seemed weary of this plan during Tuesday's meeting was Sen. John McCain (R-Arizona), who said that training only 5,000 troops — and at roughly $100,000 each — would do little to tackle an army of Islamic State militants believed to exceed 31,000 soldiers. Additionally, McCain said supplying such amateur fighters with weapon power will surely not just provide ammunition to be used against IS, but embattled Syrian leader Bashar Al-Assad.
"You don't think that the Free Syrian Army is going to fight against Bashar Assad, who has been decimating them? You think that these people your training will only go fight against ISIL?" McCain asked.
"We can establish objectives that defer that challenge into the future," responded Dempsey.
Congress could vote on the president's proposal to equip and arm anti-IS fighters as soon as Wednesday, but Sec. Hagel warned during Tuesday's hearing that a failure to do as much ahead of a scheduled Capitol Hill recess would constitute a failure to respond to "a clear, clear threat."
"What his request is and reaching out to the Congress for a partnership as he has done in consultation with many, many members of the Congress to be partners in this effort to protect this country. And if the Congress would not agree with that request it would be a pretty devastating message we would send to the world," Hagel said.
"They murdered two Americans in the last couple of weeks," the Pentagon chief said earlier during the hearing. "I'd say that that's a pretty imminent threat."
Answering to Sen. Deb Fischer (R-Nebraska), Dempsey said that authorization of the president's plan on the part of Congress would establish a training program for opposition fighters during the next three-to-five months, with deliverable capability coming within a year.
When asked by Sen. Ted Cruz if it's fathomable to "destroy ISIS within 90 days," Gen. Dempsey responded bluntly: "It's not possible, senator."
"Militarily we could confront them, we could destroy a lot of equipment, we could drive them underground, if you will. But as I said, they will only be defeated or destroyed once they are rejected by the population in which they hide," Dempsey said.
"Truly there is no military solution to ISIL," the general added. "It may be a tough pill to swallow, but there is no military solution."
You can share this story on social media: