Lawmakers weigh White House plan against Islamic State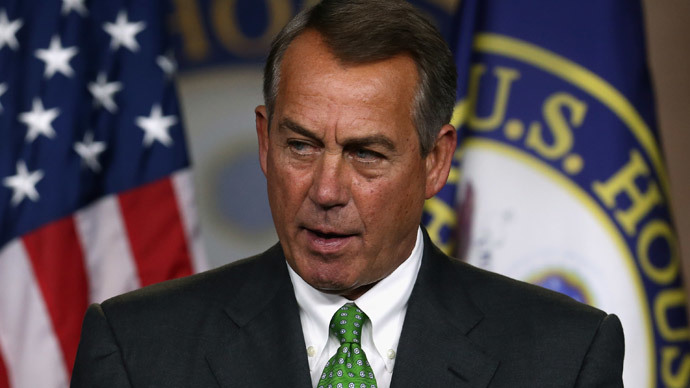 Many in Congress, even usual opponents of President Barack Obama, are supporting the White House's plan to combat Islamic State militants. House Speaker John Boehner, for instance, called on Congress to "give the president what he's been asking for."
Obama announced Wednesday that the US will "conduct a systematic campaign of airstrikes against these terrorists," adding that a top priority of the mission will be to "strengthen the opposition as the best counterweight to extremists like ISIL, while pursuing the political solution necessary to solve Syria's crisis once and for all."
To ensure that the Syrian opposition fighters are trained and equipped well enough to beat back the Islamic State (IS, also known as ISIS and ISIL) from areas it has overtaken in the region, at least $500 million in a Department of Defense program are stipulated in a $5 billion Counterterrorism Partnership Fund request, according to the White House.
Capitol Hill leaders are now weighing the proposal, and top Republicans called on their party members to support the campaign against IS.
"Over the next week, following a series of briefings, Congress will work with the administration to ensure that our forces have the resources they need to carry out these missions," said Senate Republican Leader Mitch McConnell.
Speaker Boehner told reporters Thursday that, "Frankly, we ought to give the president what he's been asking for,"though added that many fellow Republicans believe Obama's military plan does not go far enough.
"A lot of our members don't feel like the campaign that was outlined last night will accomplish the mission that the president said," Boehner said.
Rep. Peter King, the Republican chairman of the House Homeland Security committee, said the nation should prepare for a long conflict, and that there should be a "wartime footing" in the way of increased military spending. Another House Republican, Rep. John Fleming, said he preferred "all-out war" from US forces. Others said further reliance on so-called moderate rebels in Syria is a point of concern.
"I can't vote for what the president proposed because there was nothing new last night in the president's speech. He wants to continue the same failed strategy, but he wants to make it even worse by giving even more money to the so-called vetted moderates who aren't moderate at all," said Rep. Michele Bachmann, according to AP.
Senate Majority Leader Harry Reid criticized "posturing" lawmakers for disrupting a time that, he believes, "we must draw together as a nation."
"It's disturbing that at a time like this, some are taking cheap shots at the president," Reid said on the Senate floor. "Now is the time for us to come together again, as defenders of freedom and democracy, to defeat ISIS."
President Obama told congressional leaders on Tuesday that, outside of arming Syrian rebels, he had enough authority to take action against Islamic State and does not need their formal approval. Yet Boehner and other members said they want Obama to ask for a full authorization of his military campaign.
"I wish that [the administration] would come to the Congress and ask for a new declaration so that there's no question about the authority to proceed," said Rep. Hal Rogers, a Republican and the House Appropriations committee chairman.
Democratic leaders are lining up to back Obama's proposal as well, saying that the President has all the authority he needs.
"What the President is doing now I think he has the legal authority to do. I know he does," said Rep. Nancy Pelosi, the top Democrat in the House.
US Secretary of State John Kerry noted to CNN that IS was formerly a part of Al-Qaeda before severing ties in the last year.
"By trying to change its name, it doesn't change who it is," he said, adding that the US has authority to target Al-Qaeda under the Authorization for Use of Military Force, the longstanding resolution which sanctions force against those responsible for the attacks on September 11, 2001.
Still, Kerry said the US is not at war with Islamic State.
"What we are doing is engaging in a very significant counter-terrorism operation," he said.
Congress is currently in a brief two-week pre-election session that was going to be dominated by domestic issues before Obama's proposal came around. Boehner said the earliest the House is likely to vote on Obama's plan is next week.
All senators will attend on Thursday afternoon a classified White House briefing on the ISIS threat. No decisions have been made on a Senate vote.
In addition to arming Syrian rebels opposed to IS, President Obama's strategy in Iraq will be to support the Iraqi government's fight against the extremist group, as Iraqis will be the ones to ultimately defeat the group in their country, he said.
"Working with the Iraqi government, we will expand our efforts beyond protecting our own people and humanitarian missions so that we're hitting ISIL targets as Iraqi forces go on offense," Obama said this week.
Supposed moderate rebels fighting Pres. Bashar Assad's government in Syria have a problematic track record despite the US government's ongoing reliance on their efforts. The United States has supported these rebels with both lethal and non-lethal aid, lending to fears that arms sent with the help of the Gulf states were channeled to the likes of IS.
A study released this week found that Islamic State fighters are using captured US weapons given to moderate rebels in Syria by Saudi Arabia.
In addition, a spokesperson for the family of beheaded journalist Steven Sotloff said they believe that moderate rebels in Syria sold the American to IS militants for between $25,000 and $50,000.
Despite the ongoing consternation in official Washington over the jihadist threat du jour Islamic State, observers note that IS gained strength from the financial backing of United States' allies in the Middle East, including Saudi Arabia, Kuwait and Qatar.
Elite donors of American allies in the Persian Gulf region have poured an immense amount of resources into rebel groups like IS in efforts to advance on three general goals: opposing Iran, its ally Bashar Assad and fomenting the Sunni-Shia divides in the region.
You can share this story on social media: